Are You Struggling to Manage Projects Effectively Without the Right Tools?
Chances are, if you're leading complex projects within tight deadlines and budgets, you're facing an endless sea of tasks, documents, and stakeholder communications everyday. Coordinating all moving pieces manually with nothing but spreadsheets and emails can quickly devolve into disorganized chaos. What if there was a simpler way to streamline your project processes using innovative and essential project management tools?
In fact, studies show over 70% of organizations report reduced costs and increased productivity since implementing collaborative digital solutions. Yet with so many options available, it's hard to know where to begin exploring this new approach. That's where this article comes in – by the end, you'll understand the top project management tools to consider and how to select the right one for your unique needs.
We'll unpack features that make tackling intricate projects a breeze. You'll also learn best practices organizations worldwide use to achieve continued success. So whether you lead a small team or enterprise-wide initiatives,this guide will help you elevate your work to new levels of efficiency and quality. Are you ready to transform how you and your colleagues collaborate? Let's get started with discovering how to supercharge your project processes!
Table of Contents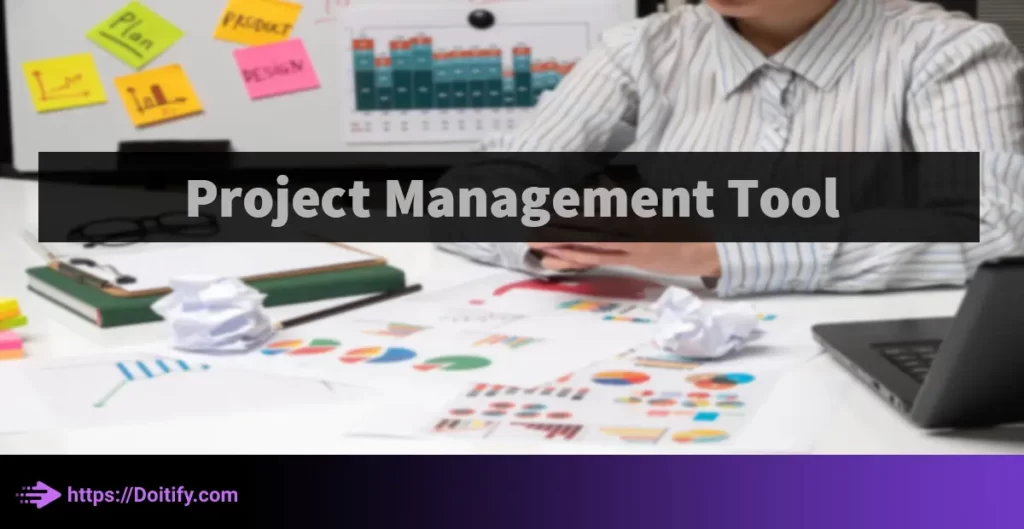 What is a Project Management Tool?
Best Project management tools streamline project execution with digital templates, workflows, checklists and assignment functionality built right in. Teams can use them to define project stages, assign responsibilities to team members, track tasks, flag issues and capture lessons learned. Document management and version control capabilities ensure everyone works from the same playbook and updated information.
Innovative project management tools take this further with intelligent automation that can self-assign tasks, route approvals, sync data with other applications and alert teams to pending deadlines or bottlenecks before they cause disruptions. This level of proactivity helps project managers stay one step ahead of roadblocks for smoother project delivery.
Some essential components found in even basic project management tools and techniques include calendaring for scheduling meetings and milestone dates, communication forums for discussions, and reporting dashboards for tracking progress, budgets and resourcing in real-time. Collaborative kanban boards and intuitive Gantt charts complete the picture by visualizing workflows and project timelines in easy-to-digest formats.
Overall, innovative project management tools handle routine tasks more efficiently so teams can focus their energy where it really counts – tackling challenges, exercising creativity, and bringing ideas to life. The right tool serves as the single source of truth and rallying point for all parties involved in a project to work seamlessly toward goals.
We have been written about Project Management Software in another article.
Benefits Of Using A Project Management Tool
When leveraged properly, innovative and essential online project management tools can yield significant benefits for both business operations and the work-life experience of teams.
Here are some of the top ways organizations gain value:
Increased accountability – Tools provide transparency into task assignments, deadlines, budgets and more. Team members are clearer on what's expected of them and when.
Improved collaboration – Whether co-located or remote, teams can independently contribute updates within a shared space through features like comments, @mentions and file sharing.
Streamlined communication – In addition to collaboration areas, tools offer built-in chat/ Messaging Systems, discussion forums and announcement capabilities for seamless coordination.
Enhanced planning – Powerful features like Gantt charts, kanban views and automatic task dependencies help teams establish robust, detailed project blueprints upfront.
Risk mitigation – Issues surface quickly through activity feeds and automated alerts. Teams can course-correct to minimize effects of delays or budget overruns.
Cost savings – Innovative tools consolidate previously disjointed workflows for lower overhead versus alternatives like email, spreadsheets and in-person meetings.
Analytics and reports – Robust metrics and insights help managers demonstrate value, take corrective action, and fine tune processes based on prior performance.
Happier teams – When utilized correctly, tools foster more engaged, autonomous work experiences through user-friendly interfaces optimized for productivity and enjoyment.
The right innovative and essential project management tool pays for itself by bringing order, efficiency and predictability to even the most complex operations.
We have been written about Project Management Software Benefits in another article.
Types Of Project Management Tools
Within this broad category exist several popular project management tool types tailored for different organizational needs:
Basic Tools – Entry-level options focused primarily on task and deadline tracking via kanban boards and basic Gantt charts. More suitable for occasional, simpler projects.
Collaborative Tools – Add extensive communication tools, file sharing and broader permission configurations on top of basic features. Ideal for medium complexity projects involving many parties.
Enterprise Tools – Highly customizable with modules for enhanced reporting, roadmapping, portfolio management and system integrations. Preferred by matrixed enterprisesjuggling a multitude of interrelated initiatives.
Agile Tools – Purpose-built for iterative software developmentmethodologieslike Scrum and Kanban with story point estimations, backlog management and automated workflows embedded.
Freemium Tools – Offers core capabilities transparently for free orvia limited functionality butcharges for additional users,features andpremium integrations. Excellent budget-friendly choices to try out.
Determining the right fit involvesevaluating an organization's unique blend of project types, team distribution, budget and scalability needs against the capabilitysets ofvarious category contenders.The goal is selecting the most innovative and essential solution to power workprocessesinto the future.
We have been written about Free Project Management Tools in another article.
Choosing The Right Project Management Tool For Your Business
Now that we understand the value innovative and essential project management tools examples provide, it's time to select one tailored to your organization's unique workflow needs. This process involves evaluation from key angles.
Identifying Your Business Needs
Before reviewing software options, take inventory of your business's project landscape. What types of work do you routinely manage – internal process improvements? Client work? Product development? Consider aspects like:
Team distribution and locations
Project interdependencies
Collaboration requirements
Budgeting and resource allocation needs
Reporting and analytics desires
Integration requirements with other systems
Get stakeholder input across departments to form a well-rounded picture of pain points needing addressed. Innovative tools letting remote teams work seamlessly from a shared hub are perfect for distributed teams, while portfolio management modules suit product-oriented companies.
Comparing Popular Project Management Software
Armed with understanding of needs, research top innovative project management tools in your price range. Evaluate feature sets against must-haves. Popular all-around choices include Asana, monday.com and Teamwork but specialized solutions exist too.
Read reviews to learn how each empowers workstyles. Some excel for agile, co-located teams while others integrate robustly across departments. Don't overlook freemium offerings either – many essential tools are free for individual or basic team use.
Schedule demos to see intuitive interfaces firsthand. Interactive trials let you test drive workflows before committing. Don't be afraid to ask tough questions on capabilities, security, pricing models and more during demo sessions.
Evaluating Features for Your Projects
With demo favorites shortlisted, conduct a thorough needs-features assessment. Map each project scenario to essential and innovative tool components like:
Task management and assignment flexibility
Customizable forms and approval workflows
Resource and budget tracking insights
Integrations with your CRM, help desk or CMS
Reporting customizations
Data migration complexities
Support and training options
Future scalability
This diligence prevents overlooking nuances impacting adoption and ROI. The right tool empowers your workstyle while easing growth for minimal learning curves down the line.
With diligence in understanding needs first, then comprehensive exploration of options, your business can select the most effective innovative and essential project management partner to streamline operations for the long haul.
We have been written about Simple Project Management Tool in another article.
Top Project Management Tools List To Consider
By now you have a solid grasp of your needs and shortlisted options, so here's a closer look at some of the most popular innovative, essential and top project management tools list on the market. Each offers their own strengths for different workstyles.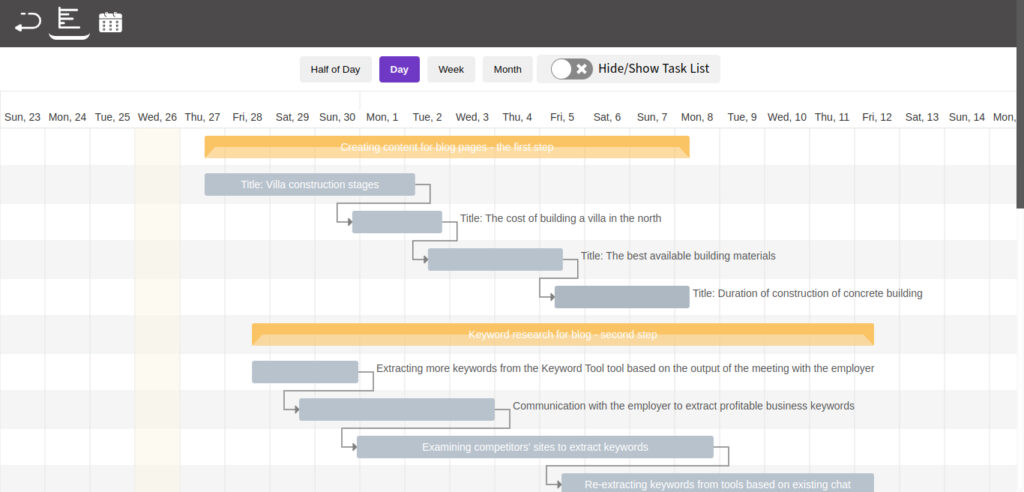 Doitify is an online task and project management platform that allows its users to plan, schedule and track their tasks. This platform provides features such as creating task lists, setting deadlines, personalizing settings, etc. It is a complete and comprehensive universal software that manages many tasks.
If you're looking for a the best project management software that can help you improve your team's productivity and efficiency, then Doitify is a great option. It's affordable, easy to use, and highly customizable.
Best For: Doitify is best for small to Large-sized businesses and remote teams. It is a cloud-based software that can be accessed from anywhere with an internet connection.
Platforms: as Web app for all platforms.
Doitify Pricing
Free plan: The free plan includes all features, but is limited to 5 members and 5 MB of space.
Premium plan: The premium plan costs $0.50 per month per member and includes unlimited space.
Doitify Features
Global Quality: The ability to compete with the best foreign project management software.
Free Plan: All features of the software are free, with the option to pay for additional storage and users.
Remote Team Management: The ability to communicate and monitor the performance of remote employees.
Different Management Systems: Support for Agile, Scrum, and other management systems.
Online Time Tracking: The ability to track and save the online time of employees.
Screen Sharing: The ability for admins to view the screens of working employees.
Daily Work Reports: Daily reports of employee work for better team and project control.
User Performance Tracking: The ability to track user performance in specific time periods.
Advanced Subtasks: The ability to create advanced subtasks with start and end times.
Quality Control: Consideration of quality control managers for subtasks.
Dedicated Chat: Chat capabilities for each subtask.
User Roles: The ability to assign roles and rules for users.
Checklists: The ability to create checklists for each task and subtask.
Subtask Status: The ability to set statuses for each subtask.
Import/Export: The ability to import and export subtasks.
Gantt Chart and Calendar: The inclusion of a Gantt chart and calendar in the free version.
Language Support: Support for right-to-left languages such as Chinese.
Regular Updates: Regular updates to add new features and improve functionality.
Pricing: Fair prices and the ability to create a portal for dollar currencies.
We have been written about Project Management Tools For Freelancers in another article.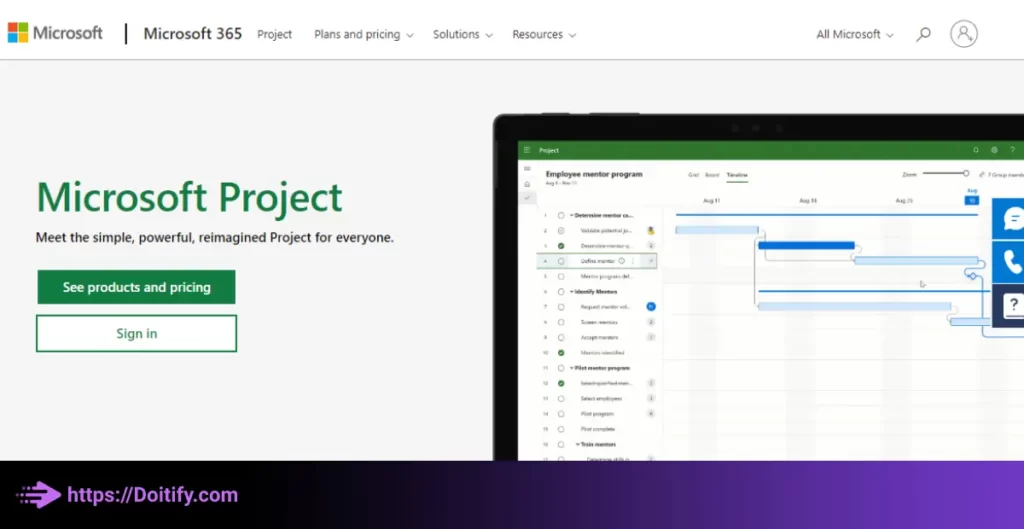 Microsoft Project is a project management software that has been in use for a long time and is widely recognized. It offers various features, including project planning, scheduling, cost control, reporting, and the ability to manage large projects effectively.
Best for: Medium to large organizations that have complex project management needs.
Platforms: Web, Desktop, as Teams and Planner App for Mobile
Microsoft Project Pricing
Standard: For small teams, it costs $7/user per month and offers basic features.
Professional: For medium-sized teams, it costs $10/user per month and offers enhanced reporting, custom fields and views.
Premium: For large enterprises, it offers the most features and capabilities along with 24/7 support. Pricing is customized based on business needs.
Microsoft Project Features
Project Planning: With Microsoft Project, you can create a comprehensive plan for your project, prioritizing tasks and agendas to ensure successful completion.
Resource Management: This software allows you to manage project resources, including people, equipment, and consumables, so that you can optimize their use.
Progress Monitoring: You can easily monitor the progress of your project with Microsoft Project and make necessary changes as needed.
Project Analysis: This software offers various charts and reports to help you analyze and review your project.
Deadlines: You can set deadlines for each task activity in your project using Microsoft Project, which helps you track progress.
Collaboration and Sharing: Microsoft Project makes it easy to collaborate with team members and share files and information.
Reporting: You can create various reports with Microsoft Project to check the progress of your project and optimize resource use.
Personalization: Microsoft Project allows you to customize task settings and the user interface to fit your needs.
We have been written about Project Management Tools For Small Teams in another article.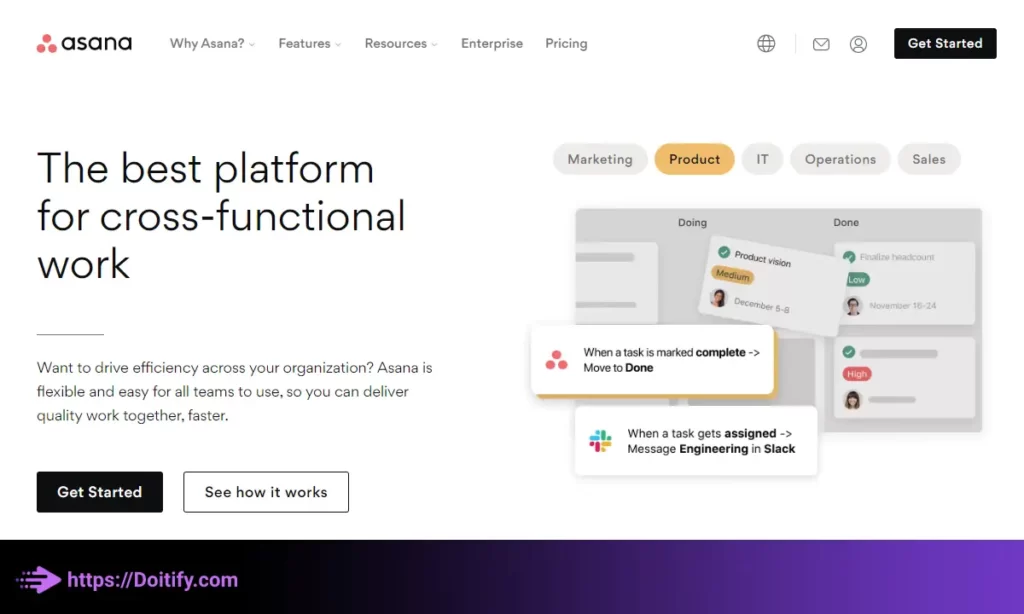 Asana is one of the best project management softwares that provides users with a comprehensive set of features to manage their projects efficiently. This tool also provides users with project timelines, calendars, and dashboards to help them stay on top of their tasks and ensure that projects are completed on time. Its user-friendly interface and robust collaboration features make Asana a popular choice for teams of all sizes.
Best for: Medium to large teams who need a robust project management tool.
Platforms: web, iOS, and Android.
Asana Pricing
Free version available with limited features.
Paid plans start at $10.99 per user per month.
Asana Features
Project templates: Asana offers a variety of project templates that users can use to get started quickly. Templates are available for a variety of project types, such as product launches, marketing campaigns, and team onboarding.
Custom fields: Asana allows users to create custom fields for tasks and projects. This can be useful for tracking specific information, such as project budgets, client information, or project status.
Task dependencies: Asana allows users to create task dependencies, which means that one task cannot be completed until another task is finished. This can help ensure that tasks are completed in the correct order.
Forms: Asana offers a feature called Forms, which allows users to create custom forms to collect information from team members or stakeholders. Forms can be used for a variety of purposes, such as collecting feedback or submitting project requests.
We have been written about Project Management Tools Like Asana in another article.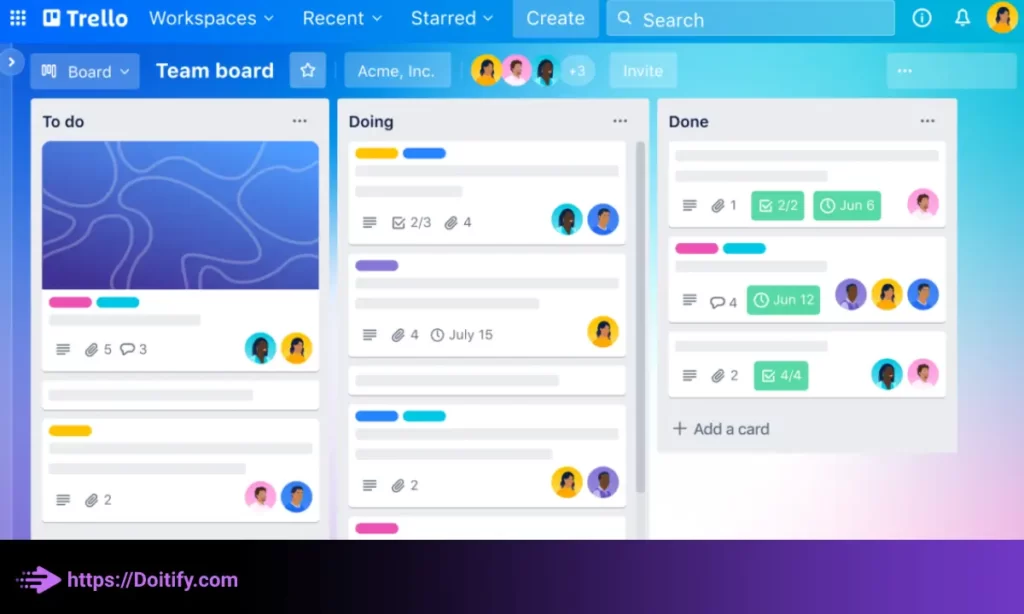 Trello is a popular top project management tool that provides a visual way to organize tasks and projects. It allows users to create boards for different projects, lists for different stages of a project, and cards for individual tasks.
It's also worth noting that while Trello is a great tool for managing tasks and projects, it may not be the best choice for managing large and complex projects that require more advanced features such as a Gantt chart or advanced reporting. In those cases, users may need to consider other project management tools that are better suited to their needs.
Overall, Trello can be a useful tool for individuals and teams who need a simple and visual way to manage their tasks and projects.
Best for: Small to medium-sized teams and freelancers who want a simple and easy-to-use project management tool.
Platforms: web, iOS, and Android.
Trello Pricing
Free version available with limited features.
Paid plans start at $9.99 per user per month.
Trello Features
Collaboration: Trello allows team members to collaborate on projects and see each other's progress in real-time. Users can leave comments, add attachments, and mention other team members on cards to communicate more effectively.
Mobile app: Trello has a mobile app that allows users to manage their tasks and projects on-the-go. This can be particularly useful for remote teams or those who need to work outside of the office.
Integrations: Trello integrates with a variety of other tools and services, such as Google Drive, Dropbox, and Slack. This allows users to connect their Trello boards to other apps and automate certain tasks.
Power-Ups: Trello offers a variety of Power-Ups, which are add-ons that provide additional functionality to the platform. Some popular Power-Ups include calendar view, voting, and custom fields.
Security: Trello takes security seriously and offers features such as two-factor authentication, SSL encryption, and third-party security audits to ensure that user data is protected.
We have been written about Project Management Tools Like Trello in another article.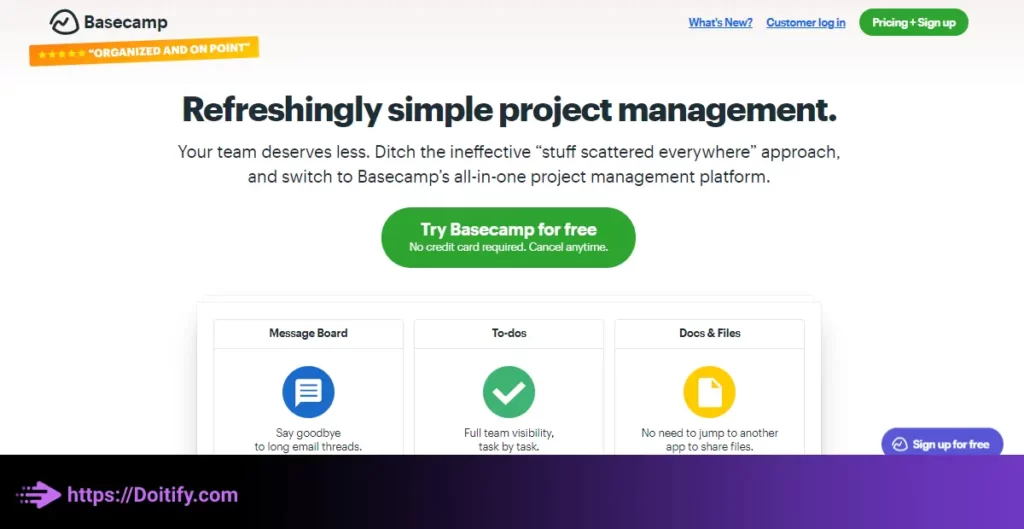 This online project management software includes features such as task division, project calendar, and messaging. Also, Basecamp has the ability to provide transparent and comprehensive reports about the progress of the project.
Best for: small to medium-sized businesses and teams that need a simple and straightforward project management tool.
Platforms: Desktop, MacOS, Android, iOS
Basecamp Pricing
Basic: 15 USD per month
Pro Unlimited: 299 USD per month
Basecamp Features
Simplicity and Ease of Use: Despite its advanced features, Basecamp is userfriendly and requires no specialized training.
Security: Basecamp is designed to keep your information secure, using SSL and encryption technology to protect your data.
Collaboration Capabilities: Basecamp makes it easy for team members to collaborate and coordinate using tools such as calendars, reminders, and shared files, helping teams stay in sync.
Multimedia Capabilities: Basecamp allows teams to share multimedia files such as images, videos, and text documents.
Project Tracking: With Basecamp, you can carefully track project progress and get detailed information about the project's status.
Easy Access: Team members can access Basecamp from anywhere and with any device, without the need to install or configure software.
Reporting Capabilities: Basecamp enables easy preparation of project reports and graphical and numerical display of project progress.
Task Automation: Basecamp provides the ability to create lists of repetitive tasks and perform them automatically, reducing project management time and costs.
All are innovative yet take unique approaches. Consider team preferences and needs to select the ideal essential partner for your workstyle.
We have been written about Time Tracking Project Management Tool in another article.
Innovative Project Management Tools To Consider
As projects grow increasingly complex, specialized innovative tools enter the mix. Here are a few leaders providing stand-out automation, visualization and scalability.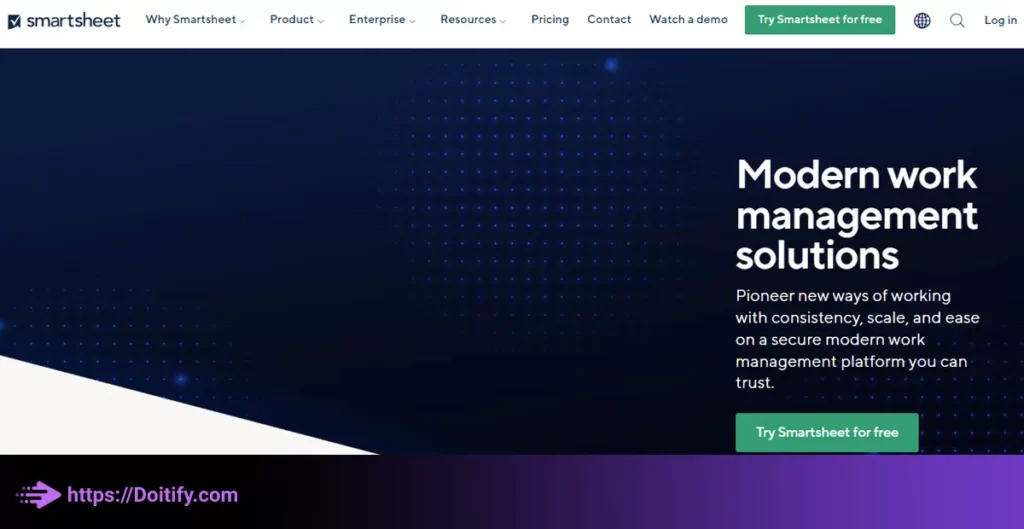 Smartsheet allows for collaborative work by letting multiple users view and edit projects, sheets, and tasks simultaneously in real-time. All changes are tracked so you can see revisions from different team members. Permissions can be set to control what specific individuals or groups can view and modify.
The visual workspace of Smartsheet makes it easy to see tasks, milestones, and dependencies at a glance. Spreadsheets resemble project boards where you can drag and drop items, add notes, and connect related entries. Color coding and labels further help with organization. Recurring tasks let you schedule repetitive work automatically.
Reporting capabilities in Smartsheet provide oversight of project status and help identify potential issues. Customizable dashboards pull metrics from across your worksheets. Real-time usage analytics show task completion rates and time spent on activities. Admins receive activity alerts and can run reports on specific time periods. Integrations with Google Drive, Box, and Microsoft Office also allow for easy access from other productivity tools.
Best for: Collaborative work management for teams.
Platforms: Web app and mobile app
Smartsheet Pricing
Free plan for up to 3 users, paid plans start at $12/user/month.
Smartsheet Features
Gantt Charts: Smartsheet allows you to create and manage Gantt charts visually showing tasks, timeline, dependencies and resources. You can also filter and sort the chart view.
Task Management: The tool enables you to create tasks, assign them, set dependencies, track progress and manage versions. Repeating tasks are also supported.
Resource Management: Smartsheet allows you to assign resources like people and materials to tasks. It tracks resource allocation and utilization across projects.
Timesheets: The tool lets team members fill out timesheets tracking time spent on tasks. Admins can approve timesheets from within Smartsheet.
Reporting: Smartsheet provides analytics dashboards showing project health, burndown charts, plan versus actual progress and more. It also enables custom report building.
Permissions: The tool gives you control over user and group permissions that determine what data different roles can access in a project.
We have been written about Agile Project Management Tool in another article.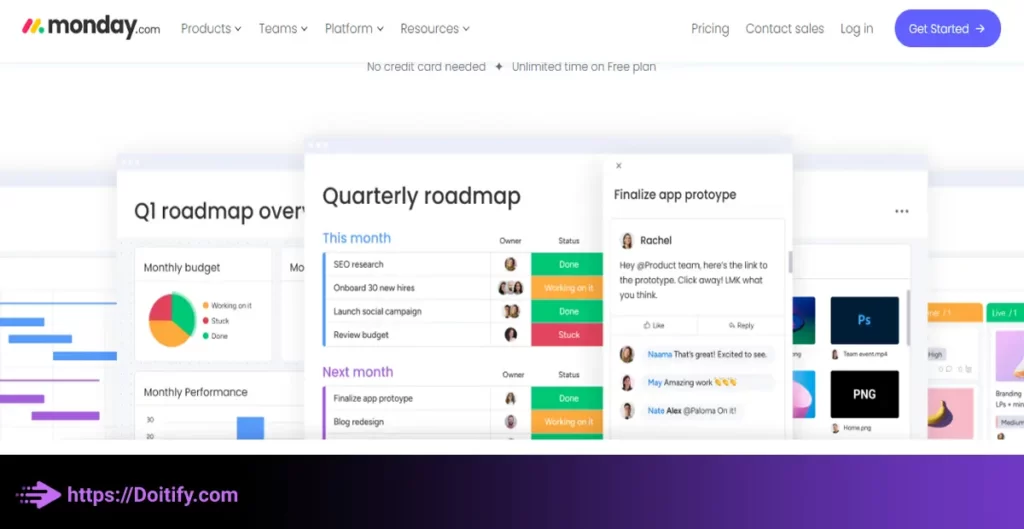 Modnay.com is an exceptional time tracking project management tool example that enables individuals and teams to manage their projects seamlessly. With its advanced time tracking capabilities, Modnay.com makes it easy for users to track the time spent on various tasks and projects, ensuring that deadlines are met and projects are completed on time. Additionally, the tool provides project management features that allow users to assign tasks to team members, set priorities, and monitor progress in real-time. Modnay.com is a valuable tool for any business or organization seeking to streamline their project management processes and boost productivity.
Best for: Small to large teams who want a customizable project management tool with time tracking features.
Platforms: web, iOS, and Android.
Monday.com Pricing
Free trial available for 14 days.
Paid plans start at $8 per user per month.
Monday.com Features
Customizable projects and tasks: You can create projects and tasks and assign them to team members.
Time tracking: You can track the time spent on each task and see how much time is left before the deadline.
Progress tracking: You can track the progress of each task and see how it fits into the overall project.
Customizable workflows: You can create custom workflows that fit your specific needs.
Integrations: Monday.com offers integrations with popular tools like Google Drive, Dropbox, and Slack.
Time tracking: You can track the time spent on each task and see how much time is left before the deadline.
Due dates: You can set due dates for each task and receive notifications when the deadline is approaching.
Customizable reminders: You can set up custom reminders to keep you on track and ensure that you meet your deadlines.
Time estimates: You can set time estimates for each task to help you stay on schedule.
We have been written about Project Management Tools Like Monday.com in another article.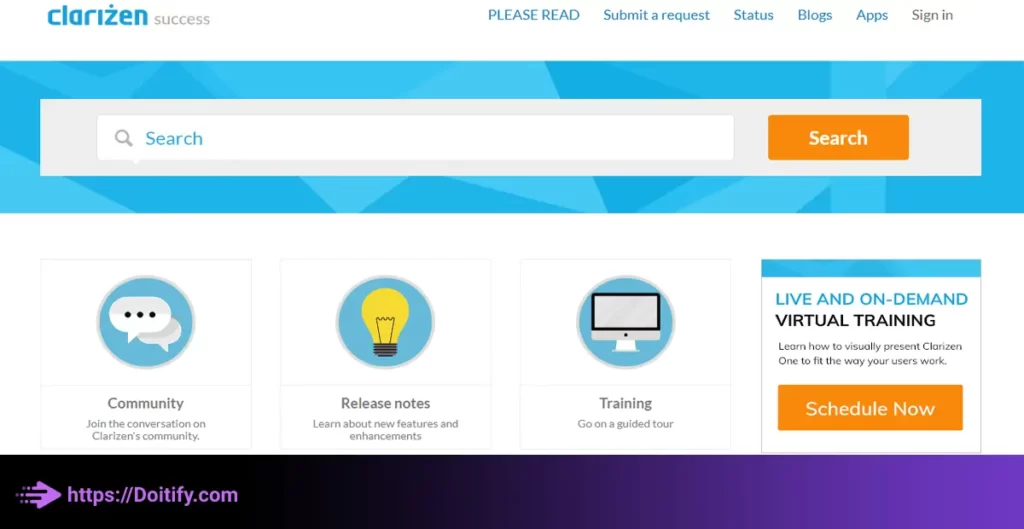 Clarizen is a robust healthcare project management solution ideal for large organizations. It offers a comprehensive set of features tailored to the unique needs of healthcare companies.
Clarizen is well-suited for large organizations because it provides comprehensive features to manage complex projects involving multiple teams and resources. The software's flexible dashboards and reports give managers deep visibility into project status, timelines and budgets. Its built-in security and compliance controls are designed to meet the needs of healthcare and pharmaceutical firms that must adhere to strict regulatory requirements.
Best for: Hospitals, medical device companies, and biotech firms
Platforms: Web-based, mobile apps for iOS and Android
Clarizen Pricing
Various subscription plans starting from $5/user per month
Clarizen Features
Gantt charts
Resource management
Task management
Timesheets
Messaging and discussion forums
Document repository
Issue tracking
Customizable workflows
Reporting and analytics
Integrations
Mobile app
All three deliver innovations elevating project management to new heights. Consider their specialized strengths for maximizing control over even your most intricate undertakings.
We have been written about Project Management Tool With Gantt Chart in another article.
Essential Tools For Any Project Management Toolkit
While flashy innovative features delight, fundamental essential tools underpin all successful project operation. Here are three indispensable building blocks for any PM approach.
Gantt Charts For Timelines
Visual timelines lay the groundwork for realistic scheduling. Gantt charts illustrate project durations, dependencies, and critical path milestones in an easy-to-interpret longitudinal format.
Clear communication of temporal expectations is table stakes – these charts serve as universally understandable graphic schedules internal and client-facing. Automated scheduling updates in innovative tools maintain timeline integrity painlessly.
Kanban Boards For Workflows
Kanban frameworks shine for work item flow transparency. Digital boards utilizing drag-and-drop cards empower teams to track tasks through backlog, active sprints and completion at a glance.
Distinct sections like To Do, In Progress, and Done provide visual queues aiding distributed teams. Due dates, assignees and item details consolidate work insights for status updates in seconds.
Calendaring For Scheduling
Calendaring adds structure from an orthogonal temporal dimension. Essential functionality includes activity and milestone date tracking integrated with Gantt chart timelines.
Shared project calendars cut versioning issues while inviting stakeholders to collaboratively plan logistics. Recurring meetings autopopulate without clerical tedium. Airtight scheduling minimizes disorganization risks.
Regardless the innovative bells and whistles afforded by modern tools, proper project execution hinges upon timeless best practices. Gantt charts, Kanban boards and calendaring anchor operations every step of the way.
We have been written about Personal Project Management Tool in another article.
Implementing Your New Project Management Tool
Tools only prove valuable when adopted as part of every day work. Following the selection of your innovative and essential partner, focus shifts to rollout.
Onboarding Your Team
Coordinating training lays the foundation for success. Schedule sessions explaining value propositions, capabilities and workflows. Use created templates as demonstration material.
Position leadership as champions reinforcing importance. Pair newbies with power users addressing questions promptly. Guide teams migrating essential documents from legacy systems.
Setting Up Templates And Workflows
Preconfigure standard objects, forms and automated routing tailored towards common project types. These baseline templates streamline initially creating new work items.
intuituve Kanban boardsOr Gantt Chart Views visualize standard sequences step-by-step. Associating automated approval rules maintains essential quality gates.
Integrating With Other Tools
Maximize value tapping features like directly importing contacts, timesheets or expenses. Connect helpdesk, CRM and complementary tools through open APIs for unified insights across teams.
Deep integrations minimize duplicating essential work between systems while innovative tools shine coordinating experts organization-wide.
Measuring And Improving Over Time
Refine processes iteratively. Conduct usage analyses identifying adoption laggards requiring additional coaching. Tweak templates aligning more intuitively to natural workflows.
Leverage reporting capabilities evaluating success metrics like on-time delivery and budget adherence. Continuous tuning optimizes deriving greatest value from invested innovative and essential project solutions.
Change management constitutes a critical phase for sustained habit. Prioritize user experience, communications and flexibility tailoring rollout smoothly across all teams.
We have been written about Project Management Tool With Calendar in another article.
Best Practices For Success
Maximizing value from innovative and best project management tools demands continual optimization. Here are tactics maintaining momentum.
Achieving Team Buy-In
Engage teams upfront in selection and provide ownership of rollout. Explain benefits clearly for inspiring voluntary adoption.
Celebrate early wins publicly recognizing champions' efforts. Link performance reviews to tool utilization encouraging intrinsic motivation.
Setting Clear Expectations
Establish templates enumerating specific data and workflows required. Train explaining why compliance maintains integrity.
Leadership must also lead by example diligently following processes themselves. Walk the talk earning followership through action consistently.
Continuous Process Improvement
Solicit periodic feedback strengthening user experiences iteratively. Tool-generated reports highlight inefficiencies to address.
Brainstorm enhancements with power users during retrospective sessions. Package tweaks tested transparently for organisation review and approval.
Change management proves an ongoing cyclical journey. With buy-in, clear communication and continuous refinement, innovative and essential project management tools evolve unlocking exponential potential value over the long run.
We have been written about Project Management System in another article.
Conclusion
By now, we've explored how innovative and essential project management tools online can streamline your processes from start to finish if implemented properly. Whether you opt for a specialized solution like Clarizen or all-around platform such as Asana, making the shift to digital collaboration has clear benefits for both individuals and organizations. Don't underestimate the power of these solutions to truly optimize your projects and maximize results.
The secrets to success lie in thorough evaluation of your unique workflows during selection, followed by clear communication and template customization throughout implementation. Never forget the fundamentals either – Gantt charts, kanban boards and calendaring remain as vital as ever. With change management prioritized every step of the way, teams adopt new habits smoothly for lasting ROI.
I hope this guide has inspired you to explore digital project management's many benefits available at your fingertips. It's time to take the next step towards empowering your best work – start evaluating options and seeing how workflows transform before your eyes. The future of work is here, so what are you waiting for?
FAQs
What is a project management tool?
A digital solution that facilitates planning, collaboration, documentation and reporting for projects.
How do they help improve productivity?
By streamlining communication and tasks in one central hub to minimize duplicate work and status updates.
What are common online project management tool features?
Task assignment, file sharing, calendaring, Gantt charts, reporting and integration with other apps.
How do I choose the right tool for my needs?
Evaluate your projects, teams and budget then compare top options with trials and demos.
What are popular project management tools?
Doitify, Asana, Trello, monday.com, Teamwork, Smartsheet, Microsoft Project, and more.
How do I get my team onboard?
Provide training, customize templates to workflows, promote champions and address issues promptly.
How do I measure success over time?
Analyze usage, collect feedback, tweak processes and track KPIs like on-time delivery and budgeting.