A project management tool for small teams is software that helps individuals and teams develop project plans, assign tasks and resources, track project status, manage budgets, share information, and analyze data to facilitate effective execution and management of projects. They provide visibility into projects and help keep them on track by streamlining communication and workflows.
For small teams, an easy-to-use interface, tight collaboration features and the ability to manage tasks, resources and timelines in one place are important factors when choosing a project management tool for small teams.
Project management tools for small business enable features like:
Task management – Creating lists of tasks, assigning them to team members, setting deadlines and priorities.
Time and resource management – Tracking time spent on tasks, allocating resources to tasks and projects.
Communication – Sharing messages, files and updates within the team in one central place.
Reporting and analytics – Generating summaries, reports and visualizations of project data for insights and decision making.
Table of Contents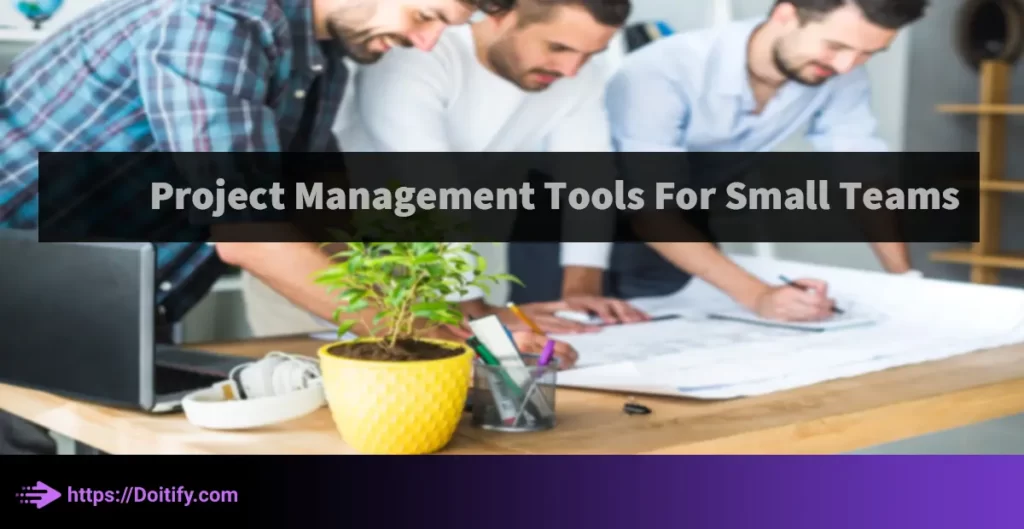 Why Small Teams Need Project Management Tools
Small teams face unique challenges managing projects effectively due to limited resources and higher workloads per person.
Project management tools can help small teams in the following ways:
Keep everyone on the same page – By centralizing communications and updates about tasks, progress and changes, everyone has access to the same information at the same time. This fosters transparency and accountability within the team.
Optimize efficiency – By automating routine tasks like assigning work, tracking time spent and setting reminders, project management tools helps save time and effort, making teams more productive.
Distribute work evenly – Tools that provide visibility into tasks, workloads and resource allocation enable managers to distribute work more evenly among team members to avoid bottlenecks and burnout.
Track progress in real time – Dashboards, timelines and status reports keep everyone updated on the progress of projects in relation to goals and deadlines, highlighting risks early. This ensures projects stay on track.
Maintain focus – By managing all projects and tasks in one platform, team members are less likely to lose focus or forget about commitments. This helps small teams maintain their agility and nimbleness.
For these reasons, project management tool for small teams are especially helpful for small teams to maximize their efficiency, maintain accountability, and execute projects successfully despite their relatively limited resources.
article.
We have been written about Project Management Software For Development in another article.
Features To Look For In A Project Management Tool For Small Teams
Easy to Use Interface
For small teams, a project management tool with an easy-to-use and intuitive interface is crucial.
Team members need to be able to quickly and easily:
Add and manage tasks: Create new tasks, assign them to team members, set dependencies and due dates.
Add and update project details: Provide details about projects like objectives, budgets, deadlines and notes in a simple and organized manner.
View project status and progress at a glance: Visuals like color-coded tasks, calendars, timelines and simple progress bars help team members stay updated without clutter.
Share and update information: Leave comments, tag team members and upload files in an interface that is both familiar and accessible.
The interface should require little to no training and acclimation for team members to be productive. Dropdown menus, in-context help and tutorials further improve usability for small teams.
A clutter-free and distraction-free layout that focuses attention on the most important details also helps small teams stay focused and on track.
The key is an interface that provides all the needed information and functionality to manage projects while being simple enough for team members to seamlessly incorporate into their workflows without disruption or slow down.
Task Management
Robust task management functionality is essential for any good project management tool for small teams.
Key features to look for include:
Task creation – The ability to easily create tasks with details like name, description, priority, assignee, due date, dependencies, comments, attachments, etc.
Task assigning – Flexible ways to assign tasks to specific team members, roles or groups.
Subtasks – The option to break down large tasks into smaller subtasks to improve clarity and tracking.
Templates – Use of templates to quickly create repetitive or similar tasks, saving time.
Tracking progress – Features like checkboxes, percentages or stage-based tracking to monitor task progress in real time.
Reminders – The ability to set reminders and notifications about tasks to ensure deadlines are met.
Dependency mapping – The option to link tasks that depend on the completion of other tasks to ensure proper sequencing.
Filtering and sorting – The ability to easily filter and sort tasks by assignee, deadline, priority and status to quickly focus on the most relevant information.
Time tracking – Integration with time trackers to record and monitor time spent on tasks. This helps optimize resource allocation and billing.
For smaller teams with limited administrative support, reliable task management features that provide structure while giving teams the flexibility to customize workflows to suit their needs can go a long way in keeping projects on track.
Resource Allocation
Effectively allocating resources like people, equipment and materials is critical for any project.
A good project management tool for small teams should provide:
Team member profiles – Detailed profiles for each team member with information like skills, availability, workload, billing rates, etc.
Task assignment – The ability to easily assign tasks to specific team members based on their profiles, skills and availabilities.
Workload tracking – Dashboard views and reports that show the tasks and workload assigned to each team member, highlighting potential bottlenecks.
Calendar integration – Integration with calendar apps like Google Calendar to check team members' availabilities before assigning tasks.
Resource scheduling – The option to schedule resources like equipment or rooms and track their usage.
Budget tracking – Tracking of budgets allocated to different tasks and projects. Warnings when tasks go over budget.
Time tracking – Time trackers integrated directly into the resource allocation system to monitor how long tasks actually take.
Flexible views – Flexible list, calendar and Gantt chart views to optimize resource allocation based on a project's specific needs.
For small teams that rely on high performance from a smaller number of multi-tasking individuals, resource allocation features that provide transparency into staff workloads, budgets and schedules can help managers avoid bottlenecks and optimize efficiency.
Timeline and Gantt Charts
For small teams working on multiple interconnected projects, having a clear visual of project timelines and dependencies is crucial for maintaining focus and managing expectations. Look for:
Gantt charts – Visual timelines that map out the start and end dates of tasks, dependencies and milestones. Provide an at-a-glance overview of progress and critical path.
Flexible views – Ability to switch between different timeline views like list, calendar and Gantt chart based on the information needed.
Task dependencies – Functionality to link task bars in Gantt charts based on logical dependencies so dependencies are clear.
Milestones – Ability to set and mark milestones on timelines to track progress towards big goals.
Filtering and sorting – Filter and sort Gantt chart and timeline elements by various attributes like assignee, project, tags, etc.
Schedule changes – Ability to drag and drop or manually edit tasks bars on Gantt charts to easily make adjustments to schedules.
Slack and delays – Warnings when slack in the schedule is running low or tasks are delayed to keep projects on track.
Visual warnings – Color coding of tasks bars based on status to highlight issues at a glance.
For small teams comprised of busy individuals often juggling multiple responsibilities, visual timelines that make it easy to track progress, detect issues and make adjustments help maximize effectiveness and minimize unexpected delays or bottlenecks.
We have been written about Project Management Tool With Gantt Chart in another article.
Reporting And Analytics
For data-driven decision making, project management tools for small teams should offer robust reporting and analytics features like:
Default reports – Preset reports that show high-level project summaries and visuals to track key metrics.
Custom reports – The option to create custom reports based on specific data fields and team preferences.
Real-time data – Up-to-the-minute data feeds and automatic report updates as new information is added.
Visualizations – Charts, graphs and dashboards that transform raw data into easy-to-understand and actionable visual summaries.
Drill-down features – The ability to drill down through reports and visualizations to view more granular data as needed.
Export options – Exporting reports to PDF, Excel and other formats for analysis outside the system or for sharing.
Budget tracking – Reports that track project budget status versus actual costs with variance warnings.
Timeline overviews – Summary reports and graphs that show timeline progress and potential issues with schedule slippage.
For small teams that rely on gut instincts and experience more than data, integrated reporting and analytics dashboards that summarize project health and highlight issues in a simple and visual manner can help optimize processes, improve decision making and avoid potential problems before they grow too large.
Collaboration
Effective collaboration is essential for distributed and virtual small teams, thus requiring robust collaboration features within the project management tool itself. Look for:
Messaging – Built-in messaging capabilities that allow team members to communicate and ask questions within the context of tasks and projects. This keeps communication streamlined and focused.
Comments – The option to add comments to tasks, projects and files for team discussion and input. Comments remain attached to the relevant information for future reference.
@mentions – The ability to @mention team members within messages and comments to notify them and request input. This ensures the right people are looped in as needed.
File sharing – The option to upload, comment on and discuss files directly within the tool. This simplifies document management and keeps all relevant materials in one place.
Real-time editing – The ability for multiple team members to view and collaboratively edit documents, spreadsheets and other files at the same time.
Video calls – Built-in video conferencing capabilities or tight integrations with tools like Zoom to enable face-to-face collaboration when needed.
Task delegation – The option to delegate tasks to other members in @mention or comment form. This keeps delegation requests attached to the relevant tasks.
For distributed small teams, project management tools that double as effective collaboration platforms streamline communications, provide access to the right information at the right times, and help strengthen relationships through a shared virtual workspace.
We have been written about Project Management Tool For Teams in another article.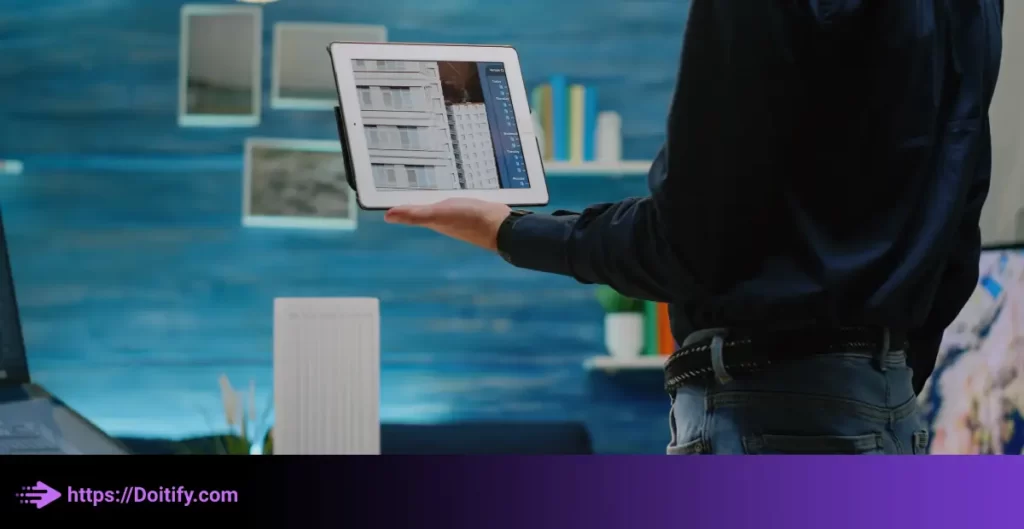 Types Of Project Management Tools For Small Teams
Kanban Boards
Kanban boards are a type of agile project management tool based on visualizing workflow and limiting work in progress.
They are well suited for small teams due to:
Visual interface – Tasks are represented visually on a virtual "board" with columns. This simple interface is intuitive for small teams.
Flexibility – Kanban allows teams to customize and adapt processes to suit their specific needs and workflows.
Focus on flow – The emphasis is on continuously improving the flow of work through visualization, measurement, and process adjustments. This aligns well with the nimble nature of small teams.
Work in progress limits – Setting maximum limits on the number of tasks in different stages keeps teams from taking on too much at once, helping avoid overwhelm and bottlenecks.
Transparency – Making all tasks and their status publicly visible on the board fosters transparency within the team and accountability for work.
Continuous improvement – The iterative nature of Kanban supports experimentation and continuous process optimization in small teams.
Minimal overhead – Kanban requires less initial planning and documentation compared to other methodologies, fitting well with the self-starting nature of smaller teams.
For these reasons, Kanban project management tools tend to be natural fits for fast-moving and self-organizing small teams that value adaptability, transparency, and flexibility over rigid processes.
Agile Project Management Tools
Agile project management tools are also well suited for small teams because agile methodologies:
Align well with the flexible and adaptive nature of small teams.
Favor individual interactions and technical excellence over following a rigid process. This suits the self-organizing nature of small teams.
Enforce timeboxing through sprints which fit the fast pace and high urgency of small teams.
Enable teams to respond quickly to change through short iterations, allowing small teams to pivot easily.
Require minimal upfront planning which is ideal for small teams that often jump quickly into action.
Emphasize frequent communication through daily standups and retrospectives, which is essential for keeping distributed small teams in sync.
Focus on continuously improving through iteration and Experimentation which fits the learning-oriented culture of small teams.
Feature visual task boards and burndown charts to provide transparency into progress which is important for accountability in small teams.
For these reasons, agile project management tools can be especially effective for small teams that value productivity, autonomy, innovation and nimbleness over hierarchical structure, formal processes and micromanagement.
The right agile tool gives small teams the framework they need to self-organize while maintaining the flexibility to adapt processes to suit their specific aims and workflows.
Traditional Tools
While agile and Kanban-based tools are often a natural fit for small teams, traditional project management tools that follow a waterfall approach can also be effective for certain types of small teams and projects that:
Require more structure and predictable outcomes. Some small teams, particularly those comprised mainly of specialists, prefer the structure and predictability of waterfall.
Have inflexible deadlines and scope. For projects with firm deadlines and deliverables set by clients or stakeholders, a more rigid linear methodology can be a good fit.
Involve collaboration with external partners. When working with partners, clients or vendors used to waterfall, traditional tools that follow a similar structure can facilitate collaboration.
Have compliance requirements. In regulated industries, traditional tools that provide comprehensive documentation, reports and audit trails are often needed to meet compliance standards.
Manage complex interdependencies. For projects with many sequential tasks and dependencies, the hierarchical task breakdown and detailed planning of waterfall can provide a helpful framework.
Need project baselines. The detailed planning inherent in waterfall enables creating cost and schedule performance baselines that can be helpful for monitoring and governance.
While less aligned with the natural tendencies of most small teams, traditional project management tools can be valuable for the types of projects and teams described above, particularly when balanced with an element of agility through techniques like iterative development.
The key is choosing a tool that matches the specific needs, preferences and constraints of the small team and project at hand.
Best Project Management Tools For Small Teams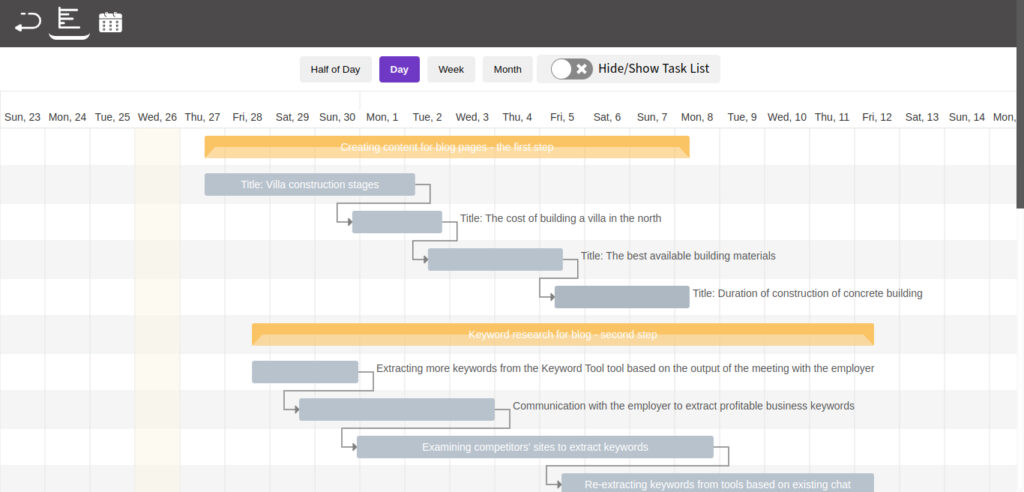 Doitify is an online task and project management tool for small teams that allows its users to plan, schedule and track their tasks. This platform provides features such as creating task lists, setting deadlines, personalizing settings, etc. It is a complete and comprehensive universal software that manages many tasks.
If you're looking for a the best project management software that can help you improve your team's productivity and efficiency, then Doitify is a great option. It's affordable, easy to use, and highly customizable.
Best For: Doitify is best for small to Large-sized businesses and remote teams. It is a cloud-based software that can be accessed from anywhere with an internet connection.
Platforms: as Web app for all platforms.
Doitify Advantages
Global Quality: The ability to compete with the best foreign project management software.
Free Plan: All features of the software are free, with the option to pay for additional storage and users.
Remote Team Management: The ability to communicate and monitor the performance of remote employees.
Different Management Systems: Support for Agile, Scrum, and other management systems.
Online Time Tracking: The ability to track and save the online time of employees.
Screen Sharing: The ability for admins to view the screens of working employees.
Daily Work Reports: Daily reports of employee work for better team and project control.
User Performance Tracking: The ability to track user performance in specific time periods.
Advanced Subtasks: The ability to create advanced subtasks with start and end times.
Quality Control: Consideration of quality control managers for subtasks.
Dedicated Chat: Chat capabilities for each subtask.
User Roles: The ability to assign roles and rules for users.
Checklists: The ability to create checklists for each task and subtask.
Subtask Status: The ability to set statuses for each subtask.
Import/Export: The ability to import and export subtasks.
Gantt Chart and Calendar: The inclusion of a Gantt chart and calendar in the free version.
Language Support: Support for right-to-left languages such as Chinese.
Regular Updates: Regular updates to add new features and improve functionality.
Pricing: Fair prices and the ability to create a portal for dollar currencies.
Doitify Pricing
Free plan: The free plan includes all features, but is limited to 5 members and 5 MB of space.
Premium plan: The premium plan costs $0.50 per month per member and includes unlimited space.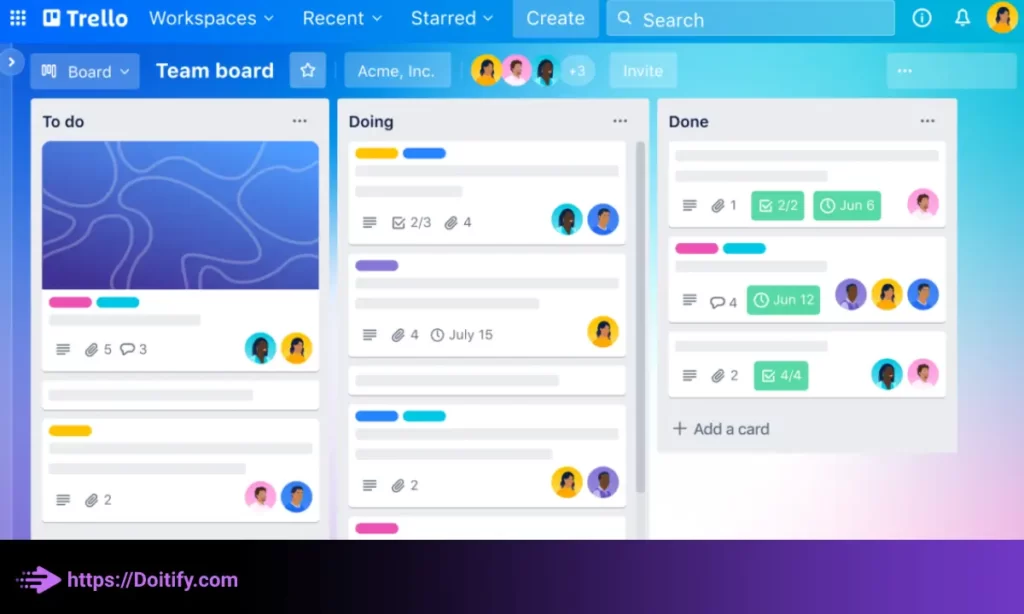 Trello is a popular project management tool for small business that provides a visual way to organize tasks and projects. It allows users to create boards for different projects, lists for different stages of a project, and cards for individual tasks.
It's also worth noting that while Trello is a great tool for managing tasks and projects, it may not be the best choice for managing large and complex projects that require more advanced features such as a Gantt chart or advanced reporting. In those cases, users may need to consider other project management tools that are better suited to their needs.
Overall, Trello can be a useful tool for individuals and teams who need a simple and visual way to manage their tasks and projects.
Best for: Small to medium-sized teams and freelancers who want a simple and easy-to-use project management tool.
Platforms: web, iOS, and Android.
Trello Advantages
Collaboration: Trello allows team members to collaborate on projects and see each other's progress in real-time. Users can leave comments, add attachments, and mention other team members on cards to communicate more effectively.
Mobile app: Trello has a mobile app that allows users to manage their tasks and projects on-the-go. This can be particularly useful for remote teams or those who need to work outside of the office.
Integrations: Trello integrates with a variety of other tools and services, such as Google Drive, Dropbox, and Slack. This allows users to connect their Trello boards to other apps and automate certain tasks.
Power-Ups: Trello offers a variety of Power-Ups, which are add-ons that provide additional functionality to the platform. Some popular Power-Ups include calendar view, voting, and custom fields.
Security: Trello takes security seriously and offers features such as two-factor authentication, SSL encryption, and third-party security audits to ensure that user data is protected.
Trello Pricing
Free version available with limited features.
Paid plans start at $9.99 per user per month.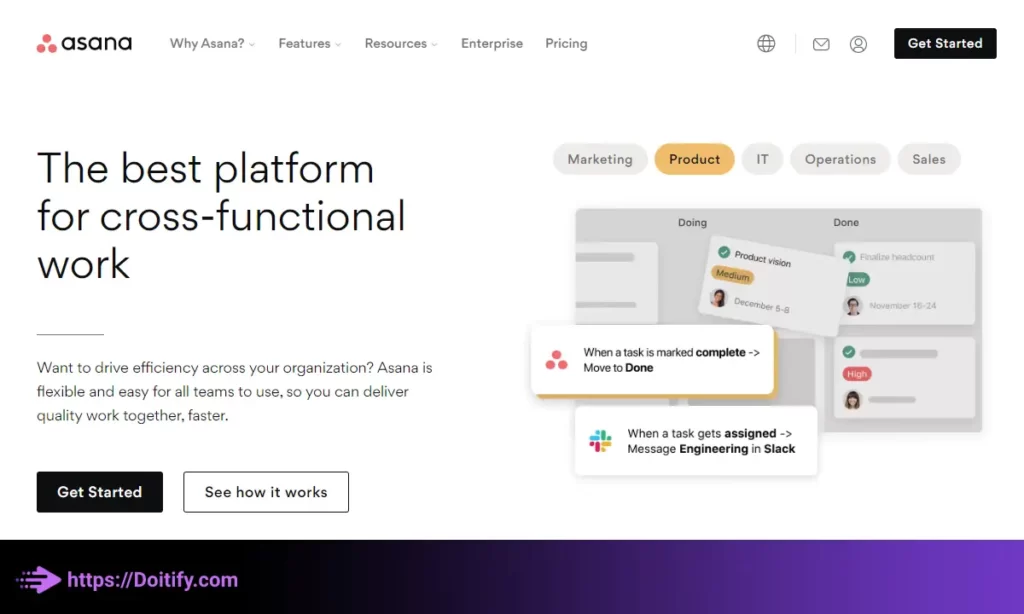 Asana is one of the project management tool for small teams that provides users with a comprehensive set of features to manage their projects efficiently. This tool also provides users with project timelines, calendars, and dashboards to help them stay on top of their tasks and ensure that projects are completed on time. Its user-friendly interface and robust collaboration features make Asana a popular choice for teams of all sizes.
Best for: Medium to large teams who need a robust project management tool.
Platforms: web, iOS, and Android.
Asana Advantages
Project templates: Asana offers a variety of project templates that users can use to get started quickly. Templates are available for a variety of project types, such as product launches, marketing campaigns, and team onboarding.
Custom fields: Asana allows users to create custom fields for tasks and projects. This can be useful for tracking specific information, such as project budgets, client information, or project status.
Task dependencies: Asana allows users to create task dependencies, which means that one task cannot be completed until another task is finished. This can help ensure that tasks are completed in the correct order.
Forms: Asana offers a feature called Forms, which allows users to create custom forms to collect information from team members or stakeholders. Forms can be used for a variety of purposes, such as collecting feedback or submitting project requests.
Asana Pricing
Free version available with limited features.
Paid plans start at $10.99 per user per month.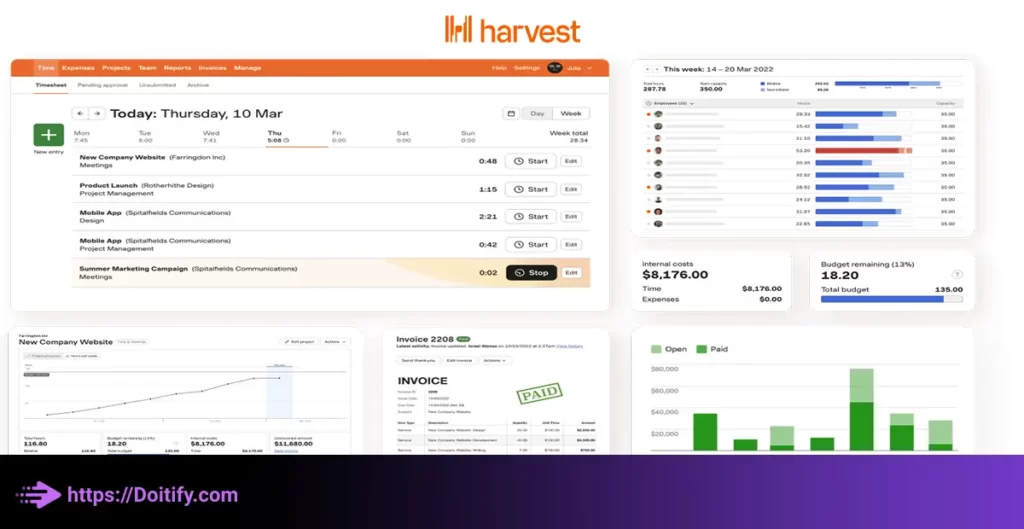 Harvest is a popular time tracking project management tool that helps teams manage their projects efficiently and stay on top of their schedules. With Harvest, users can track the time spent on each task, ensuring that they are billing their clients accurately and maximizing their productivity. The tool also offers users a range of project management features, including task lists, project budgets, and invoicing tools, to help teams stay organized and on track.
Best for: Freelancers and small to medium-sized teams who want a simple and easy-to-use time tracking project management tool.
Platforms: web, iOS, and Android.
Harvest Advantages
Time tracking: You can track the time spent on each task and project.
Invoicing: You can create and send invoices to your clients directly from the app.
Budget tracking: You can set project budgets and track your expenses to ensure that you stay on budget.
Reports: You can generate detailed reports on your time usage and project progress.
Integrations: Harvest offers integrations with popular tools like Trello, Asana, and Slack.
Time tracking: You can track the time spent on each task and project.
Due dates: You can set due dates for each task and receive notifications when the deadline is approaching.
Customizable reminders: You can set up custom reminders to keep you on track and ensure that you meet your deadlines.
Time estimates: You can set time estimates for each task to help you stay on schedule.
Harvest Pricing
Free trial available for 30 days.
Paid plans start at $12 per user per month.
Conclusion
The right project management tool for small teams can be transformative, helping optimize communication, manage workloads, track progress and make data-driven decisions. But choosing the right tool requires considering:
Work style – Agile tools suit adaptable teams while traditional tools structure specialized teams. Hybrid options work too.
Collaboration – Select tools with robust messaging, commenting, file sharing and video calling to enable effective virtual teamwork.
Desired processes – Some teams prefer flexibility while others need rituals and templates to systematize work and ensure quality.
Integration – Look for tools that integrate cleanly with the apps teams already rely on for productivity.
Ease of use – Prioritize simple, intuitive interfaces that require little training and ongoing support.
Cost – Consider free versions and affordable pricing to scale with growing needs.
With the right tool, even the smallest teams can increase efficiency, avoid common problems and operate at a higher "collective IQ". Selecting a tool that aligns with your specific team's:
Strengths: What does your team do well that you want to optimize?
Weaknesses: What typically trips up or slows down your team?
Opportunities: How could a project management tool help your team unlock its potential?
Constraints: What limitations might a tool need to accommodate?
Will help ensure the tool actually improves – rather than disrupts – how your team works. So assess tools through the lens of your team's unique dynamics, aims and constraints to find the best "digital assistant" for taking results to the next level.
FAQs
How can a project management tool improve the effectiveness of a small team?
•         By keeping everyone on the same page with shared task lists, comments, and file libraries
•         By automating repetitive tasks so team members can spend more time on higher value work
•         By highlighting bottlenecks and overloaded resources so work can be redistributed
•         By providing at-a-glance status reports and dashboards that show what needs attention
•         By integrating team members' calendars and timesheets to optimize schedules
What features should I prioritize for a small team?
The most important features for small teams are easy usability, clear task management, good collaboration capabilities, and visibility into project status and progress.
How do I choose between agile vs traditional tools?
Agile tools typically fit small teams better due to their flexibility and adaptability. But traditional tools may be a better fit if you have: inflexible deadlines, complex interdependencies, the need for detailed plans and reports, or you're collaborating with partners used to waterfall project management.
Should I get a free or paid tool?
Many good free tools exist, so start with a free option that has the features you need. As your team grows and needs become more sophisticated, a paid tool with more robust capabilities may be worthwhile.
How do I ensure my team will adopt the tool?
Involve team members in evaluating and selecting the tool. Have champions who will model effective usage. Train the full team and provide documentation and support. And gamify usage by rewarding adoption and active participation within the tool.