Project management tool for teams, cover a wide spectrum, from traditional on-premise software to modern cloud-based applications. They vary in features, ease of use, and cost. But at the core, all project management tool aim to help teams perform key functions like defining deliverables, assigning tasks, setting deadlines and bringing all stakeholders on the same page to achieve the project objectives successfully.
In this article, we will explore the different types of popular project management tool for teams, their key features, compare the top tools and recommend the best options based on your team's needs.
Project management is the discipline of initiating, planning, executing, controlling, and closing the work of a team to achieve specific goals and meet specific success criteria. Effective project management ensures teams deliver projects on time and on budget while meeting performance and quality objectives.
Teams need dedicated teams project management tool for the following reasons:
Clarity of tasks and responsibilities: By assigning tasks and delegating work in a tool, teams get a clear view of who is responsible for what. This reduces confusion and ensures accountability.
Timeline management: Tools enable teams to set deadlines, track progress against timelines and adjust schedules when needed. This keeps projects on track.
Communication hub: Centralizing communication in a tool keeps all team members in the loop, facilitates discussions and decisions, and minimizes the chance of important information getting missed.
Transparency: Having tasks, progress and resources visible to the entire team in a tool promotes transparency, trust and collaboration within the team.
Productivity: Tools automate repetitive tasks, integrate with other apps, and provide dashboards and reports. This helps improve team efficiency and maximize productivity.
Resource optimization: Tools help teams manage budgets, assign resources optimally and track time spent on tasks. This leads to better utilization of resources.
Table of Contents
We have been written about Project Management Tool For Mac in another article.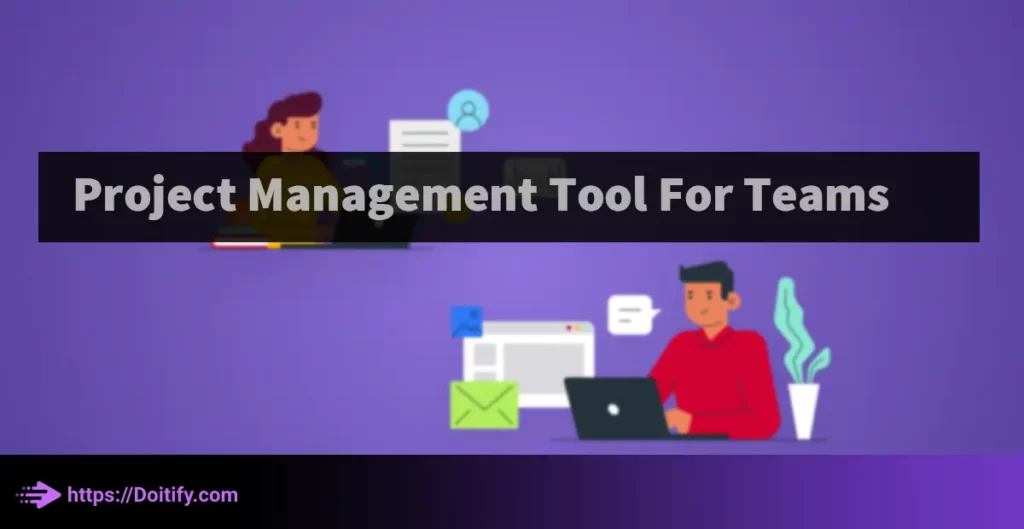 Types Of Project Management Tool
Traditional Software-Based Project Management Tool
Traditional teams project management tool like Microsoft Project and Primavera have been used by teams for decades. They run on the desktop and offer comprehensive feature sets for detailed planning, scheduling and budgeting. Some key advantages of these tools are:
Robust functionality: They offer a wide range of features including resource management, cost control, risk management, and complex scheduling capabilities.
Complex reporting: They generate advanced reports on budgets, tasks, resources and timelines that help with project audit and analysis.
Offline use: Since they run on desktops, they can be used without an internet connection.
However, traditional tools also have some drawbacks:
Difficult to use: Their complex interfaces make them difficult for casual users to adopt.
High cost: They tend to have higher licensing fees.
Lack collaboration: They lack real-time collaboration features for geographically distributed teams. Any changes have to be manually updated.
We have been written about Project Management Tools For Small Teams in another article.
Web And Cloud-Based Project Management Tool
Web and cloud-based project management tool offer most of the features of traditional tools in an online, software-as-a-service model. Some of their key benefits are:
Easy to use: They have intuitive interfaces that require little training to get started.
Collaboration: They enable real-time collaboration through features like task assignment, chat, file sharing and comments. All changes are synced immediately.
Access from anywhere: Since they are web-based, team members can access them from any device with an internet connection.
Integration: They integrate well with other apps like G Suite, Slack, Dropbox, etc. for a combined workflow.
Tracking: They provide advanced tracking of tasks, resources and budgets through dashboards and reports.
Agile project management tool are designed specifically for teams using agile methodologies like Scrum and Kanban. They have features that closely align with agile practices like:
Kanban boards: They offer digital Kanban boards to visualize work in progress, upcoming work and completed work. Teams can customize columns and cards on these boards.
Sprints: These tools allow teams to define sprints of 1-4 weeks, assign stories or tasks to each sprint and track progress.
Burndown charts: They generate burndown charts automatically based on tasks completed in a sprint to help teams assess their pace.
Story points: Teams can estimate story points for user stories and track them through a release.
Time tracking: Agile time tracking of sprint tasks helps teams evaluate velocity and efficiency.
Integrations: Most agile tools integrate with version control, chat and other tools for a streamlined workflow.
We have been written about Project Management Software For Development in another article.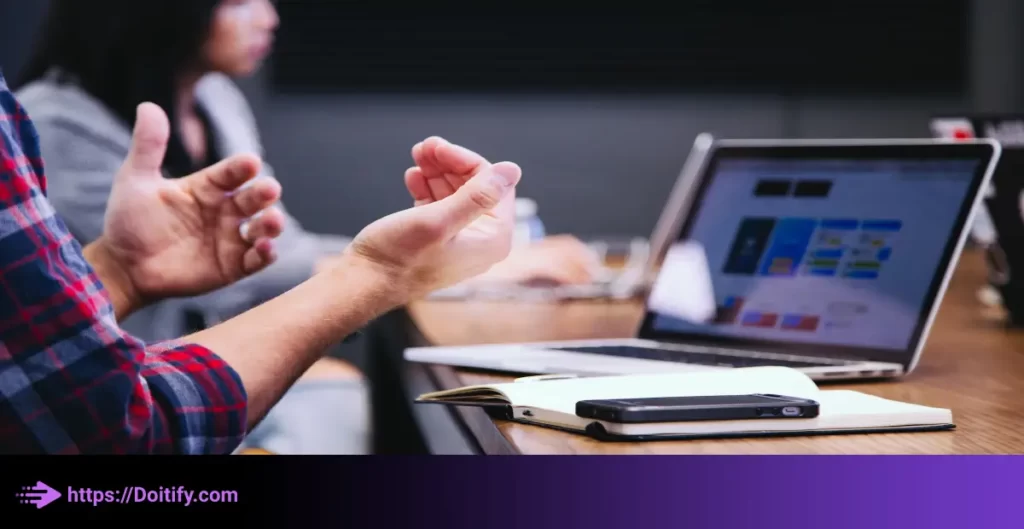 Key Features Of An Effective Project Management Tool For Teams
Task Management
Effective task management is key to the success of any project. A good project management tool for teams ensures tasks are:
Created efficiently: The ability to quickly create, name and describe tasks from a central place saves time.
Assigned properly: Tools should make it easy to assign tasks to specific team members based on their skills and availability.
Dependencies set: Defining which tasks depend on the completion of other tasks helps maintain the flow of work.
Prioritized: Tools should allow tasks to be ordered by priority and dependencies to optimize team members' workloads.
Updated in real time: As team members provide updates on the status and progress of tasks, the tool should reflect those changes in real time for visibility.
Time tracked: Tracking the time spent on tasks provides transparency on work happening, assists with resource planning and informs timelines.
Templatized: The ability to save frequently repeated types of tasks as templates streamlines future task creation.
Automated: Regular, repeated tasks can be automated to trigger at specified intervals to minimizes menial work.
Calendar and Timeline
Calendar and timeline management features help teams plan, coordinate and visualize the sequence of tasks and milestones that need to be completed to achieve project goals on time. Key capabilities include:
Milestone setting: Tools should allow teams to define milestones marking major deliverables or phases of the project.
Dependency mapping: Dependencies between tasks and milestones need to be mapped out to identify any bottlenecks and risks to the timeline.
Gantt charts: Visual representations of the project schedule in the form of Gantt charts make the timeline easy to communicate and update.
Baseline schedule: The tool should allow teams to set a baseline schedule marking the initial project plan to track deviations later.
Schedule adjusting: As the project progresses, the tool should enable teams to easily adjust the timeline by dragging and dropping tasks, adding buffers and highlighting risks.
Version comparing: Comparing different versions of the timeline helps teams optimize the schedule over time.
Risk planning: Tools should automatically identify potential risks to the timeline based on dependencies and flags tasks that are falling behind.
What-if analyzing: Performing 'what if' analyses on the timeline by changing duration estimates and dependencies helps teams test scenarios and optimize the schedule proactively.
Collaboration and Communication
Effective collaboration and communication are essential for distributed project teams to work together efficiently. Key capabilities of a good project management tool in this regard are:
Chat: An in-app chat feature allows team members to discuss tasks, ask questions, provide updates and make decisions in real time.
Comments: The ability to add comments on tasks, milestones and files provides context and discussion history that new members can refer to.
@mentions: Mentioning other members within conversations, tasks and files ensures they are notified and can take required actions quickly.
File sharing: A centralized place to store, upload and access all project files and documents in the cloud keeps all team members on the same page.
Document co-authoring: Where possible, enabling simultaneous editing of documents by multiple members in the tool improves productivity.
Activity feed: An activity feed showing all recent updates in one place keeps everyone aware of changes even if they miss notifications.
Notifications: Tools should allow members to configure relevant notifications by email and within the app about changes to tasks, files and discussions.
Integrations: Connecting the tool to organizational communication platforms like Slack and Microsoft Teams extends collaboration capabilities.
Reporting and Dashboards
Insight into project progress, productivity and resource usage through reports and dashboards is critical for effective management and decision making. Key capabilities include:
Standard reports: Common out-of-the-box reports on task progress, budget versus actual spend, resource allocation and time spent are important.
Custom reports: Allowing admins to build custom reports based on their specific needs enhances visibility.
Timeline reports: Comparing planned versus actual progress on the timeline through reports helps identify delays and bottlenecks early.
Resource reports: Insights into how resources like people, materials and equipment are being utilized across tasks and projects optimize allocation.
Task summary: Summary reports on tasks showing status, assignees, dependencies, descriptions etc. provide a high-level view of project health.
Analytics dashboards: Visual dashboards showing key metrics like task completion percentage, timeline deviations and budget variances help managers track progress at a glance.
Burndown charts: These charts showing work remaining versus time remaining are especially useful for agile projects to track velocity.
Export options: Allowing reports and data to be exported to common formats like PDF and Excel gives users flexibility.
Budgeting and Time Tracking:
Managing project budgets and tracking team members' time spent on tasks is important for resource optimization, billing clients and assessing team productivity. Key capabilities include:
Budget allocation: Tools should allow project managers to allocate budgets to individual tasks and milestones within the project.
Budget tracking: Comparing actual spend against allocated budgets through reports and dashboards helps identify overages early.
Timesheet management: Team members should be able to log their time against specific tasks and projects using timesheets within the tool.
Timesheet approval: Managers should be able to review and approve team members' timesheets from within the interface.
Time tracking methods: Tools offer different options for time tracking like manually filling timesheets, automated tracking via a timer, or syncing with a dedicated time tracker.
Billing and invoicing: Generating invoices based on logged time helps with project accounting and client billing. Invoices can be exported.
Task costing: Tools allow assigning estimated or standard costs to tasks which is then compared to actual costs for monitoring.
Cost control: Alerts when budgets are at risk of overage allow corrective actions to be taken in time.
We have been written about Marketing Project Management Software in another article.
Top Project Management Tool For Teams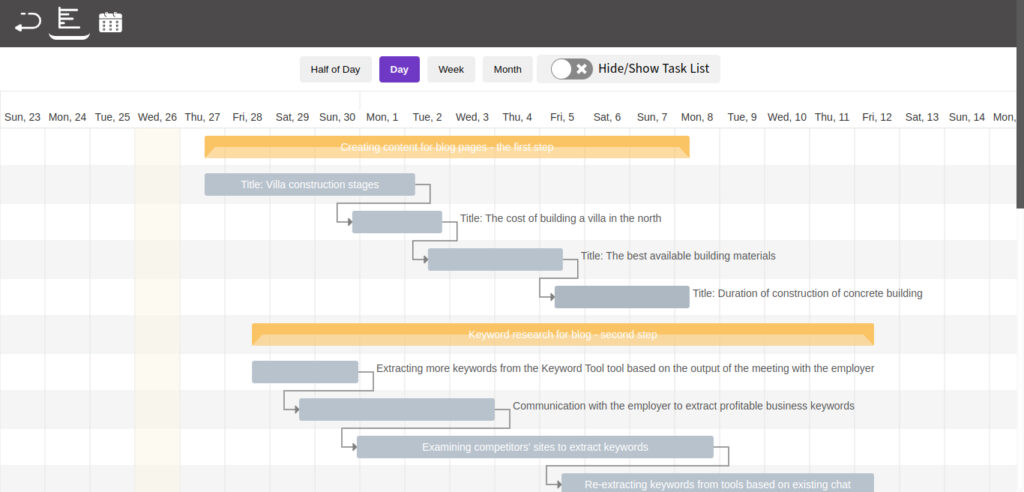 Doitify is a great project management tool for teams because it allows users to create projects, assign tasks, and track progress. It also offers a variety of features that can help teams collaborate and stay organized, such as chat, file sharing, and task dependencies.
Here are some of the benefits of using Doitify as a project management tool for teams:
Easy to use: Doitify is very easy to use, even for teams that are new to project management software. The user interface is clean and intuitive, and the features are easy to find and use.
Collaborative: Doitify allows teams to collaborate on projects in a variety of ways. Users can share files, chat with each other, and track progress on tasks.
Flexible: Doitify is very flexible and can be used to manage a variety of different projects. It offers a variety of features that can be customized to meet the needs of each team.
Affordable: Doitify is very affordable, especially for teams that are on a budget. It offers a free plan and a paid plan that starts at just $5 per month.
If you are looking for a team project management tool that is easy to use, collaborative, flexible, and affordable, then Doitify is a great option for your team.
Best for: a Great tool for Teams who want to organize their personal tasks and projects.
Platforms: as Web app for all platforms.
Doitify Pricing
The free plan includes all features, but is limited to 5 members and 5 MB of space.
Premium plan: The premium plan costs $0.50 per month per member and includes unlimited
Doitify Features
Task management: Doitify allows you to create tasks and track their progress.
Time tracking: Doitify tracks how much time you spend on each task, so you can see where your time is going and make adjustments as needed.
Project planning: Doitify helps you plan your projects by creating timelines, assigning tasks, and setting deadlines.
Record online/working hours: Doitify enables you to track and monitor working hours, ensuring accurate and efficient time management.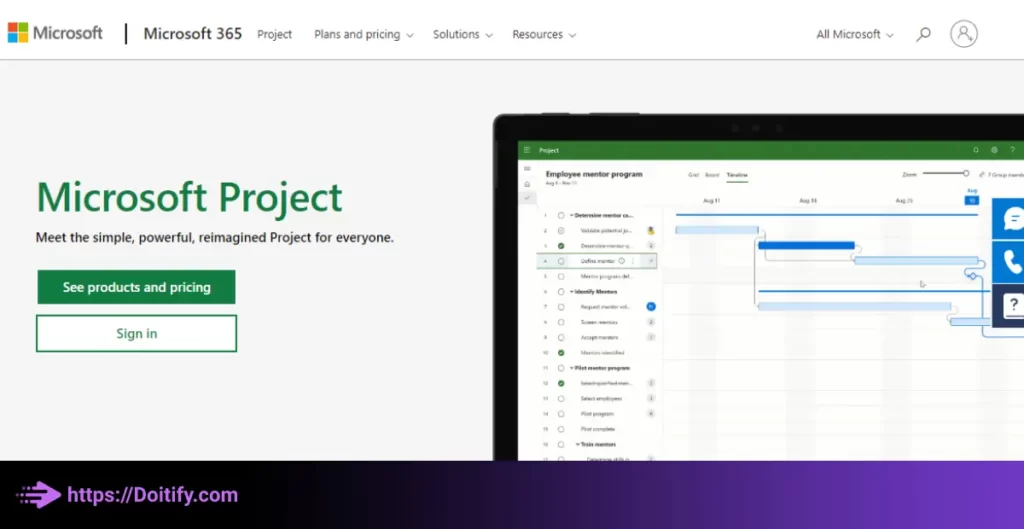 Microsoft Project is a desktop-based project management software that is part of the Microsoft Office suite. It is the most popular and widely used traditional project management tool in teams.
Best for: Project management of mid to large sized projects.
Platforms: Web app and desktop app for Windows
MS Project Pricing
Paid software, part of Microsoft Office suite.
MS Project Features
Gantt charts: MS Project allows you to visually plan your project timeline using Gantt charts that display tasks, durations, dependencies and resources on a timescale.
Resource allocation: You can assign resources like people, materials, and equipment to tasks in your project. The tool tracks resource usage and identifies overallocations.
Task assignment: You can create tasks, assign them to team members, set dependencies and track their progress in real time.
Templates: MS Project comes with several project templates for different types of projects like software development, event planning, construction, and more.
Reporting: The tool generates a wide range reports like budget reports, resource reports, task usage reports, variance reports and more for project audit and analysis.
Collaboration: While not as advanced as cloud tools, MS Project does allow for some collaboration through features like task assignment, updating tasks and sharing project files.
In summary, MS Project offers robust planning, scheduling and resource management capabilities that make it a popular choice for detailed, complex project planning and management. However, its lack of real-time collaboration limits its use for distributed teams.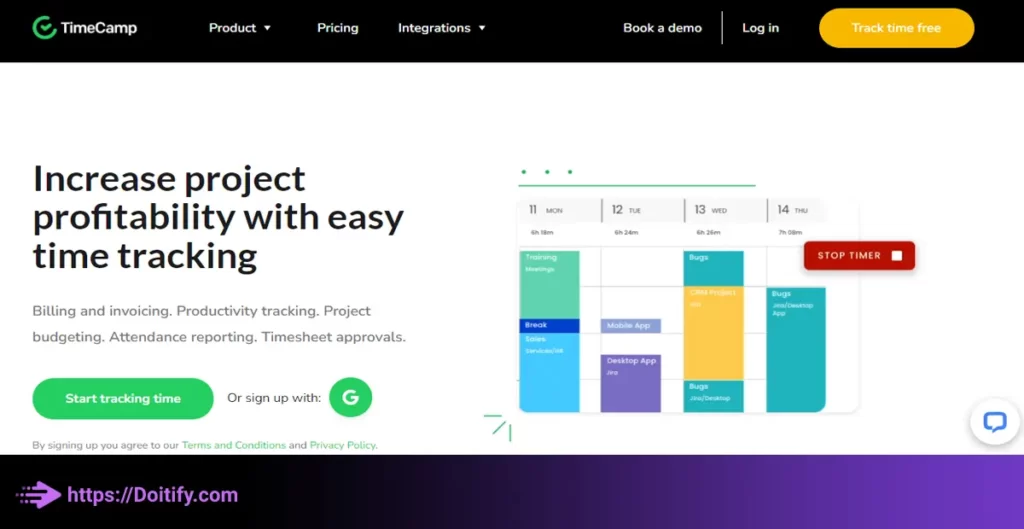 TimeCamp is a time tracking and project management tool that integrates deeply with Microsoft Project.
Best for: Time tracking and monitoring for remote teams.
Platforms: Web app and mobile app
TimeCamp Pricing
Free plan for up to 2 users
Paid plans starting at €7.50/user/month for the Standard plan.
TimeCamp Features
Time tracking: TimeCamp allows teams to track the time spent on tasks, clients and projects directly from its interface or web/mobile app.
Task and issue tracking: Users can create and assign tasks, bugs and issues in TimeCamp and assign them to team members.
Integration with MS Project: TimeCamp syncs task and time data with MS Project in real time. This ensures data in MS Project plans is always up to date.
Resource management: The tool provides insight into resource allocation and utilization across projects to avoid overloads.
Reporting: TimeCamp generates a range of reports within its interface and exports data to MS Excel and Project. Reports cover time spent, work breakdown, resource usage and more.
Billing and invoicing: It allows users to create and export project invoices based on logged time and tasks. Invoices can be customized and automated.
In summary, TimeCamp provides time tracking capabilities that integrate deeply with MS Project to give its users a more streamlined experience. The key benefits are:
Easy time logging from a simple interface
Automatic syncing of data between TimeCamp and MS Project tasks
Improved visibility of time spent and resource utilization across projects
Simplified billing and invoicing based on tracked time
However, TimeCamp still relies on MS Project for most other project management capabilities.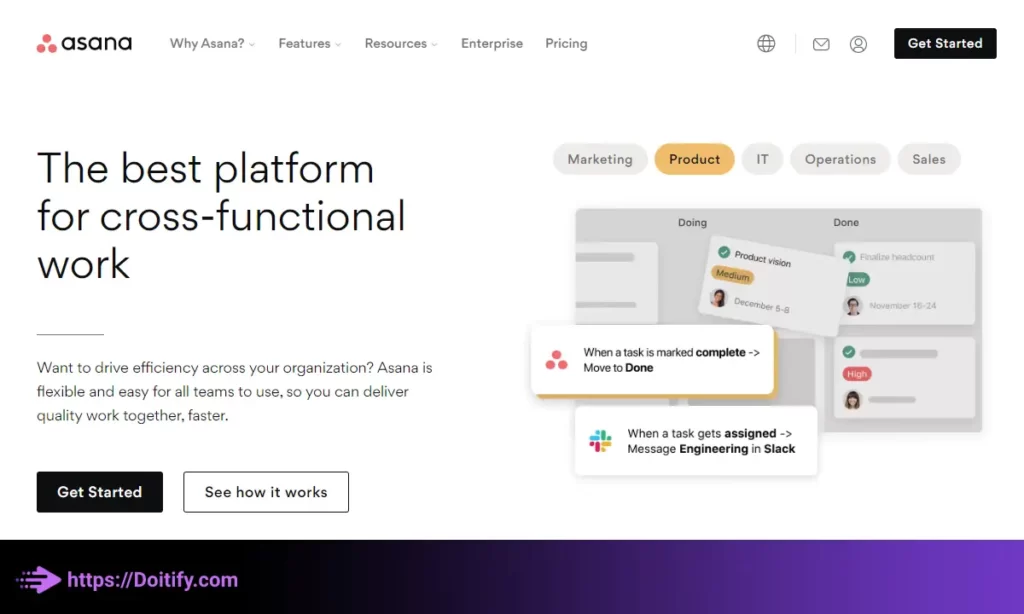 Asana is a cloud-based project management tool that focuses on task management and collaboration.
Best for: Simple project management, task management for small to mid sized teams.
Platforms: Web app and mobile app
Asana Pricing
Free for basic use, paid plans start at $10.99/user/month.
Asana Features
Task Management: Asana allows you to create tasks, assign them to team members, organize them into projects and track their progress. Repeating and automated tasks are also supported.
Real-time Collaboration: Asana has a chat feature, comments and @mentions that enable instant communication between team members. All changes are synced in real time.
Custom Workflows: The tool comes with pre-defined templates but also allows you to customize workflows according to your team's needs using customizable boards, views and columns.
Integrations: Asana integrates with over 100 apps including G Suite, Slack, GitHub, Dropbox and Trello to combine workflows.
Reporting: Asana offers reporting dashboards and analytics on tasks, assignments, workloads and time spent. Data can also be exported.
Permissions: The tool gives you granular control over permissions allowing you to set what different roles can view, edit and assign within projects.
Overall, Asana is best suited for teams that require:
A simple, intuitive interface for managing tasks and assigning work
Robust collaboration features for easy communication
Flexibility to customize workflows
Integrations to combine with other tools
Basic reporting and insights into work happening across projects
However, Asana lacks advanced planning and scheduling capabilities present in dedicated project management tool in teams.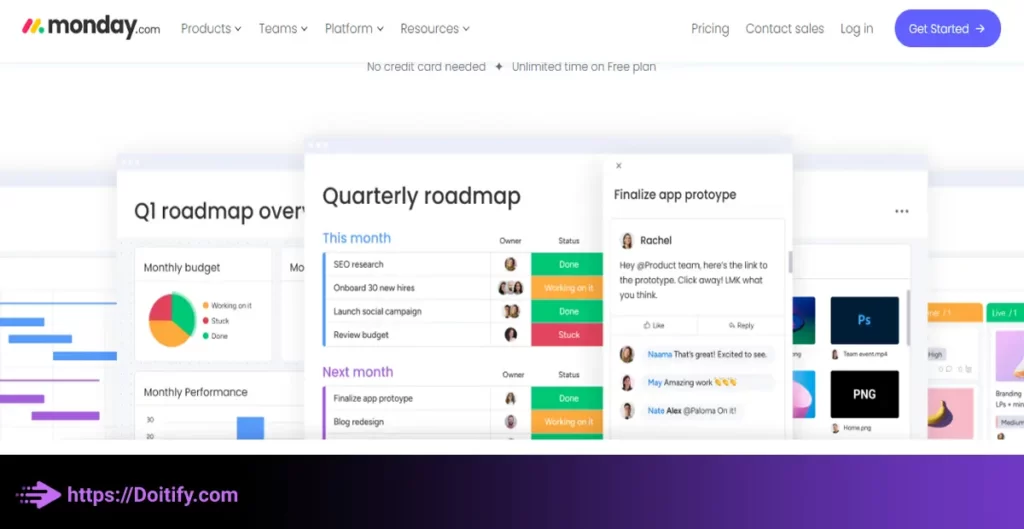 Monday.com is a visual project management tool that is flexible enough to be used for many different use cases beyond just project management.
Best for: Project management, team collaboration and work management.
Platforms: Web app and mobile app.
Monday.com Pricing
Free plan for up to 3 users and 2 boards.
Paid plans start at $8 per user/month for the Standard plan.
Monday.com Features
Customizable Boards: Monday.com allows you to create an unlimited number of customizable boards for different workflows. You can organize data into columns, rows, cards and add various types of fields.
Real-time Collaboration: Users can comment and @mention each other on cards. Changes are synced in real time so everyone sees updates immediately.
Automations: The tool supports a wide range of automations using IFTTT, Zapier and Microsoft Flow to trigger actions and notifications.
Integrations: Monday.com integrates with over 500 tools including G Suite, Slack, Asana, Dropbox, GitHub and more for a unified workflow.
Reporting: Its reporting dashboard provides insights into tasks, assignments, time spent and progress. You can also create custom reports.
Permissions: The tool allows you to set fine-grained permissions for different roles based on edit, assign, comment and view access.
In summary, Monday.com is highly customizable and flexible giving teams the freedom to design their own workflows. Its key benefits are:
Creating workflows tailored to your specific needs
Connecting various tools using a vast range of integrations
Performing repetitive tasks automatically using triggers and workflows
Visibility across data and progress through reporting dashboards
Ability to control access using granular permissions
While Monday.com can be used for project management, it lacks some dedicated features like Gantt charts, milestones and resource management found in specialized tools.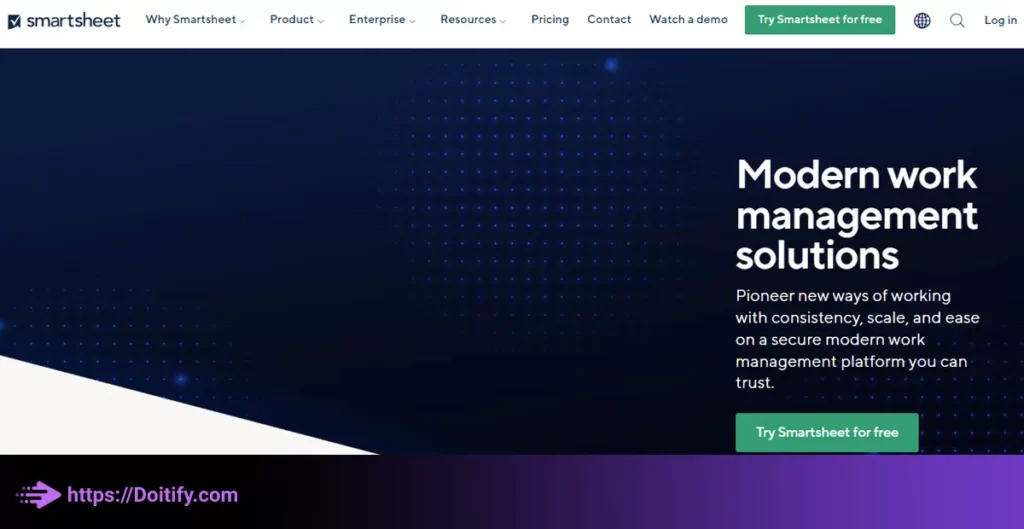 Smartsheet is a cloud-based project management tool that focuses on planning, task tracking, resource management and reporting.
Best for: Collaborative work management for teams.
Platforms: Web app and mobile app
Smartsheet Pricing
Free plan for up to 3 users, paid plans start at $12/user/month.
Smartsheet Features
Gantt Charts: Smartsheet allows you to create and manage Gantt charts visually showing tasks, timeline, dependencies and resources. You can also filter and sort the chart view.
Task Management: The tool enables you to create tasks, assign them, set dependencies, track progress and manage versions. Repeating tasks are also supported.
Resource Management: Smartsheet allows you to assign resources like people and materials to tasks. It tracks resource allocation and utilization across projects.
Timesheets: The tool lets team members fill out timesheets tracking time spent on tasks. Admins can approve timesheets from within Smartsheet.
Reporting: Smartsheet provides analytics dashboards showing project health, burndown charts, plan versus actual progress and more. It also enables custom report building.
Permissions: The tool gives you control over user and group permissions that determine what data different roles can access in a project.
In summary, Smartsheet offers a robust feature set focused on:
Traditional project planning using Gantt charts
Task management and scheduling
Resource allocation and timesheets
Comprehensive reporting and analytics
Granular permissions for security
However, its collaboration features like chat and workflow automations are more limited compared to tools like Asana, Monday and Jira.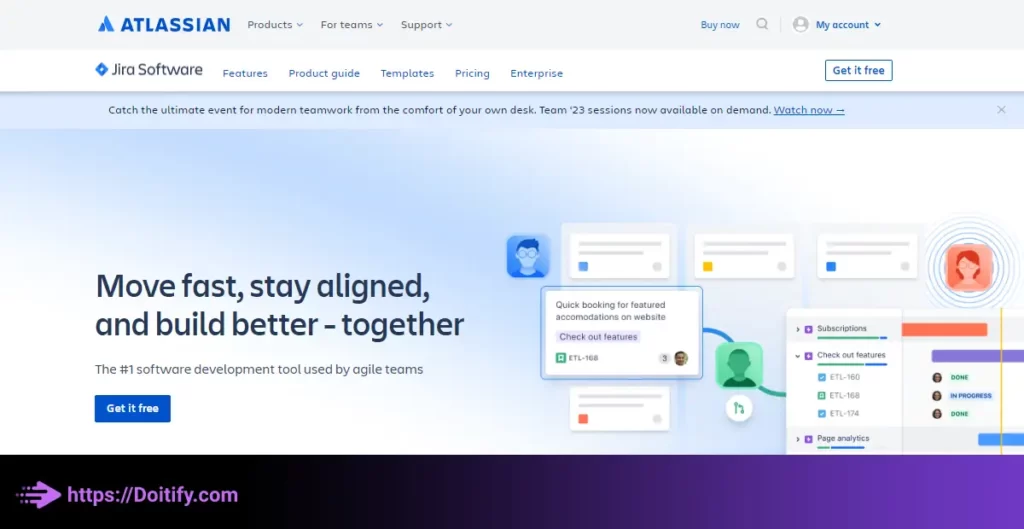 Jira is an agile project management tool in teams from Atlassian that is widely used by agile teams.
Best for: Agile software development and project management.
Platforms: Web app
Jira Pricing
Paid software starting at $10/user/month.
Jira Features
Agile Boards: Jira offers digital Kanban boards and Scrum boards to visualize work. Teams can customize columns, label cards and set card limits.
Sprints: The tool allows teams to define sprints of any duration, assign stories to sprints, track progress and capture metrics.
Burndown Charts: Jira generates burndown charts automatically based on story progress in a sprint. These help teams track their speed and progress.
Story Points: Teams can estimate stories in points and track them across sprints to measure team velocity.
Time Tracking: Jira lets team members track time against stories for reporting and billing purposes.
Integrations: The tool integrates deeply with tools like Confluence, Bitbucket, Slack and many others for an end-to-end agile work management system.
Customization: Jira provides a high level of configurability allowing teams to customize workflows, boards, screens and reports according to their needs.
In summary, Jira provides an extremely robust feature set aligned to support agile teams of all sizes and complexity. Its key benefits are:
Deep support for agile concepts like sprints, story points, and burndown charts
Highly customizable according to specific team needs
Integrates well with the Atlassian suite and a broad range of other tools
Generates comprehensive reporting and metrics on team performance
However, Jira can be complex and expensive, especially for small teams.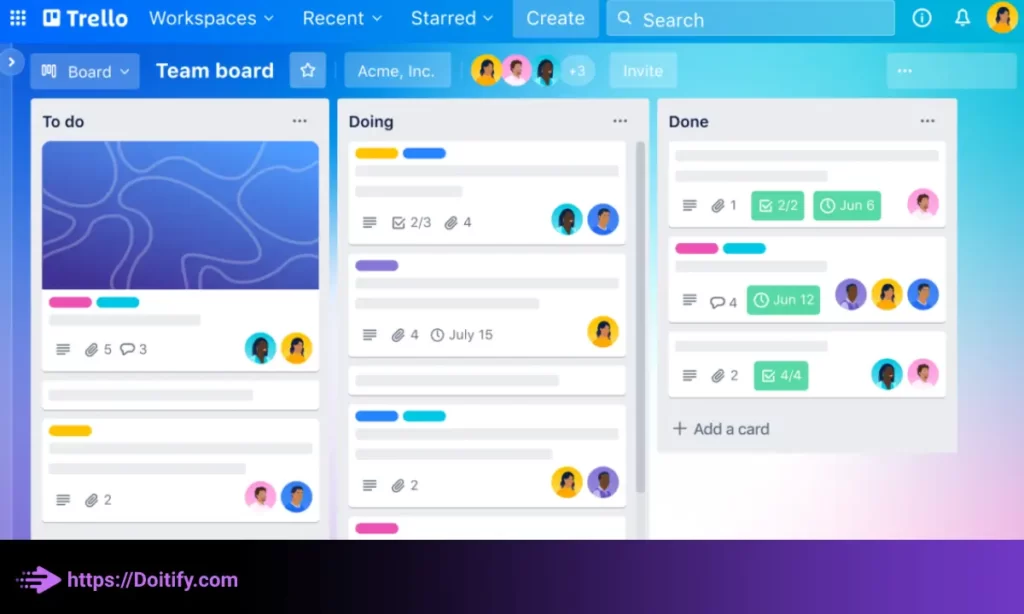 Trello is a simple, flexible agile project management tool oriented towards small and medium sized teams.
Best for: a Great tool for individuals who want to organize their personal tasks and projects.
Platforms: Available on Web, iOS, Android, and Windows.
Trello Pricing
Free with basic features, premium plans starting from $9.99/month.
Trello Features
Kanban Boards: Trello offers digital Kanban boards where teams can visualize work using lists, cards and checklists. Boards can be customized easily.
Card Actions: Teams can comment on cards, assign members, set due dates, add attachments, vote on cards and request information.
Automations: Trello supports a range of automations using webhooks, Zapier and Trello bots to perform actions when cards change states.
Integrations: The tool integrates with over 250 apps including G Suite, Slack, Jira, Asana, GitHub and Dropbox for a combined workflow.
Reporting: Trello provides basic reporting on card activity, member activity and time estimates. It lacks advanced analytics.
Permissions: The tool allows you to control view, comment and edit access at the board and card level for different members.
In summary, Trello is best suited for:
Small to medium sized agile teams
Organizations where members have different levels of technical expertise
Teams who prefer a simple, intuitive interface for managing work
Those looking for integrations to combine tools
Basic visibility into task progress through reports
However, Trello lacks more specialized agile features like story points, velocity tracking and dedicated sprint support present in tools like Jira and VersionOne.
We have been written about Visual Project Management Tools in another article.
Conclusion
There are a wide range of project management tool for teams available today to help teams of all sizes be more productive, organized and efficient. The right tool can make a big difference in a project's success.
As we have discussed, tools vary in their capabilities from task management and collaboration to scheduling, resource optimization and reporting. Different types of tools also suit different project methodologies like traditional, agile or hybrid approaches.
Choosing a project management tool involves evaluating factors like your team size, process maturity, budget and most importantly, the type of features that best align with how your team and projects are set up. Tools aimed at small teams, for example, will prioritize ease of use and flexibility over comprehensive features.
The top tools today offer robust feature sets, integrations with various apps and mid-range pricing. However, no single tool is a perfect fit for all scenarios. Often choosing the tool that best suits your specific needs is more important than opting for the most feature-rich option.
With the right project management tool in place, teams can work more efficiently, stay organized, track progress in real time and deliver projects successfully. So evaluating options carefully and pilot testing top contenders is recommended before committing to a particular product.
In the end, the tool should help rather than hinder your team. Once you find the right match based on your unique requirements, a project management system can become an invaluable asset in your organization's arsenal.
FAQs
What are the most important features of a project management tool for teams?
The most important features are:
• Task management – Creating, assigning and updating tasks
• Timeline and calendar views – Visually planning the project schedule
• Collaboration tools – Enabling communication and file sharing
• Reporting and dashboards – Providing insights into project progress
• Budgeting and time tracking – Managing finances and team productivity
What types of project management tool are available?
The main types are:
• Traditional tools – Like MS Project, Primavera – have detailed scheduling capabilities suited for structured projects
• Cloud-based tools – Like Asana, Monday – focus more on ease of use, flexibility and collaboration
• Agile project management tool – Like Jira, Trello – have features aligned to agile methodologies
Should I choose an all-in-one tool or separate tools for tasks, timelines, communication, etc.?
An all-in-one tool embedded in your existing workflow can provide more integration and streamline processes. But separate best-of-breed tools may suit your specific needs better. There are trade-offs to both approaches. It depends on your team size, maturity and budget.
How do I choose the right project management tool for my team?
You should:
• Evaluate your project needs and requirements
• Shortlist 2-3 tools based on features, ease of use and pricing
• Conduct demos and pilot tests with real team members
• Assess how well each tool aligns with your workflows
• Consider integration with other apps and future scalability