Project management tools like Monday.com are becoming increasingly popular to help teams organize tasks, track progress, and manage workloads efficiently. Monday.com provides a visual workspace where teams can create boards, assign tasks, set deadlines and collaborate in real time. However, for some organizations Monday.com eventually becomes too costly, inflexible or restricted to continue using.
Various issues can drive teams to seek alternatives to Monday.com. They may find that as their team grows, Monday.com's pricing tiers no longer provide good value for money. Monday.com's predefined workflow may not suit how the team actually works, making customization difficult. Monday.com may also offer limited integrations with other tools the team relies on, as well as inadequate security, transparency and compliance with regulations.
In this article, we will explore why migration from Monday.com can make sense and which key features to look for in a suitable alternative. We will review some top Monday.com replacements and provide recommendations. Our aim is to equip you with the information needed to determine if migrating from Monday.com aligns with your team's needs, and point you to project management tools like Monday.com that offer the required functionalities, flexibility and value.
Table of Contents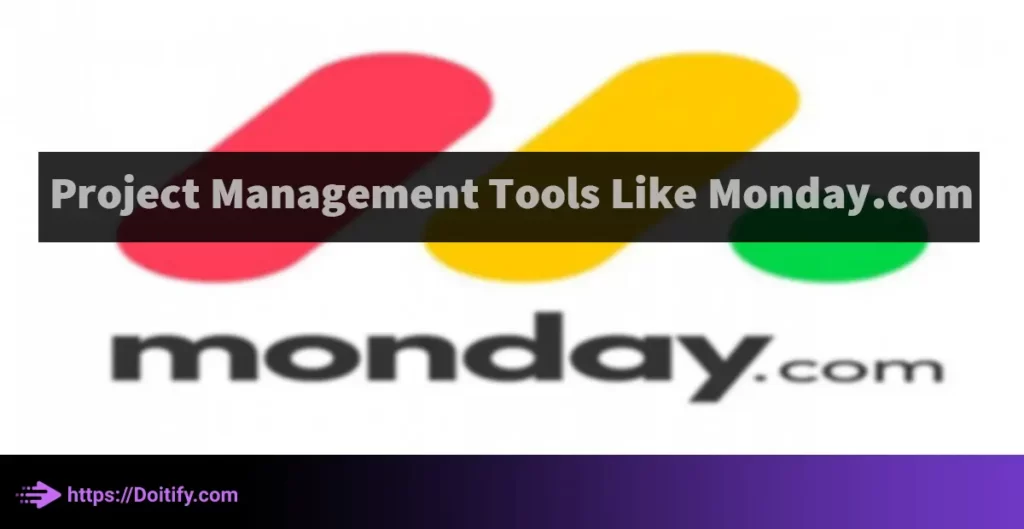 Why Migrate From Monday.com?
There are a few common reasons why businesses eventually decide to migrate away from Monday.com to other project management tools like Monday.com.
High Costs
The costs of Monday.com can quickly become unsustainable for larger teams. The pricing scales with the number of users, so as your team grows, so do the fees. Add-ons like automations also carry additional charges. If your budget is constrained but your needs are expanding, Monday alternatives may offer more affordable options.
Inflexible Workflow
Many businesses find that Monday.com's pre-defined workflow does not match their ideal processes. They have trouble customizing the system to align with how they actually work. If you find yourself working around Monday.com's restrictions rather than with it, migration may be the best solution.
Limited Integrations
Compared to other project management tools like Monday.com, Monday.com only integrates with a relatively small number of third-party apps. If your team relies heavily on integrations with platforms like Slack, Dropbox, Google Drive and others, Monday alternatives will likely provide more integration options.
Security And Data Privacy Issues
Some businesses choose to migrate away from Monday.com due to concerns about data security, compliance with regulations like GDPR and providing transparency about how user data is handled. Monday alternatives may offer greater confidence in these areas.
While workarounds exist with Monday.com, teams that find it overly restrictive, costly or lacking in critical areas will often have the most success by migrating to a Monday alternative that better suits their specific needs and requirements.
We have been written about Free Project Management Tools in another article.
When To Migrate From Monday.com
There are a few key situations where migration away from Monday.com to a project management alternative makes the most sense for your team:
When Costs Become Unsustainable
If your team has outgrown the pricing tiers of Monday.com and the fees are no longer feasible for your budget, it's time to explore Monday alternatives. Look for a tool with a more sustainable cost structure to scale with your needs.
When You Outgrow The Current Workflow
If your team's processes have evolved but Monday.com's workflow can no longer accommodate your custom requirements, migrating to a more flexible platform will allow you to optimize for how you actually work.
When You Need Better Integration Options
When the limited integrations of Monday.com are holding your team back from utilizing other tools that could boost productivity, migrating to a project management solution with robust third-party app integrations will unlock those benefits.
When Security Issues Arise
If concerns emerge around the security, compliance or transparency of how Monday.com handles your team's sensitive data and information, migration to a trusted alternative can put your mind at ease.
Keep in mind that Monday.com does serve the needs of many teams well. But by paying attention to the warning signs above, you'll be ready to migrate to a more suitable project management tool like Monday.com when the time is right for your organization. Making the switch sooner rather than later will help you avoid workflow problems or team dissatisfaction in the long run.
We have been written about Project Management Tool With Gantt Chart in another article.
Key Features Of A Monday.com Alternative
When choosing a replacement for Monday.com, there are certain core features to look for in a project management alternative. A suitable tool will offer:A suitable tool will offer:
Real-time Collaboration
Just like Monday.com, the ability for team members to view updates and changes simultaneously is critical. Everyone should have access to the most up-to-date information at all times.
Customizable Workflows
In contrast to Monday.com's set-up, a flexible alternative will allow you to adjust processes, boards and views however your team requires. The system should mold to your needs, not force you into their boxes.
Flexible Scheduling
Strong scheduling and calendar features that integrate with your team's calendars will be important for organizing tasks, events and deadlines efficiently.
Integrations With Other Apps
The alternative you select should integrate seamlessly with the wide range of platforms your team already relies on for maximum productivity.
Advanced Automation
Look for tools with powerful automation capabilities that can save your team significant time and effort on repetitive tasks.
Budgeting Tools
If budgeting and resource allocation is important for your projects, ensure the alternative you choose offers robust budgeting features.
Keep this list of key features in mind as you evaluate Monday alternatives. A tool that offers real-time collaboration and visibility but also gives you the flexibility, integrations, automation and budgeting control you desire is most likely to succeed Monday.com for your team.
We have been written about Project Management Tools Like Jira in another article.
Top Monday.com Alternatives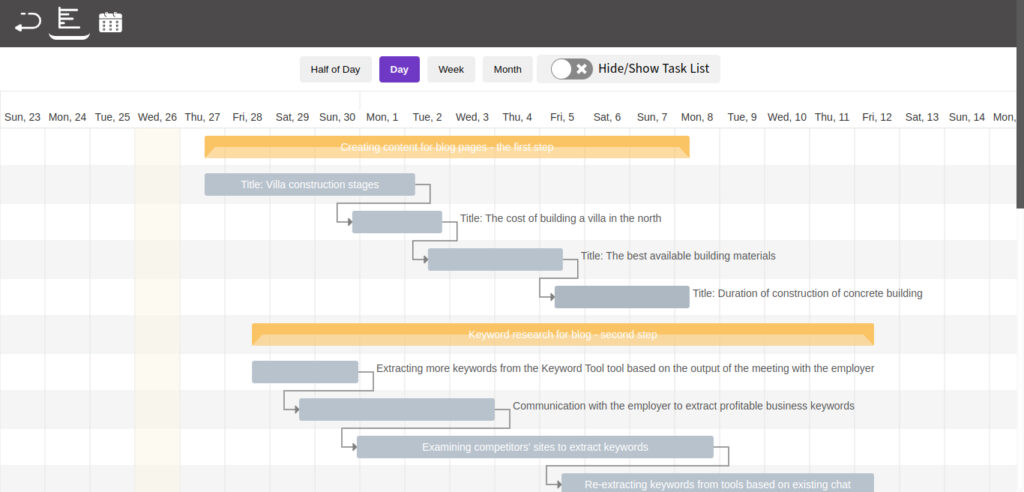 Doitify is an online task and project management platform that allows its users to plan, schedule and track their tasks. This platform provides features such as creating task lists, setting deadlines, personalizing settings, etc. It is a complete and comprehensive universal software that manages many tasks.
If you're looking for a the best project management software that can help you improve your team's productivity and efficiency, then Doitify is a great option. It's affordable, easy to use, and highly customizable.
Best For: Doitify is best for small to Large-sized businesses and remote teams. It is a cloud-based software that can be accessed from anywhere with an internet connection.
Platforms: as Web app for all platforms.
Doitify Pricing
Free plan: The free plan includes all features, but is limited to 5 members and 5 MB of space.
Premium plan: The premium plan costs $0.50 per month per member and includes unlimited space.
Doitify Features
Global Quality: The ability to compete with the best foreign project management software.
Free Plan: All features of the software are free, with the option to pay for additional storage and users.
Remote Team Management: The ability to communicate and monitor the performance of remote employees.
Different Management Systems: Support for Agile, Scrum, and other management systems.
Online Time Tracking: The ability to track and save the online time of employees.
Screen Sharing: The ability for admins to view the screens of working employees.
Daily Work Reports: Daily reports of employee work for better team and project control.
User Performance Tracking: The ability to track user performance in specific time periods.
Advanced Subtasks: The ability to create advanced subtasks with start and end times.
Quality Control: Consideration of quality control managers for subtasks.
Dedicated Chat: Chat capabilities for each subtask.
User Roles: The ability to assign roles and rules for users.
Checklists: The ability to create checklists for each task and subtask.
Subtask Status: The ability to set statuses for each subtask.
Import/Export: The ability to import and export subtasks.
Gantt Chart and Calendar: The inclusion of a Gantt chart and calendar in the free version.
Language Support: Support for right-to-left languages such as Chinese.
Regular Updates: Regular updates to add new features and improve functionality.
Pricing: Fair prices and the ability to create a portal for dollar currencies.
We have been written about Project Management Tools For Freelancers in another article.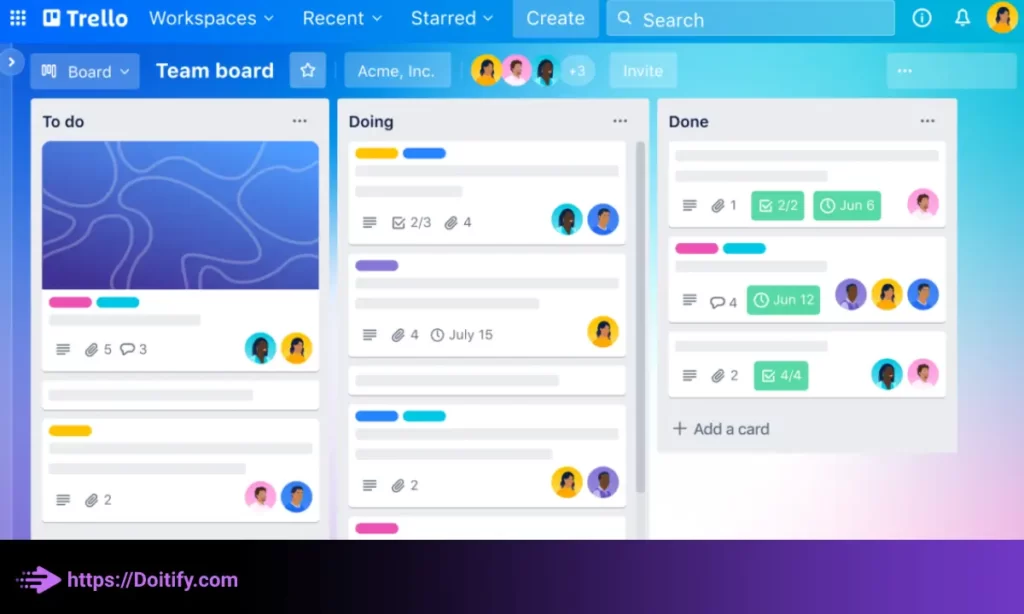 Trello is a popular project management tool that provides a visual way to organize tasks and projects. It allows users to create boards for different projects, lists for different stages of a project, and cards for individual tasks.
It's also worth noting that while Trello is a great tool for managing tasks and projects, it may not be the best choice for managing large and complex projects that require more advanced features such as a Gantt chart or advanced reporting. In those cases, users may need to consider other project management tools that are better suited to their needs.
Overall, Trello can be a useful tool for individuals and teams who need a simple and visual way to manage their tasks and projects.
Best for: Small to medium-sized teams and freelancers who want a simple and easy-to-use project management tool.
Platforms: web, iOS, and Android.
Trello Pricing
Free version available with limited features.
Paid plans start at $9.99 per user per month.
Trello Features
Collaboration: Trello allows team members to collaborate on projects and see each other's progress in real-time. Users can leave comments, add attachments, and mention other team members on cards to communicate more effectively.
Mobile app: Trello has a mobile app that allows users to manage their tasks and projects on-the-go. This can be particularly useful for remote teams or those who need to work outside of the office.
Integrations: Trello integrates with a variety of other tools and services, such as Google Drive, Dropbox, and Slack. This allows users to connect their Trello boards to other apps and automate certain tasks.
Power-Ups: Trello offers a variety of Power-Ups, which are add-ons that provide additional functionality to the platform. Some popular Power-Ups include calendar view, voting, and custom fields.
Security: Trello takes security seriously and offers features such as two-factor authentication, SSL encryption, and third-party security audits to ensure that user data is protected.
We have been written about Project Management Tools Like Trello in another article.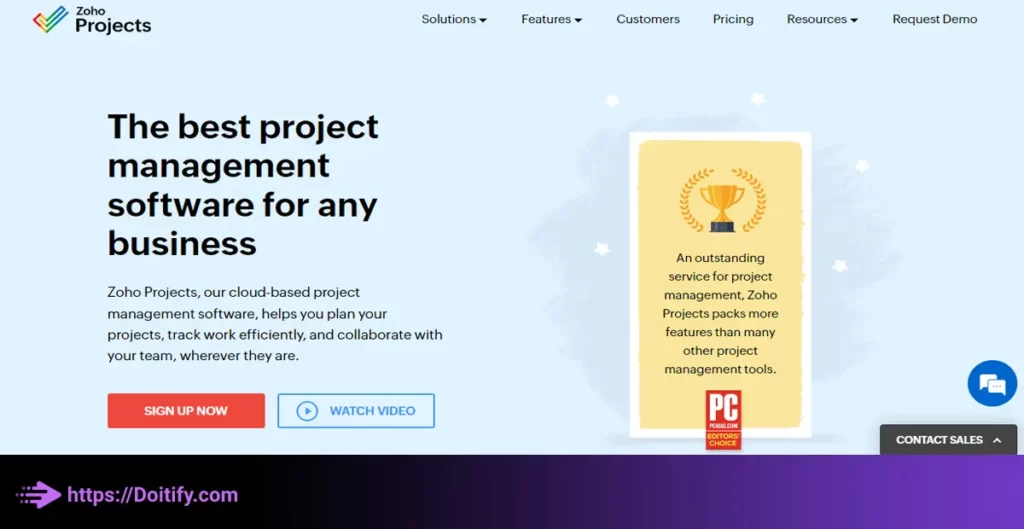 Zoho Projects is a cloud-based project management platform designed for marketing teams. It offers customizable features such as individual views, custom project fields, project templates, and a reporting dashboard.
Zoho Projects is an ideal choice for marketing teams as it allows them to break down their campaigns into smaller projects, tasks, and subtasks, which can be defined and assigned to the appropriate team members. Milestones and goals help team members see the bigger picture and track the progress and impact of their larger initiatives. Users can design visual workflows with the drag-and-drop Blueprints feature, which can be saved and reused for future projects.
Best For: managing and streamlining complicated marketing projects like campaigns, product launches, content creation, data analysis, and resource allocation.
Platforms: Web, Android, iOS, API Access
Zoho Projects Pricing
Free Plan: Basic features for up to 3 users
Premium: $3 per user per month billed annually for more features and unlimited users
Zoho Projects Features
Gantt charts to visualize schedules and track progress
Task assignment and inbox for team notifications
Templates for repeating tasks and projects
Time tracking for billable work
Customizable dashboards and reports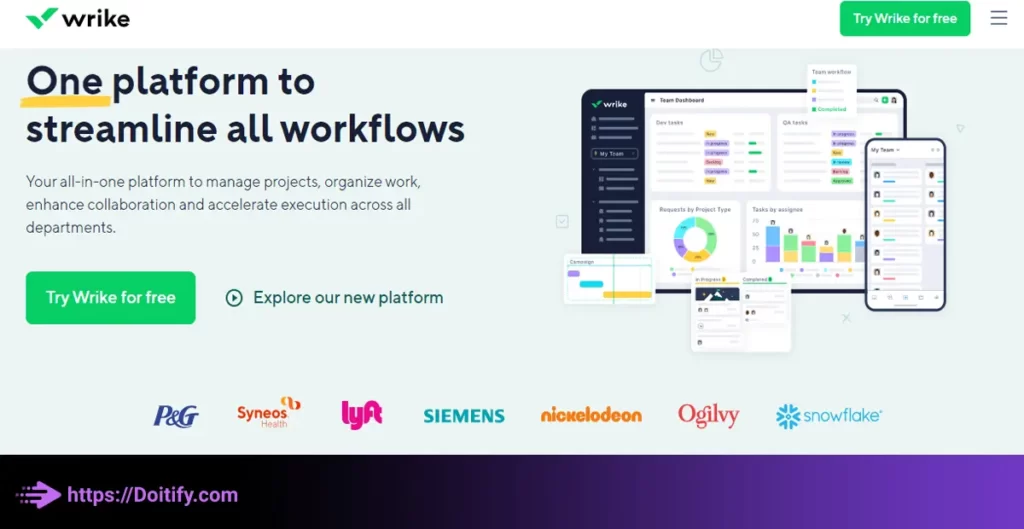 Wrike is a powerful time tracking project management tool that provides businesses with a comprehensive solution to manage their projects effectively. With its advanced time tracking capabilities, Wrike enables users to track the time spent on various tasks and projects, ensuring that they stay on track and within budget.
Additionally, the tool provides project management features that allow users to create tasks, assign them to team members, and collaborate on projects in real-time.
Best for: Medium-sized to large teams who want a customizable project management tool with time tracking and task management features.
Platforms: web, macOS, Windows, iOS, and Android.
Wrike Pricing
Free version available with limited features.
Paid plans start at $9.80 per user per month.
Wrike Features
Customizable projects and tasks: You can create projects and tasks and customize workflows to fit your team's needs.
Time tracking: You can track the time spent on each task and project.
Task management: You can assign tasks to team members and set due dates and priorities.
Reports: You can generate detailed reports on your time usage and project progress.
Integrations: Wrike offers integrations with a wide range of other tools, including Salesforce, Slack, and Microsoft Teams.
Time tracking: You can track the time spent on each task and project.
Due dates: You can set due dates for each task and receive notifications when the deadline is approaching.
Priority management: You can set priorities for tasks to ensure that the most important tasks are completed first.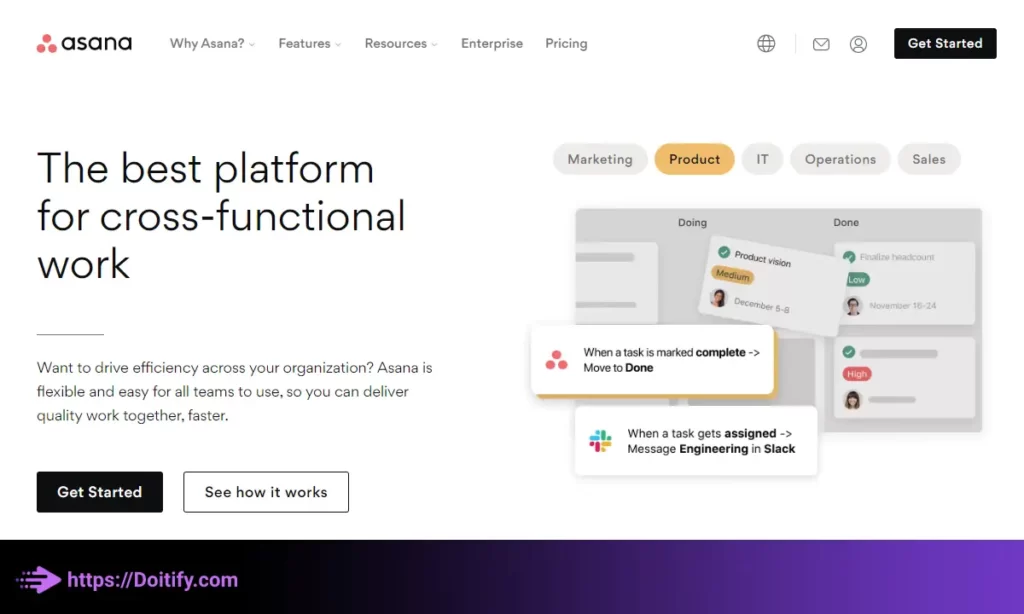 Asana is one of the best project management softwares that provides users with a comprehensive set of features to manage their projects efficiently. This tool also provides users with project timelines, calendars, and dashboards to help them stay on top of their tasks and ensure that projects are completed on time. Its user-friendly interface and robust collaboration features make Asana a popular choice for teams of all sizes.
Best for: Medium to large teams who need a robust project management tool.
Platforms: web, iOS, and Android.
Asana Pricing
Free version available with limited features.
Paid plans start at $10.99 per user per month.
Asana Features
Project templates: Asana offers a variety of project templates that users can use to get started quickly. Templates are available for a variety of project types, such as product launches, marketing campaigns, and team onboarding.
Custom fields: Asana allows users to create custom fields for tasks and projects. This can be useful for tracking specific information, such as project budgets, client information, or project status.
Task dependencies: Asana allows users to create task dependencies, which means that one task cannot be completed until another task is finished. This can help ensure that tasks are completed in the correct order.
Forms: Asana offers a feature called Forms, which allows users to create custom forms to collect information from team members or stakeholders. Forms can be used for a variety of purposes, such as collecting feedback or submitting project requests.
We have been written about Project Management Tools Like Asana in another article.
Conclusion
In summary, while Monday.com serves the needs of some project teams well, for others the platform eventually becomes too costly, restrictive or lacking in critical features.
As project management alternatives to Monday.com, look for tools that offer:
Real-time collaboration: So everyone stays on the same page
Customizable workflows: To match how your team actually works
Flexible scheduling: For organizing tasks and deadlines
Robust integrations: With the other tools that boost your productivity
Powerful automation: To save significant time and effort
Budgeting tools: If resource allocation is important
Among the top Monday alternatives, Doitify, Asana, Zoho Projects, Trello, Teamwork and Wrike all bring something compelling to the table. Each one differs in price point, features, focus and flexibility.
Ultimately, identifying your budget, priorities and pain points with Monday.com will point you to the project management tool like Monday.com most likely to meet your team's evolving needs. With a phased migration approach, testing and careful planning, making the switch from Monday.com to a more suitable alternative should be manageable. The result will be a solution that facilitates – rather than frustrates – how your team works and collaborates.
FAQs
Is Monday.com expensive?
Monday.com can become expensive, especially for larger teams. The pricing scales based on the number of users, and add-ons like automations incur additional fees. For some organizations, the costs eventually become unsustainable.
What are the alternatives to Monday.com?
Some of the top Monday.com alternatives include Doitify, Asana, Zoho Projects, Trello, Teamwork and Wrike. Each one offers features and pricing models to suit different needs and budgets.
How much does Monday.com cost?
Monday.com pricing starts at $8 per user per month for the Basic plan and goes up to $24 per user per month for the Enterprise plan. Add-ons like Automations cost extra.
Can Monday.com workflow be customized?
Monday.com's predefined workflow is somewhat rigid and difficult to customize extensively to match how teams actually work. Many organizations find more flexibility is needed and migrate to alternatives that offer more customizable workflows.
What are the integrations like for Monday.com?
Monday.com offers a limited set of integrations compared to alternatives. It integrates with around 100 applications, while some competitors integrate with hundreds of tools.
How do I migrate from Monday.com?
The migration process varies depending on the alternative you choose. Most provide import functions to import your Monday.com data. You'll need to decide who to transfer – just some teams or all users. Then test the migration, download your Monday.com data, import it, and configure the new tool to suit your requirements.