Project management for freelancers is crucial to deliver projects on time, on budget and with utmost quality. Without a proper tool, freelancers risk missing deadlines, losing track of tasks and failing to satisfy clients.
In this article, we will cover the best project management tools for freelancers to help you improve productivity, organize your work and streamline communication with clients. We'll look at what makes a great project management solution for freelancers, the key features they should have and recommendations for the top options available today.
By the end, you'll be equipped to choose a project management tool that fits your freelance business needs.
Table of Contents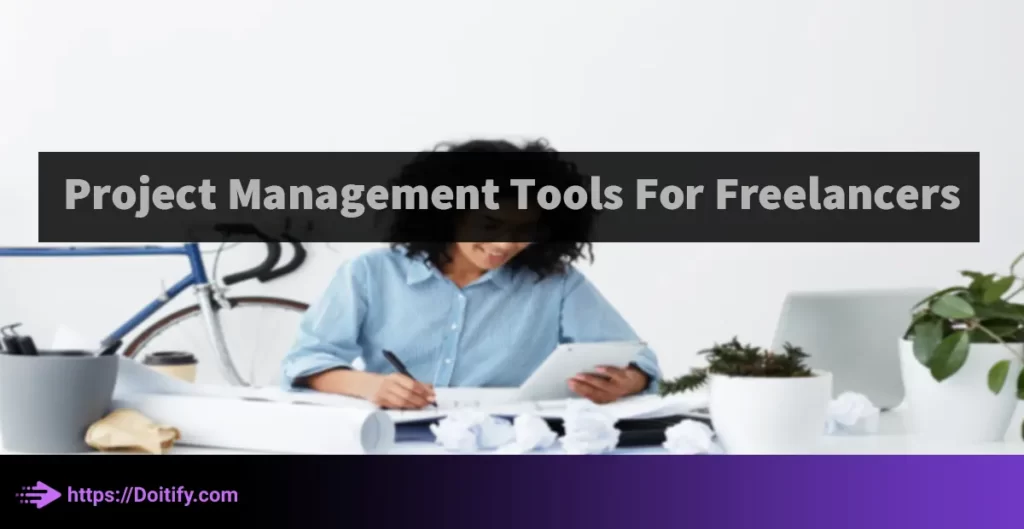 What Is A Project Management Tool for Freelancers?
A project management tool is software that helps freelancers and other project-based businesses organize tasks, communicate with team members and clients, track progress and deadlines, and centralize files and resources for a project.
Some of the most common features in project management tools include:
Task lists and assignments – where you can create tasks, prioritize them, assign team members and track their status. This keeps all project tasks organized and visible to everyone.
Files and documents sharing – integrated document storage so team members and clients always have access to the latest files and resources. Documents can usually be commented on and annotated directly within the tool.
Communication tools – in-app messaging, email and chat capabilities allow for quick, focused discussions around tasks and projects. Communication is centralized in one place for easy tracking and accountability.
Scheduling and calendaring – built-in calendars let you set deadlines, schedule meetings and events, and assign tasks based on due dates. This helps teams stay synced up and on schedule.
Reporting dashboards – many tools offer automated progress reports, burn down charts and other visualizations so freelancers and clients can track the status of tasks, budgets and deadlines at a glance.
Managing Freelance Work Chaos
A project management tool for freelancers is software designed to help independent contractors and consultants organize their projects, tasks, clients and team members.
Without a proper tool, freelancers can struggle with:
Disorganized to-do lists
Lost or forgotten tasks
Difficulty tracking billable time
Issues communicating with clients
Centralizing Work
Project management solutions aim to centralize freelance work by:
Creating task lists and workflows
Storing and sharing files
Providing messaging and chat for client communication
Assigning deadlines and tracking task status
Generating reports to demonstrate progress
Key Features
The features freelancers need most in a project management tool are:
Tasks lists to organize and prioritize work
Calendars for setting deadlines and scheduling work
Client sharing options to give clients visibility but restrict access
Messaging capabilities for quick client updates and responses
Reporting dashboards to show performance and bill clients accordingly
Benefits
Using a project management tool can help freelancers:
Stay organized and on top of multiple projects
Improve client communication and transparency
Track billable hours more accurately for invoicing
Avoid missing deadlines
Collaborate more easily with contractors and teams
Demonstrate accountability and professionalism to clients
We have been written about Project Management Software Benefits in another article.
Why Freelancers Need A Project Management Tool
Freelancers face a number of unique challenges that make a project management solution especially beneficial. Project management tools can help freelancers with:
Task organization – Freelancers work on many different projects and tasks simultaneously for multiple clients. A tool that centralizes and properly organizes all tasks is critical to avoid losing track of anything.
Keeping track of deadlines – Strict deadlines and due dates are common in freelance work. A tool that integrates scheduling, reminders and calendars helps freelancers meet client expectations on time.
Communicating with clients – Clients often want quick answers and updates, so a tool that centralizes all communications in one place makes it easier for freelancers to keep clients informed in real time.
Collaborating with team members – Even solo freelancers sometimes outsource work or collaborate with contractors. A tool that enables file sharing, task assignment and messaging aids collaboration with a distributed team.
Accountability and reporting progress– Clients need to see that work is progressing as planned. Reporting features in project management solutions give freelancers a way to routinely update clients and demonstrate accountability.
In summary, the disorganized nature of freelance work makes having a centralized hub for organizing tasks, files, communications and schedules extremely valuable. A dedicated project management tool can bring needed structure to a freelancer's work and help them run a more successful business.
We have been written about Project Management Tool For Teams in another article.
Finding The Right Project Management Tool
There are many great project management tools for freelancers, so choosing the right one requires evaluating your needs and priorities. Consider factors like:
Ease of use – How intuitive and simple is the interface? Will clients be able to easily access and use the tool?
Pricing – Does the free or basic plan cover your initial needs? What do higher tiers include?
Communication tools – Does the tool have the messaging, chat and collaboration features you require?
Client access – Can clients view projects, tasks and files? What level of access do they have?
Integrations – Does the tool integrate with other apps you depend on like Google Drive, Dropbox, Slack, etc.?
Reporting – What type of reports, charts and visualizations are available to demonstrate progress to clients?
Features – Do the task assigning, scheduling and file sharing capabilities meet your needs?
We have been written about Free Project Management Tools in another article.
Best Project Management Tools For Freelancers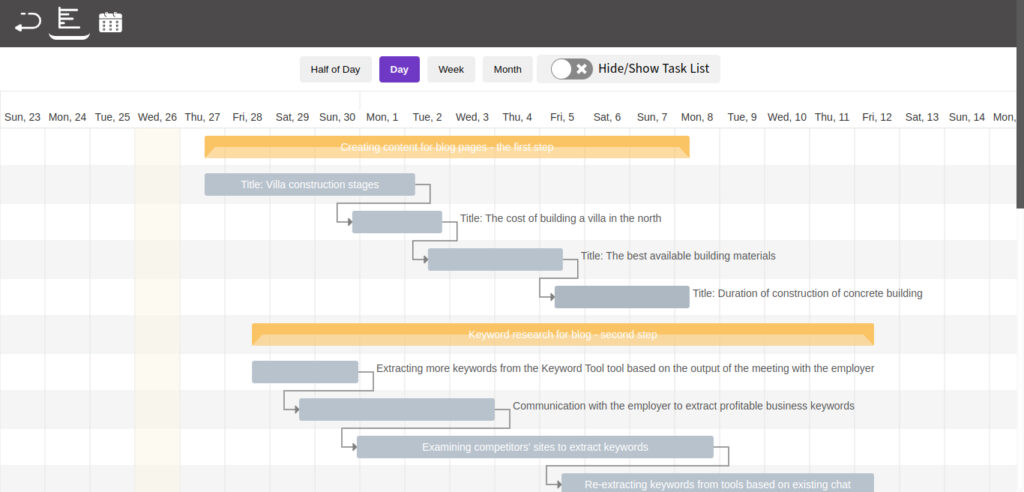 Doitify is a project management tool that is designed specifically for freelancers. It is easy to use and has a variety of features that can help freelancers manage their projects more effectively.
Some of the features of Doitify that make it a good choice for freelancers include:
A simple and intuitive interface that makes it easy to get started.
A variety of project templates that can be used to quickly and easily create new projects.
A task management system that allows freelancers to track their progress on each project.
A calendar that can be used to plan and schedule tasks.
A communication tool that allows freelancers to collaborate with clients and team members.
A reporting tool that can be used to track the progress of projects and measure the success of campaigns.
Doitify is a powerful project management tool that can help freelancers to be more productive and efficient. It is a great choice for freelancers who are looking for a tool that can help them to manage their projects more effectively.
Best For: Doitify is best for small to Large-sized businesses and remote teams. It is a cloud-based software that can be accessed from anywhere with an internet connection.
Platforms: as Web app for all platforms.
Doitify Advantages
Global Quality: The ability to compete with the best foreign project management software.
Free Plan: All features of the software are free, with the option to pay for additional storage and users.
Remote Team Management: The ability to communicate and monitor the performance of remote employees.
Different Management Systems: Support for Agile, Scrum, and other management systems.
Online Time Tracking: The ability to track and save the online time of employees.
Screen Sharing: The ability for admins to view the screens of working employees.
Daily Work Reports: Daily reports of employee work for better team and project control.
User Performance Tracking: The ability to track user performance in specific time periods.
Advanced Subtasks: The ability to create advanced subtasks with start and end times.
Quality Control: Consideration of quality control managers for subtasks.
Dedicated Chat: Chat capabilities for each subtask.
User Roles: The ability to assign roles and rules for users.
Checklists: The ability to create checklists for each task and subtask.
Subtask Status: The ability to set statuses for each subtask.
Import/Export: The ability to import and export subtasks.
Gantt Chart and Calendar: The inclusion of a Gantt chart and calendar in the free version.
Language Support: Support for right-to-left languages such as Chinese.
Regular Updates: Regular updates to add new features and improve functionality.
Pricing: Fair prices and the ability to create a portal for dollar currencies.
Doitify Disadvantages
Limitations of the Free Version: While Doitify offers a free version, it has limitations on the number of members and storage space. This may not be sufficient for larger teams or projects, and upgrading to a paid version may be necessary.
Internet Connection Required: Doitify is an online platform, which means that an internet connection is required to use it. This may be a problem for teams with poor or unreliable internet connections.
Doitify Pricing
Free plan: The free plan includes all features, but is limited to 5 members and 5 MB of space.
Premium plan: The premium plan costs $0.50 per month per member and includes unlimited space.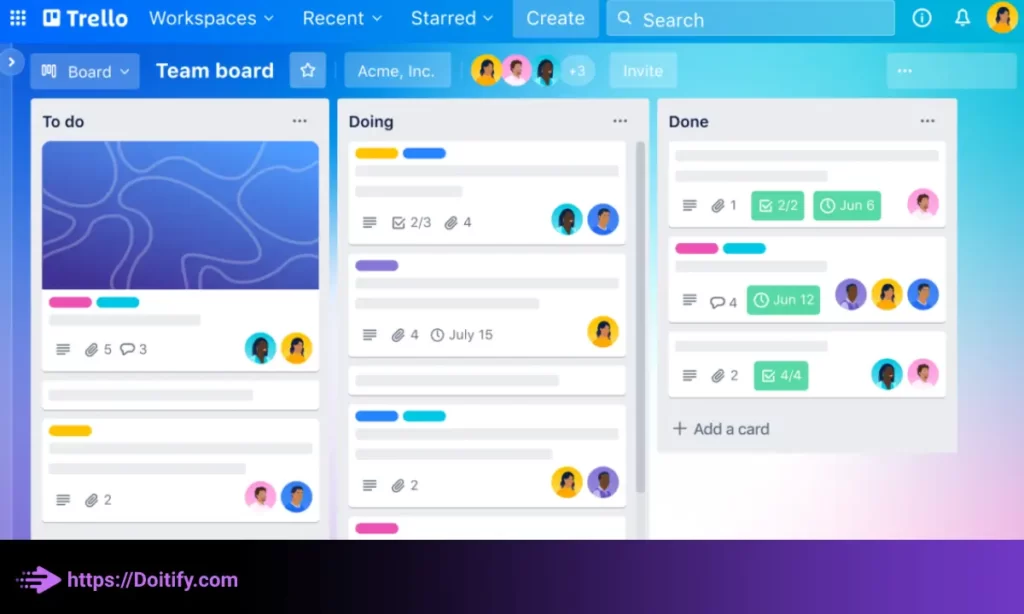 Trello is a flexible project management tool that uses a "board" interface with "cards" representing tasks or projects. This makes it a good project management tool for freelancers for the following reasons:
Trello's board-based UI helps freelancers and clients visualize the workflow of a project through different stages and lists of tasks represented as "cards". This visual overview helps keep work transparent and on track.
Trello's interface is very simple and intuitive to use for both freelancers and clients. There is little learning curve, making it ideal for those new to project management tools.
Though lacking some advanced features, Trello excels at managing smaller freelance projects with fewer tasks and team members. It works well for more straightforward work.
Trello is available as both a web application and mobile apps for iOS and Android. Freelancers can access and manage projects from any device.
Trello's numerous Power-Up integrations connect the tool to apps like Google Drive, Dropbox, Slack and Zapier, expanding its functionality for freelancers.
Best for: Small to medium-sized teams and freelancers who want a simple and easy-to-use project management tool.
Platforms: web, iOS, and Android.
Trello Advantages
Collaboration: Trello allows team members to collaborate on projects and see each other's progress in real-time. Users can leave comments, add attachments, and mention other team members on cards to communicate more effectively.
Mobile app: Trello has a mobile app that allows users to manage their tasks and projects on-the-go. This can be particularly useful for remote teams or those who need to work outside of the office.
Integrations: Trello integrates with a variety of other tools and services, such as Google Drive, Dropbox, and Slack. This allows users to connect their Trello boards to other apps and automate certain tasks.
Power-Ups: Trello offers a variety of Power-Ups, which are add-ons that provide additional functionality to the platform. Some popular Power-Ups include calendar view, voting, and custom fields.
Security: Trello takes security seriously and offers features such as two-factor authentication, SSL encryption, and third-party security audits to ensure that user data is protected.
Trello Disadvantages
File attachments: The free version of Trello only allows users to attach files up to 10 MB in size. In the paid version, users can attach larger files.
Custom backgrounds: The free version of Trello only allows users to choose from a limited number of backgrounds for their boards. In the paid version, users can upload their own custom backgrounds.
Butler automation: The free version of Trello does not include Butler, which is a powerful automation tool that can help users automate repetitive tasks. Butler is only available in the paid version.
Trello Pricing
Free version available with limited features.
Paid plans start at $9.99 per user per month.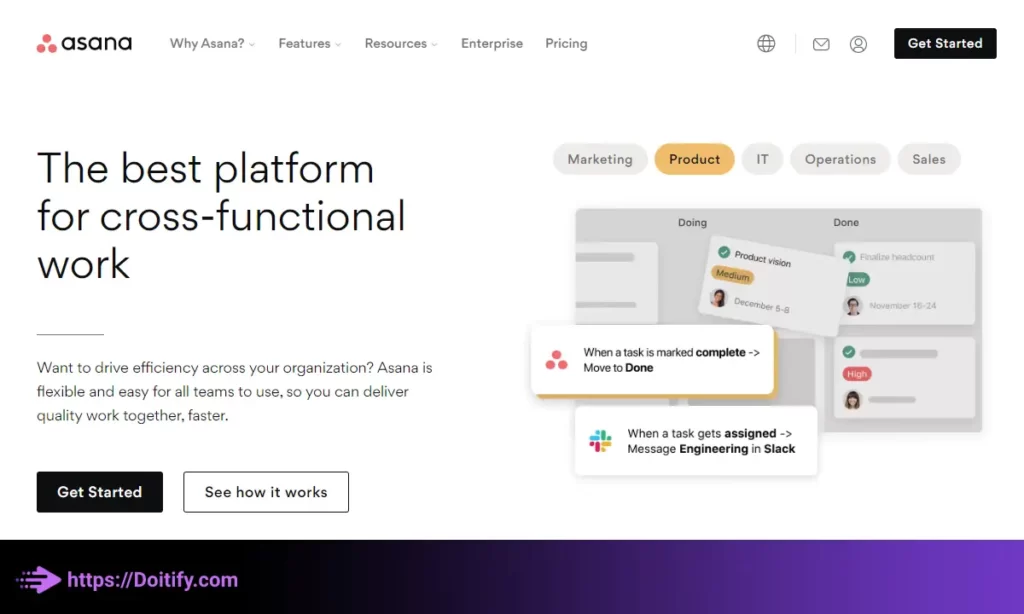 Asana allows freelancers to create and organize multiple task lists and customize views based on client needs and workflows. This makes it a adaptable project management tool.
Freelancers can easily flag important or time-sensitive tasks to ensure they stay on top of deadlines. This helps keep projectson track.
Asana has built-in messaging, comments and @mentions so freelancers can easily notify and update clients from within tasks. This streamlines communication.
Asana integrates with apps like Dropbox, Google Drive and Slack, allowing freelancers to access files and communicate across platforms.
Asana's drag-and-drop tasks lists, card-style boards and kanban-style workflows make it easy for both freelancers and clients to use. It has a low learning curve.
Best for: Medium to large teams who need a robust project management tool.
Platforms: web, iOS, and Android.
Asana Advantages
Project templates: Asana offers a variety of project templates that users can use to get started quickly. Templates are available for a variety of project types, such as product launches, marketing campaigns, and team onboarding.
Custom fields: Asana allows users to create custom fields for tasks and projects. This can be useful for tracking specific information, such as project budgets, client information, or project status.
Task dependencies: Asana allows users to create task dependencies, which means that one task cannot be completed until another task is finished. This can help ensure that tasks are completed in the correct order.
Forms: Asana offers a feature called Forms, which allows users to create custom forms to collect information from team members or stakeholders. Forms can be used for a variety of purposes, such as collecting feedback or submitting project requests.
Asana Disadvantages
Complexity of some features: Asana offers many features, and some users may find certain features to be complex or difficult to use. However, Asana does offer a variety of resources and support to help users learn how to use the platform effectively.
Limitations of the free version: As with many software platforms, the free version of Asana does have some limitations compared to the paid version. For example, the free version only allows users to create a limited number of projects and tasks. However, the free version can still be a good option for individuals or small teams who don't need all the advanced features of the paid version.
Limited support for non-English languages: While Asana does support multiple languages, some features may only be available in English. This can be a disadvantage for users who are not familiar with the English language.
Monthly payment: Asana does require a monthly subscription to access all of its features. However, Asana does offer a variety of pricing plans to fit different budgets and needs.
Necessary settings: As with any software platform, there is some configuration required to use Asana effectively. However, Asana does offer a variety of resources and support to help users get started and set up the platform to fit their needs.
Asana Pricing
Free version available with limited features.
Paid plans start at $10.99 per user per month.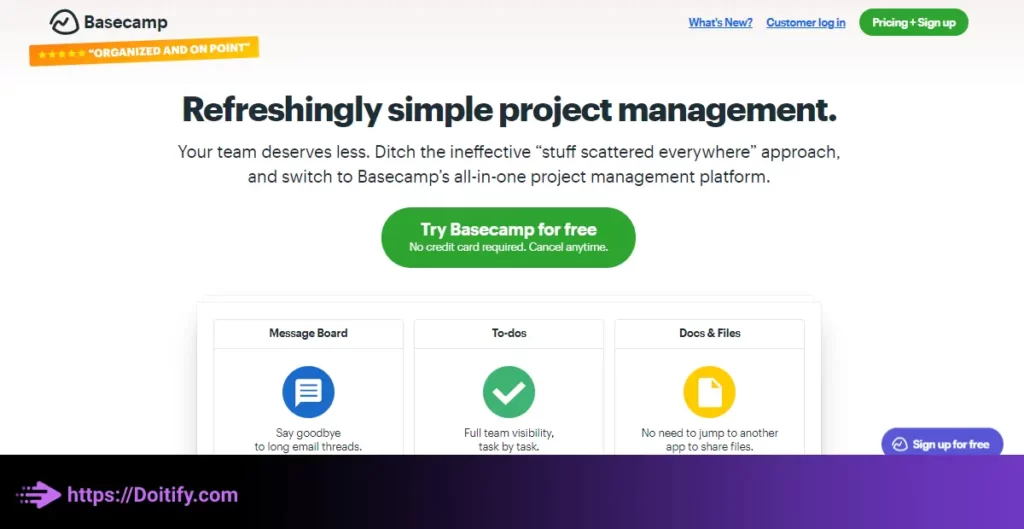 Basecamp is a robust project management tool for freelancers that organizes work in an intuitive, client-focused way.
Basecamp allows freelancers to setup separate "accounts" for each client, keeping work organized by client for invoicing and reporting.
The "Messages" feature provides a single feed where freelancers can see all updates and communications for a project in one place, keeping them informed.
Basecamp allows freelancers to upload, annotate and discuss files within projects, simplifying file management and access.
In addition to Messages, Basecamp offers chat, to-dos and flags for assigning tasks – ensuring clients stay updated and connected.
Basecamp allows freelancers to assign different permissions to clients versus team members for control over what info is shared.
Best for: small to medium-sized businesses and teams that need a simple and straightforward project management tool.
Platforms: Desktop, MacOS, Android, iOS
Basecamp Advantages
Simplicity and Ease of Use: Despite its advanced features, Basecamp is userfriendly and requires no specialized training.
Security: Basecamp is designed to keep your information secure, using SSL and encryption technology to protect your data.
Collaboration Capabilities: Basecamp makes it easy for team members to collaborate and coordinate using tools such as calendars, reminders, and shared files, helping teams stay in sync.
Multimedia Capabilities: Basecamp allows teams to share multimedia files such as images, videos, and text documents.
Project Tracking: With Basecamp, you can carefully track project progress and get detailed information about the project's status.
Easy Access: Team members can access Basecamp from anywhere and with any device, without the need to install or configure software.
Reporting Capabilities: Basecamp enables easy preparation of project reports and graphical and numerical display of project progress.
Task Automation: Basecamp provides the ability to create lists of repetitive tasks and perform them automatically, reducing project management time and costs.
Basecamp Disadvantages
Limited Template Choice: Although Basecamp offers customization options, there are limitations to the choice of templates and appearance.
Lack of Integration: Basecamp is an independent tool and may not integrate well with other tools such as email and calendars, causing problems for some users.
Group Size Limitations: Basecamp may have difficulty creating large groups for teams with a large number of members.
No Multimedia Editing: Basecamp does not allow users to edit multimedia files such as images and videos.
Cost: Basecamp comes with a significant cost, which may be prohibitive for some users.
Single User Contributions: Basecamp only allows one person to be responsible for a project, limiting the ability for multiple users to contribute.
Difficulty Managing Large Tasks and Projects: Basecamp may encounter difficulties when managing large tasks and projects, requiring the use of more powerful project management tools.
No Mass Messaging: Basecamp does not allow users to send messages to multiple users at the same time, restricting communication to one user or group at a time.
Basecamp Pricing
Basic: 15 USD per month
Pro Unlimited: 299 USD per month
Try multiple project management tools to determine which solution adequately covers your must-have features at a reasonable price point. Remember – the best tool for one freelancer may not work for another, so take time to test drive options and evaluate them based on your workflow requirements. Over time, your needs may change, so be willing to switch tools to something that more closely matches your evolving project management demands.
We have been written about Enterprise Project Management Tools in another article.
Conclusion
Using a dedicated project management tool can bring much needed structure and organization to a freelancer's work. From task lists and deadlines to file sharing and client communications, these solutions aim to make freelancers more productive, efficient and able to satisfy client demands. While there are many quality options available today, choosing the right tool requires considering factors like ease of use, integration needs, reporting requirements and pricing. Try multiple options to determine which provides the interface, features and functionality that best support your workflow and freelance business goals. With the right project management solution in place, freelancers can improve performance, increase client satisfaction and grow a more successful business over time.
FAQs
Do I need a paid or free project management tool?
Either will work depending on your needs. Free tools like Trello and Asana's basic plan cover basic functions well. However, paid tiers typically provide more features, customization and integrations. Choose based on the price vs value for your specific demands.
Can clients use the same project management tool?
Yes! Many tools allow freelancers to set up client accounts and selectively share projects, tasks and files based on permissions. This provides transparency while protecting sensitive information.
Can I use a project management tool on the go?
Most have both web and mobile apps, so yes! Being able to quickly log in, assign tasks and communicate with clients from your phone is a major plus for busy freelancers.
How many projects can I manage in one tool?
This depends on the specific tool. Many allow you to manage an unlimited number of projects. Some, like Basecamp, let you set up separate "accounts" for each client to organizationally separate work.
Will using a tool make me more productive?
A tool alone won't magically make you more productive. But by bringing structure, accountability and transparency to your work, a good project management solution can give you the systems and visibility to optimize your time, processes and communication – which can ultimately lead to higher productivity and efficiency.