Project management tools are critical for the success of virtual businesses. Allowing distributed teams to communicate, coordinate tasks, monitor progress and manage resources effectively is key to growth and productivity.
This article will discuss the importance of implementing the right project management solution for your remote workforce. We'll cover:
Types of project management tools available
Features to look for to match your needs
Best options for various virtual team sizes and budgets
Tips for choosing and implementing software
Benefits you can expect to see
By reading this, you'll learn how implementing the right project management solution for your virtual team can truly transform how work gets done, streamline processes, boost transparency and ultimately enable your business to Grow Beyond Boundaries.
Remote work is here to stay, but managing distributed teams can be challenging without the proper systems in place. With the insights in this article, you'll be equipped to find a project management partner that can supercharge productivity, collaboration and performance for your virtual organization.
Table of Contents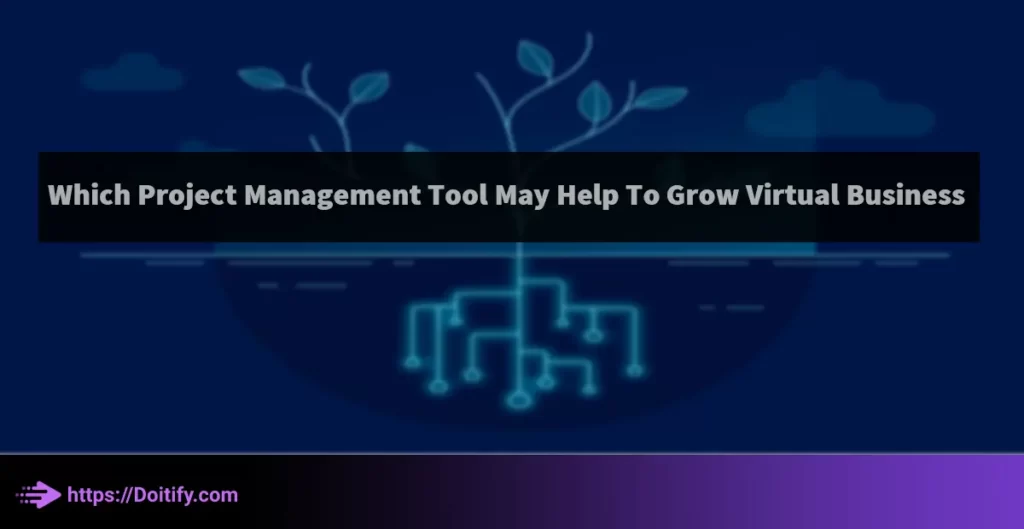 Understanding The Need For Project Management Tools in a Virtual Business
In today's virtual and remote work environment, many businesses rely on a distributed workforce. This brings many benefits in terms of flexibility, access to talent, and cost savings. However, managing projects effectively across different locations and time zones can be challenging. This is where project management tools come in.
Project management software helps coordinate teams, tasks, and resources, allowing members to stay on the same page despite being in different places.
The right tool can provide:
Centralized task tracking and delegation
Time tracking and monitoring of progress
Communication channels and file sharing
Reporting and analytics for stakeholders
Without such a tool, virtual teams can struggle with communication issues, lack of visibility into workloads, and delays. Project managers may have difficulties planning and optimizing resource allocation. Ultimately, project management software can help a virtual business run more smoothly and achieve its goals faster.
In sum, the dispersed nature of remote work introduces complexities that traditional email and messaging alone cannot handle. Implementing a dedicated project management solution that meets the specific needs of a virtual team can be instrumental in helping the business grow.
So, in my opinion, investing in a robust yet easy-to-use project management tool tailored for remote collaboration should be a top priority for any virtual business looking to scale and maximize productivity. The right software partner can truly transform how the work gets done.
We have been written about Project Management Software in another article.
Types Of Project Management Tools
There are several main types of tools that project managers of virtual teams rely on:
Task Management Tools
Task management software allows project managers to create and assign tasks to team members, track their status, and monitor completion. This gives transparency into who is working on what, and helps ensure nothing falls through the cracks. Most project managers I talk to say task management is an absolute must-have for any virtual team. Some popular options for task management tools are Asana, Trello, and monday.com.
Time Tracking Tools
Time tracking apps help team members record the time they spend on different tasks and projects. This data gives managers insight into where time is being spent, and whether projects are on budget. It can also be used for billing clients accurately. Time tracking tools like Timecamp and Harvest make it easy for remote workers to log their hours from anywhere.
Resource Management Tools
Resource management functionalities keep project managers apprised of team members' availability, workloads, and capacities. When done well, these systems allow managers to optimize how people and skills are allocated across projects. This is particularly important for virtual teams where managers cannot simply "check in" with individuals face-to-face.
We have been written about Free Project Management Tools in another article.
Top Project Management Tools To Grow Virtual Business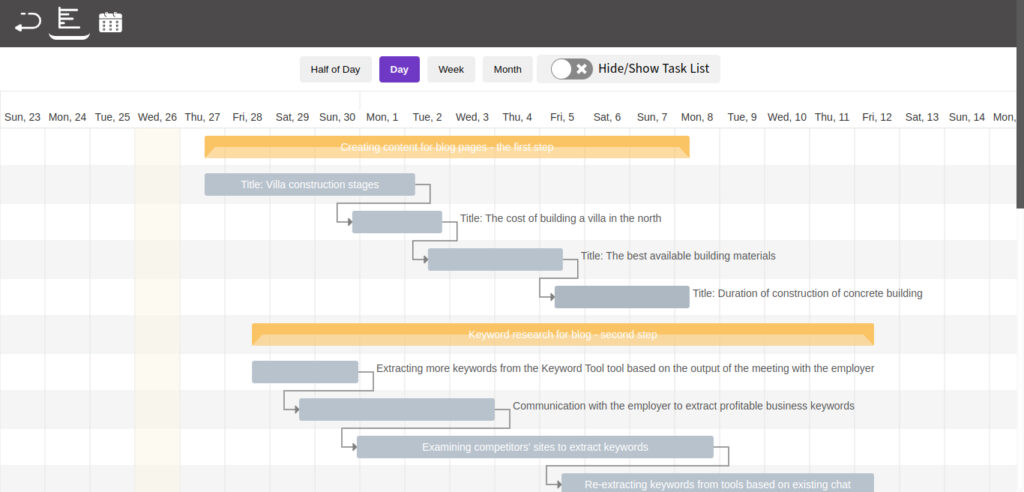 Doitify is one of the most popular project management tools for virtual teams. It offers a clean and intuitive interface for task management. Team members can create lists, assign tasks, set due dates and comments. It is cloud-based software that enables users to manage their projects, tasks, and resources from anywhere. Doitify has many features that make it an ideal choice for virtual teams, including a user-friendly interface, various project management tools like Gantt charts, Kanban boards, and to-do lists, collaboration capabilities with team members, and integration with popular apps like Google Drive and Slack.
Doitify can increase productivity for virtual businesses in several ways. The central hub allows team members to track progress, identify gaps, and stay on top of deadlines for all of their projects and tasks. The diverse project management tools help users organize and visualize their work. The instant chat and file sharing features facilitate quick and easy collaboration between team members, even though they work remotely. This improved collaboration eliminates delays and bottlenecks that can reduce efficiency. Additionally, the inexpensive pricing helps virtual businesses save money on project management software compared to alternatives.
Best For: Doitify is best for small to Large-sized businesses and remote teams. It is a cloud-based software that can be accessed from anywhere with an internet connection.
Platforms: as Web app for all platforms.
Doitify Pricing
Free plan: The free plan includes all features, but is limited to 5 members and 5 MB of space.
Premium plan: The premium plan costs $0.50 per month per member and includes unlimited space.
Doitify Features
Global Quality: The ability to compete with the best foreign project management software.
Free Plan: All features of the software are free, with the option to pay for additional storage and users.
Remote Team Management: The ability to communicate and monitor the performance of remote employees.
Different Management Systems: Support for Agile, Scrum, and other management systems.
Online Time Tracking: The ability to track and save the online time of employees.
Screen Sharing: The ability for admins to view the screens of working employees.
Daily Work Reports: Daily reports of employee work for better team and project control.
User Performance Tracking: The ability to track user performance in specific time periods.
Advanced Subtasks: The ability to create advanced subtasks with start and end times.
Quality Control: Consideration of quality control managers for subtasks.
Dedicated Chat: Chat capabilities for each subtask.
User Roles: The ability to assign roles and rules for users.
Checklists: The ability to create checklists for each task and subtask.
Subtask Status: The ability to set statuses for each subtask.
Import/Export: The ability to import and export subtasks.
Gantt Chart and Calendar: The inclusion of a Gantt chart and calendar in the free version.
Language Support: Support for right-to-left languages such as Chinese.
Regular Updates: Regular updates to add new features and improve functionality.
Pricing: Fair prices and the ability to create a portal for dollar currencies.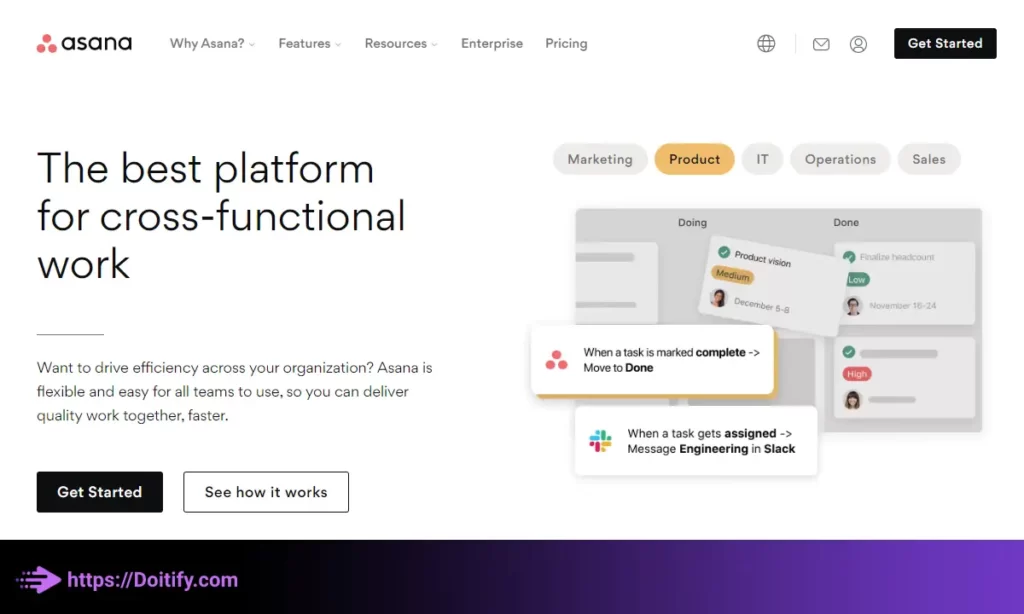 Asana is a project management application that many virtual teams utilize to stay organized and collaborate from different locations. The platform offers a centralized hub where remote team members can view assigned tasks, file uploads, discussions, and deadlines at a glance.
Asana's visual layout makes it easy to track project status and workflows across distributed teams in real-time. Managers can delegate responsibilities and provide feedback within Asana, while remote employees can check-in at their own pace and receive notifications on their mobile devices.
Best for: Medium to large teams who need a robust project management tool.
Platforms: web, iOS, and Android.
Asana Pricing
Free version available with limited features.
Paid plans start at $10.99 per user per month.
Asana Features
Project templates: Asana offers a variety of project templates that users can use to get started quickly. Templates are available for a variety of project types, such as product launches, marketing campaigns, and team onboarding.
Custom fields: Asana allows users to create custom fields for tasks and projects. This can be useful for tracking specific information, such as project budgets, client information, or project status.
Task dependencies: Asana allows users to create task dependencies, which means that one task cannot be completed until another task is finished. This can help ensure that tasks are completed in the correct order.
Forms: Asana offers a feature called Forms, which allows users to create custom forms to collect information from team members or stakeholders. Forms can be used for a variety of purposes, such as collecting feedback or submitting project requests.
We have been written about Project Management Tools Like Asana in another article.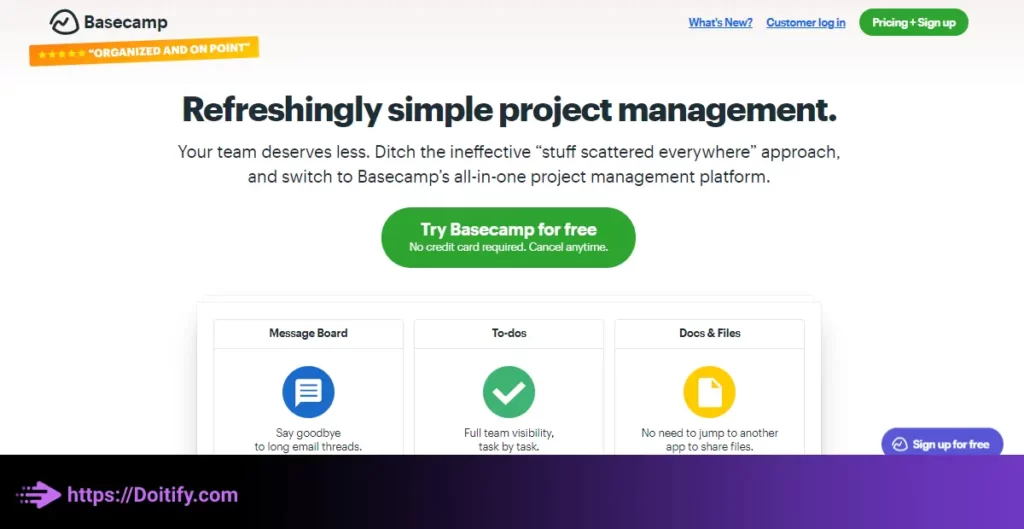 Basecamp takes a more high-level approach, focusing on discussions, document sharing and milestone tracking rather than granular tasks. Some find its conversational UX, which resembles a group chat or message board, more natural for collaboration. Basecamp offers a centralized "hub" where teams share files, communicate and organize work. It works well for teams that value discussion and alignment over minute task delegation. However, it lacks some of the reporting and resource management features of dedicated task managers.
Best for: small to medium-sized businesses and teams that need a simple and straightforward project management tool.
Platforms: Desktop, MacOS, Android, iOS
Basecamp Pricing
Basic: 15 USD per month
Pro Unlimited: 299 USD per month
Basecamp Features
Simplicity and Ease of Use: Despite its advanced features, Basecamp is userfriendly and requires no specialized training.
Security: Basecamp is designed to keep your information secure, using SSL and encryption technology to protect your data.
Collaboration Capabilities: Basecamp makes it easy for team members to collaborate and coordinate using tools such as calendars, reminders, and shared files, helping teams stay in sync.
Multimedia Capabilities: Basecamp allows teams to share multimedia files such as images, videos, and text documents.
Project Tracking: With Basecamp, you can carefully track project progress and get detailed information about the project's status.
Easy Access: Team members can access Basecamp from anywhere and with any device, without the need to install or configure software.
Reporting Capabilities: Basecamp enables easy preparation of project reports and graphical and numerical display of project progress.
Task Automation: Basecamp provides the ability to create lists of repetitive tasks and perform them automatically, reducing project management time and costs.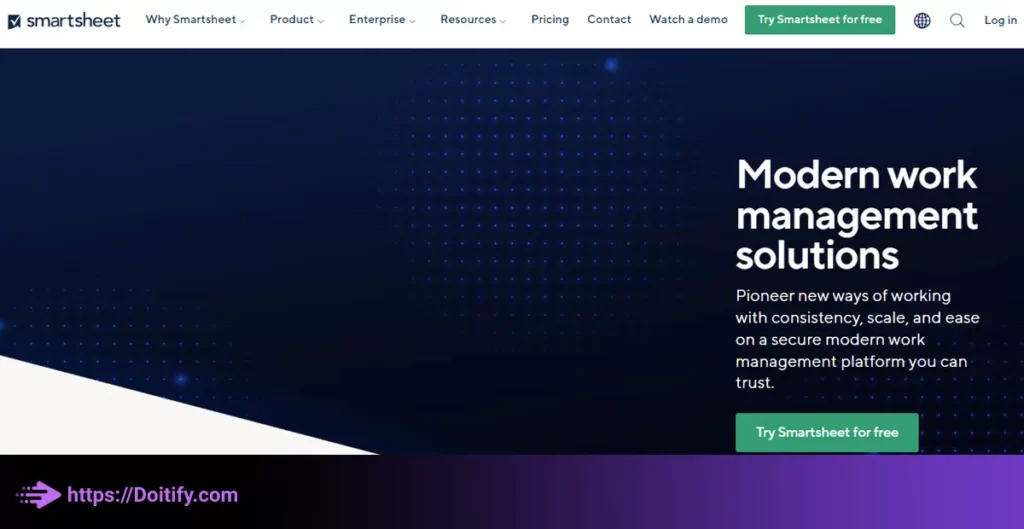 Smartsheet offers a blend of task management, resource management and automation capabilities. It provides Gantt charts, dashboards and workload reports to help virtual project managers optimize resources and track progress. Team members can create and assign tasks, set due dates, and mark tasks as completed. Smartsheet integrates with over 150 apps including Slack, G Suite and Salesforce. It's a good fit for mid-sized to large distributed teams that need robust reporting and analytics in addition to task management.
Best for: Collaborative work management for teams.
Platforms: Web app and mobile app
Smartsheet Pricing
Free plan for up to 3 users, paid plans start at $12/user/month.
Smartsheet Features
Gantt Charts: Smartsheet allows you to create and manage Gantt charts visually showing tasks, timeline, dependencies and resources. You can also filter and sort the chart view.
Task Management: The tool enables you to create tasks, assign them, set dependencies, track progress and manage versions. Repeating tasks are also supported.
Resource Management: Smartsheet allows you to assign resources like people and materials to tasks. It tracks resource allocation and utilization across projects.
Timesheets: The tool lets team members fill out timesheets tracking time spent on tasks. Admins can approve timesheets from within Smartsheet.
Reporting: Smartsheet provides analytics dashboards showing project health, burndown charts, plan versus actual progress and more. It also enables custom report building.
Permissions: The tool gives you control over user and group permissions that determine what data different roles can access in a project.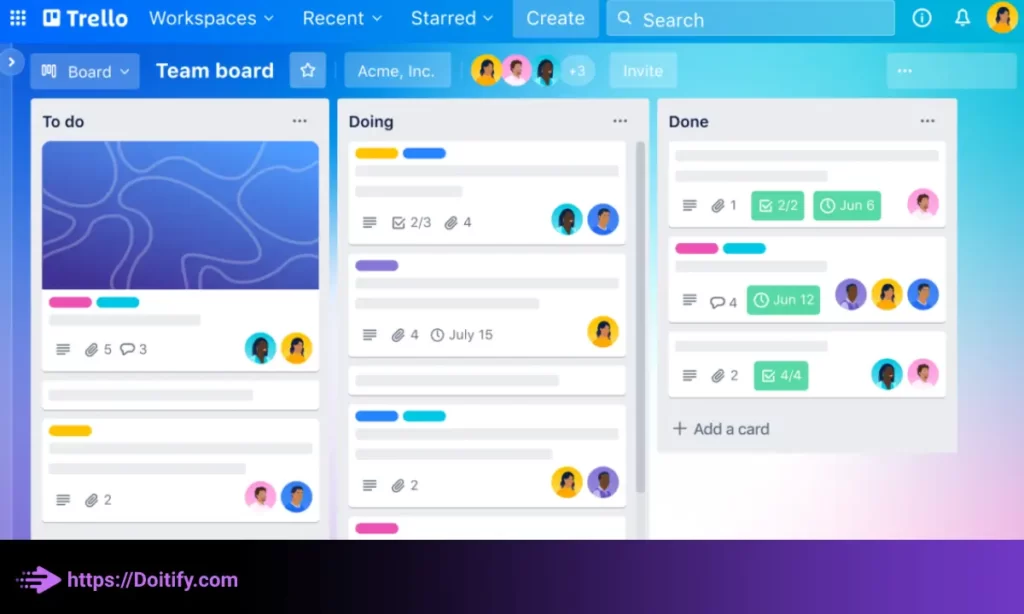 Trello is a kanban-style project management tool that uses cards and boards to visualize workflows. Team members can create cards representing tasks or projects and move them through columns like "To Do", "In Progress" and "Done". This provides a clear and simple way to track the status of work items. Trello works best for teams focused more on workflow optimization than on detailed task management. It lacks some features like resource management, reporting and time tracking. However, its visual and intuitive interface makes it easy for virtual teams to get started and remain organized at a high level.
Best for: Small to medium-sized teams and freelancers who want a simple and easy-to-use project management tool.
Platforms: web, iOS, and Android.
Trello Pricing
Free version available with limited features.
Paid plans start at $9.99 per user per month.
Trello Features
Collaboration: Trello allows team members to collaborate on projects and see each other's progress in real-time. Users can leave comments, add attachments, and mention other team members on cards to communicate more effectively.
Mobile app: Trello has a mobile app that allows users to manage their tasks and projects on-the-go. This can be particularly useful for remote teams or those who need to work outside of the office.
Integrations: Trello integrates with a variety of other tools and services, such as Google Drive, Dropbox, and Slack. This allows users to connect their Trello boards to other apps and automate certain tasks.
Power-Ups: Trello offers a variety of Power-Ups, which are add-ons that provide additional functionality to the platform. Some popular Power-Ups include calendar view, voting, and custom fields.
Security: Trello takes security seriously and offers features such as two-factor authentication, SSL encryption, and third-party security audits to ensure that user data is protected.
We have been written about Project Management Tools Like Trello in another article.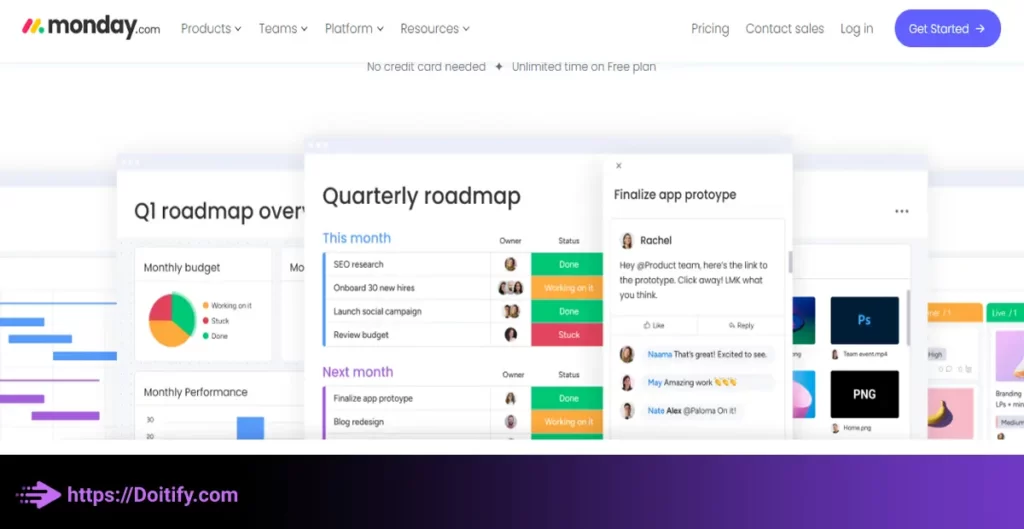 Monday.com offers a flexible and customizable work management solution for virtual teams. Users can build their own workflow using boards, cards, tasks and many other elements. This makes it a good fit for teams with complex and changing needs. monday.com covers the basics of task management with features like assignments, due dates, file sharing and commenting. It also offers collaboration tools like live chat and video calls. Resource management capabilities allow project managers to optimize workloads across distributed teams. monday.com works best for medium-sized and larger virtual teams that desire flexibility and configuration options beyond off-the-shelf solutions.
Best for: Small to large teams who want a customizable project management tool with time tracking features.
Platforms: web, iOS, and Android.
Monday.com Pricing
Free trial available for 14 days.
Paid plans start at $8 per user per month.
Monday.com Features
Customizable projects and tasks: You can create projects and tasks and assign them to team members.
Time tracking: You can track the time spent on each task and see how much time is left before the deadline.
Progress tracking: You can track the progress of each task and see how it fits into the overall project.
Customizable workflows: You can create custom workflows that fit your specific needs.
Integrations: Monday.com offers integrations with popular tools like Google Drive, Dropbox, and Slack.
Time tracking: You can track the time spent on each task and see how much time is left before the deadline.
Due dates: You can set due dates for each task and receive notifications when the deadline is approaching.
Customizable reminders: You can set up custom reminders to keep you on track and ensure that you meet your deadlines.
Time estimates: You can set time estimates for each task to help you stay on schedule.
We have been written about Project Management Tools Like Monday.com in another article.
Features To Look For In Project Management Software For Virtual Teams
When choosing project management software for your virtual business, there are a few key features you should prioritize:
Central Data Storage And Access
Team members need to access the same data from any location at any time. Look for a tool that stores all files, tasks and conversations in the cloud so they're accessible from any device.
Task Assignments
The ability to create and assign tasks to specific team members is essential for managing workloads across a distributed team. Make sure task assignment capabilities are robust and granular.
Tracking Task Progress
In order to track progress and identify bottlenecks, virtual project managers need visibility into which tasks are complete, overdue or on track. Advanced progress tracking features can provide more insight.
Time Tracking
Many virtual teams require time tracking to bill clients accurately for hours worked. Opt for a tool that interfaces directly with team members' devices to simplify data collection.
We have been written about Time Tracking Project Management Tool in another article.
Communication Tools
Internal chat features and seamless integration with other collaboration tools can help reduce cacophony and boost productivity across time zones.
Reporting And Analytics
High-level reporting dashboards, metrics and workload analyses are crucial for spotting issues, optimizing resource allocation and monitoring budgets- especially for large virtual teams.
We have been written about Project Management Tool Apps in another article.
Benefits of Using Project Management Software For A Virtual Business
There are many benefits virtual businesses can reap from implementing project management software:
Improved Communication
Integrated messaging, file sharing and task/project tracking all in one platform helps ensure team members stay up-to-date and on the same page, even across time zones. This reduces miscommunications and confusion that often plague distributed teams.
Increased Visibility
Real-time updates on task status, workloads, bottlenecks and progress gives managers deeper visibility into their virtual teams' activities. They can spot issues earlier and make adjustments to keep projects on track.
Streamlined Workflows
By centralizing processes, templates and best practices in a cloud-based system, project management software can help standardize and optimize how work gets done. This eliminates redundancy and improves efficiency for virtual teams.
Better Accountability
Features like task assignment, due dates, comments and approvals make it easier for virtual team leaders to tie work back to specific individuals. This cultivates a higher sense of responsibility and drives more results.
Better resource Allocation
Analytics and workload insights give managers data to more strategically allocate people, skills and budgets across projects. They can match team members with the work that best leverages their talents.
We have been written about Project Management Software Benefits in another article.
Tips For Choosing The Right Tool For Your Virtual Business
There are many great project management options for virtual teams, so how do you choose the right one to Grow Your Virtual Business? Here are some tips:
Evaluate Your Needs
Start by making a list of features that are essential for your team based on tasks, workflows, reporting needs, and integrations. Narrow your search to tools that meet the most important requirements.
Consider Team Size
Tools like Trello and Asana work well for smaller distributed teams, while solutions like monday.com, Smartsheet and Workfront are better suited for mid-sized and large virtual organizations. Choose a tool with a scale that matches your current and future size.
Focus On Ease Of Use
Even the most feature-rich software will fail if your team finds it too complex or time-consuming. Look for a simple and intuitive interface that allows your workers to quickly adopt the system and stay productive.
Other factors to weigh include pricing, integrations, customization, and level of admin control. Don't just fall in love with the flashiest demo – make a practical, systematic evaluation based on the realities of running your virtual business.
Above all, invest in a tool that your team will actually use. Onboarding remotely takes extra effort, so choose software that employees will find valuable enough to learn. And remember, you can always upgrade later as your needs change – the most important thing is taking the first step to bring structure and efficiency to your workers wherever they are.
With a little research and open discussion with your team, you'll find a project management partner that helps remove the distance between your distributed workers, bringing them closer together to Grow Your Virtual Business.
We have been written about Personal Project Management Tool in another article.
Implementing Project Management Software
Switching to a new project management solution for your virtual team can be a big change.
Here are some tips for a successful implementation:
Go slow at first. Start with a small pilot group to work out any kinks before rolling out to the entire team. This allows you to refine processes and templates before widespread adoption.
Provide training and support. Remote workers need extra assistance to successfully adopt new software. Offer webinars, one-on-one sessions, documentation and even video tutorials. Be available to answer questions as people get started.
Set clear expectations. Communicate why the change is happening, what's expected of employees and how it will benefit the business as a whole. Link the tool to organizational goals to improve buy-in.
Involve "super users". Identify people on the team who pick up new technologies quickly and task them with helping train others. Their influence can speed adoption across the group.
Encourage use of templates. Pre-made templates for common tasks and projects give workers a running start and make the tool less intimidating.
Be flexible. Don't mandate that every individual and team use the software in the exact same way. Allow for some flexibility based on specific roles and workflows.
Measure metrics that matter. Track things like task completion rates, time to completion and resource allocation. Tie key performance indicators to organizational goals you want to grow your virtual business.
Most importantly, remain patient as your remote team adjusts to the new software. Change can be hard. But if you provide the support they need and clearly communicate the benefits, your people will come around and embrace a project management solution that truly helps you unite a distributed workforce towards a common purpose.
We have been written about Simple Project Management Tool in another article.
Onboarding Your Virtual Team For Project Management Software
Onboarding a fully remote team onto new project management software can be challenging but crucial for effectively managing work and growing your virtual business.
Here are some tips:
Setting Up Processes And Templates
Take the time beforehand to configure workflows, assign roles, and create templates that match how your virtual team works. Having these basics in place beforehand makes the transition smoother.
Providing Training And Support
Offer various forms of training:
Webinars for group training
One-on-one sessions to help individuals
Video tutorials for on-demand learning
Documentation and step-by-step guides
A dedicated support contact for questions
Remote workers need extra assistance; be available and responsive to their needs.
Overcoming Common Challenges
Lack Of Face-To-Face Interaction
Compensate by over-communicating within the software using messaging, comments and notifications. Encourage workers to reach out for help. Make yourself accessible to remove hurdles.
Time Zone Differences
Create templates for status reporting, hand-offs, and approvals to maintain visibility. Schedule regular all-team meetings to align everyone, regardless of where they're located.
With the right preparation, training resources, and communication processes in place you can onboard even the most distributed teams onto project management software that allows you to successfully grow your virtual business. The key is removing obstacles, providing ample assistance, and uniting workers with a common purpose that transcends their physical separation.
We have been written about Enterprise Project Management Tools in another article.
Our Recommendation
After evaluating the needs of virtual businesses and reviewing the available options, we recommend Doitify.com as one of the best project management tools for teams looking to grow their virtual business.
Doitify offers an intuitive and flexible platform specifically designed for distributed teams. Key features include:
Central data storage in the cloud for anytime access
Robust task management capabilities with assignments, dependencies, and custom statuses
Real-time time tracking to optimize resource allocation and bill clients accurately
Built-in communication tools like chat and video calls to boost collaboration across geographies
Customizable boards and workflows to match the unique needs of your virtual organization
Advanced reporting and analytics to track key metrics and KPIs
In addition, Doitify aims to provide an experience remote workers will actually enjoy using. The interface is clear, visual and hassle-free. Onboarding and transitioning your team onto the platform is made simple.
Doitify understands the complexities of managingdistributed work and helps remove the obstacles that typically slow virtual teams down. By streamliningprocesses, boosting transparency and bringing remote employees together on one platform, Doitify enables companies to grow their virtual business faster and more efficiently.
In summary, if you're looking for a project management tool that truly "gets" the realities of running a virtualorganization, we believe Doitify is a great option worth exploring. The right software partner can truly transform how remote work gets done – and Doitify aims to be that partner for your distributed team.
Conclusion
In conclusion, implementing the right project management software can be a game changer for any virtual business looking to maximize productivity, optimize processes, and grow their organization.
The key benefits for remote teams include:
• Improved communication and transparency
• Increased visibility into tasks, workloads and bottlenecks
• Streamlined workflows through centralized systems
• Better accountability through task assignments and progress tracking
• More intelligent resource allocation using analytics and reporting
There are many great options to choose from, with tools targeting different team sizes, budgets and needs. But the common theme is that a purpose-built solution for distributed collaboration can truly unite your remote workers on a shared mission to accomplish your organizational goals.
When selecting and onboarding project management software, focus on:
• Meeting the most essential needs of your workflows
• Choosing a simple and easy-to-use platform
• Providing training, support and processes that remove obstacles for your team
• Communicating how the tool will help grow the business
If implemented correctly, the right project management partner can transform how your virtual teams communicate, coordinate tasks and drive outcomes – helping you accelerate growth without the limitations of physical proximity.
In short, if you're serious about maximizing the potential of your remote workforce, investing in a project management solution tailored for virtual teams should be a top priority. The right software partner can truly become a force multiplier for your dispersed employees, equipping them to achieve what they couldn't otherwise accomplish alone.
So what are you waiting for? Take the first step today towards streamlining processes, boosting transparency and ultimately enabling your virtual business to Grow Beyond Boundaries.
FAQs
How much does it cost?
Project management solutions for virtual teams range in price from free to over $100 per user per month. Cost depends on the number of features, users, and integrations. Many offer a free trial so you can test drive the software before committing.
Will my team adapt to a new system?
With the right training, documentation, and support, most teams can successfully adapt to new software – especially if they understand how it will help them work smarter and grow the business. Keep communication lines open and be responsive to questions as people adjust.
What features should I look for?
For virtual teams, prioritize features like task management, resource allocation, time tracking, centralized data storage, and communication tools. Reporting and analytics can also help optimize workflows and measure progress.
How do I choose the right tool for my needs?
Evaluate tools based on the features most important for your workflows, team size, and budget. Consider ease of use, customization, and how well the tool "fits" your virtual organization. Discuss options with your team to gather their perspectives.
How can it improve communication?
By providing a centralized hub for messaging, assigning and tracking tasks, and sharing files, project management software can help compensate for the lack of in-person interaction on virtual teams. More transparent processes and real-time updates also boost communication.