Working on a complex project often requires managing multiple tasks, deadlines, team members and resources. As projects grow larger and more distributed, it becomes increasingly challenging to ensure everything stays organized and on track. That's where Project Management Tool Apps come in. These handy mobile project apps help project teams coordinate work, communicate efficiently and stay productive – all from the convenience of your mobile device.
In this article, we'll explore why using a mobile project app is beneficial, the differences between desktop and mobile project management, and the best project management tool apps for iOS and Android devices. Our goal is to help you find the right app to manage your projects more easily and effectively from your smartphone or tablet. By the end, you'll understand how these powerful project management tool apps can help you accomplish more while staying connected and organized on the go.
Let's begin by looking at some of the main reasons to use a mobile project app for managing your work, starting with making it easier to work efficiently from anywhere.
Table of Contents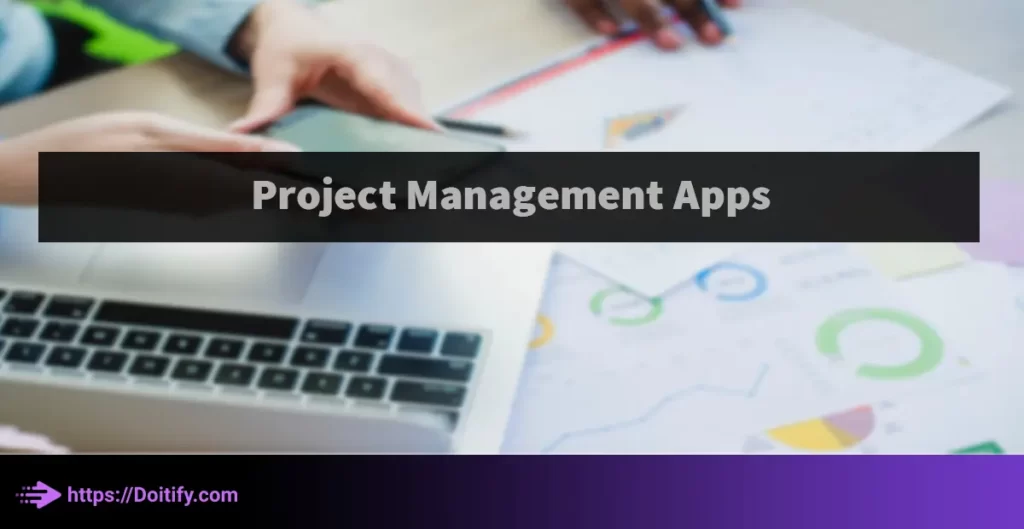 Why Use Project Management Tool Apps
Project management apps can help you accomplish tasks more effectively by keeping you organized, on track, and facilitating collaboration.
Here are a few reasons why using a mobile project management app is beneficial:
Manage Work More Efficiently
When all your tasks, projects and team members are in one place, on an app designed for project management, it becomes easier to manage your workloads and keep track of important details. You can assign tasks, set due dates, track progress and manage changes in real-time, right from your mobile device. This level of visibility and access leads to more efficient workflow and work processes.
Stay Organized And On Track
Mobile project management apps help you organize tasks by project, priority, due date and assignee. You can also set reminders and receive push notifications to ensure important tasks stay front of mind. This level of organization means you and your team members can stay focused on the right work at the right time, minimizing delays and distractions.
Facilitate Collaboration
Most project management tool apps enable real-time communication features like messaging, comments and file sharing. Team members can update tasks, ask questions, and exchange files, all within the app. This type of collaboration makes team coordination easier and more intuitive, leading to better outcomes and on-time delivery.
Increase Productivity
When your projects and tasks are managed within a mobile app designed for visibility, organization and collaboration, the end result is increased productivity for you and your entire team. Less time is wasted on disorganization and confusion, allowing everyone to focus their efforts on meaningful work that moves the project forward.
We have been written about Free Project Management Tools in another article.
Difference Between Desktop And Mobile Project Management
There are some key differences between using desktop and mobile project apps for managing your work. Here are three of the main ways:
Mobile Always Accessible
Unlike desktop tools, mobile project apps give you constant access to your projects from anywhere. You can check tasks, make updates and communicate with team members while on the go. This level of always-on connectivity means you can manage work in small chunks of time, as opportunities arise.
Simpler Tools On Mobile
Mobile project apps tend to have streamlined interfaces and focus on the core functions you need most. They're designed for quick input and viewing on a small screen. This results in tools that are often easier and faster to use compared to their desktop counterparts.
Ease Of Updating Tasks on-the-go
Since mobile project apps are purpose-built for smartphones, it'ssimple and convenient to make quick updates from anywhere: marking tasks complete, assigning to team members, adding notes and uploading photos of receipts or documents. These small but impactful updates are difficult on a desktop, but effortless on a mobile project app.
We have been written about Project Management Software Benefits in another article.
Colabration Vs Project Management Apps
While collaboration apps and project management apps both aim to improve teamwork, there are key differences in their focus and functionality:
Collaboration Apps Focus On Communication
Tools like Slack, Teams and Google Chat are designed to make team communication and information sharing as easy and effective as possible. They provide features like messaging, file sharing, chat channels and video conferencing to facilitate real-time collaboration.
Project Management Apps Organize Work
In contrast, project management tool apps like Asana, Trello and Basecamp focus on organizing and tracking the work itself. They provide features like task lists, due dates, checklists, assignees and task dependencies to keep projects on schedule and members on the same page.
Uses of Both
In reality, most teams benefit from using both types of apps together. Collaboration apps ensure team members can communicate efficiently as needed throughout a project. While project management apps give structure and visibility to the workflow so work gets completed on time. The two complement each other.
To maximize results, use a collaboration app for regular check-ins, discussions and answering questions in the moment. Then rely on a project management tool app to organize all tasks, resources and deadlines to keep the overall project moving forward in an optimal sequence. Together, these two mobile tools can supercharge your team's productivity – streamlining communication while providing the grip and traction needed to navigate complex projects.
We have been written about Simple Project Management Tool in another article.
Top Project Management Tool Apps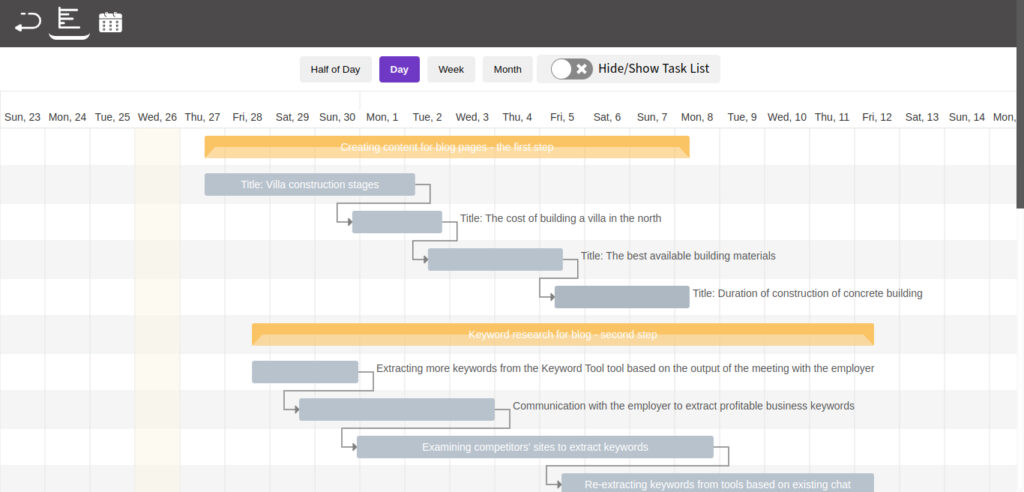 Doitify is a great project management app for teams of all sizes. It is easy to use and has a variety of features that can help you manage your projects more effectively. Some of the key features include kanban boards, Gantt charts, task lists, communication tools, and reporting tools. Kanban boards allow you to visualize your projects and track progress. Gantt charts give you a visual representation of your project timeline. Task lists help you keep track of all the tasks that need to be completed. The communication tools let you collaborate with your team through chat, file sharing, and video conferences. The reporting tools allow you to generate reports on project metrics like time, cost, and scope.
Overall, Doitify is a powerful yet easy-to-use project management tool that can help you improve your team's productivity. The kanban boards, Gantt charts, and task lists provide the structure needed to stay organized and on track. While the communication and reporting features give you the insight and oversight required to course correct as needed and deliver results on time and on budget. The simplicity and breadth of Doitify's feature set makes it a great choice for project managers of all levels, from those just getting started to more seasoned veterans.
Best For: Doitify is best for small to Large-sized businesses and remote teams. It is a cloud-based software that can be accessed from anywhere with an internet connection.
Platforms: as Web app for all platforms.
Doitify Pricing
Free plan: The free plan includes all features, but is limited to 5 members and 5 MB of space.
Premium plan: The premium plan costs $0.50 per month per member and includes unlimited space.
Doitify Features
Global Quality: The ability to compete with the best foreign project management software.
Free Plan: All features of the software are free, with the option to pay for additional storage and users.
Remote Team Management: The ability to communicate and monitor the performance of remote employees.
Different Management Systems: Support for Agile, Scrum, and other management systems.
Online Time Tracking: The ability to track and save the online time of employees.
Screen Sharing: The ability for admins to view the screens of working employees.
Daily Work Reports: Daily reports of employee work for better team and project control.
User Performance Tracking: The ability to track user performance in specific time periods.
Advanced Subtasks: The ability to create advanced subtasks with start and end times.
Quality Control: Consideration of quality control managers for subtasks.
Dedicated Chat: Chat capabilities for each subtask.
User Roles: The ability to assign roles and rules for users.
Checklists: The ability to create checklists for each task and subtask.
Subtask Status: The ability to set statuses for each subtask.
Import/Export: The ability to import and export subtasks.
Gantt Chart and Calendar: The inclusion of a Gantt chart and calendar in the free version.
Language Support: Support for right-to-left languages such as Chinese.
Regular Updates: Regular updates to add new features and improve functionality.
Pricing: Fair prices and the ability to create a portal for dollar currencies.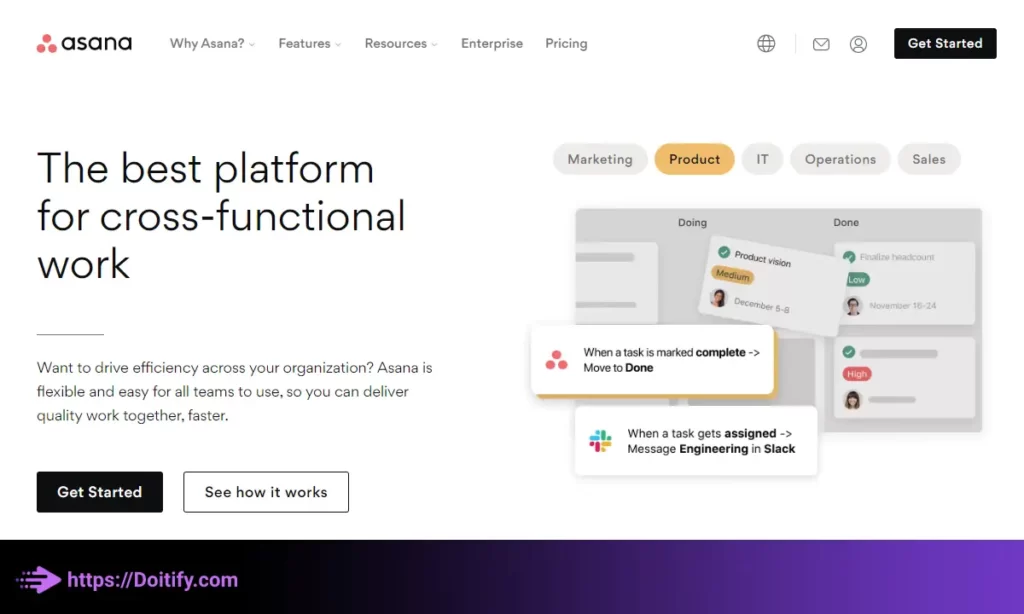 Asana is a good choice for a project management tool app thanks to several strengths. The interface is clean and straightforward, meaning there is little learning curve for new users. Asana's kanban-style boards provide a visual overview that aids productivity and transparency within teams. Asana also integrates well with Google apps like Gmail, Calendar, Docs and Sheets, allowing you to tie tasks to your existing Google productivity tools.
Asana offers robust permission settings to control who can access and edit projects and tasks. The free tier for up to 15 team members makes Asana an affordable option, even for small businesses. Asana's core task management features cover the essentials that most teams need, from creating and assigning tasks to adding notes, attachments and due dates. Overall, Asana's intuitive design, Google integration, permission controls and free tier make it a good choice for easy-to-use yet powerful project management, especially for teams already invested in the Google ecosystem.
Best for: Medium to large teams who need a robust project management tool.
Platforms: web, iOS, and Android.
Asana Pricing
Free version available with limited features.
Paid plans start at $10.99 per user per month.
Asana Features
Project templates: Asana offers a variety of project templates that users can use to get started quickly. Templates are available for a variety of project types, such as product launches, marketing campaigns, and team onboarding.
Custom fields: Asana allows users to create custom fields for tasks and projects. This can be useful for tracking specific information, such as project budgets, client information, or project status.
Task dependencies: Asana allows users to create task dependencies, which means that one task cannot be completed until another task is finished. This can help ensure that tasks are completed in the correct order.
Forms: Asana offers a feature called Forms, which allows users to create custom forms to collect information from team members or stakeholders. Forms can be used for a variety of purposes, such as collecting feedback or submitting project requests.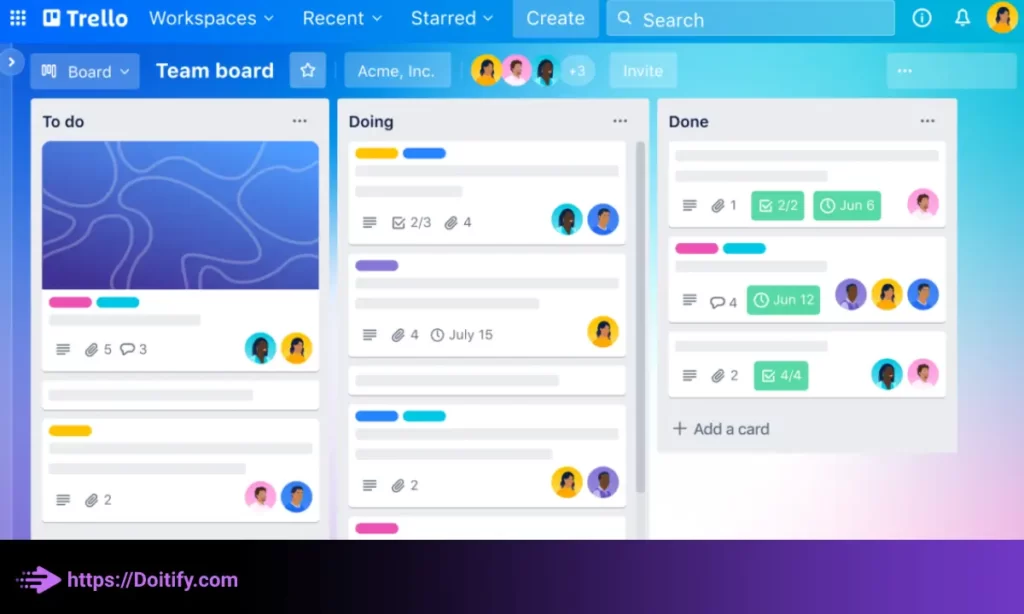 Trello is a good choice for a project management tool app thanks to several strengths. The interface is very visual and intuitive, with a drag-and-drop card system that is simple to learn. Trello uses boards, lists and cards to provide a clear overview of projects and tasks, which helps teams stay organized and on the same page. Trello also integrates with over 200 apps like Slack, Google Drive and Dropbox to facilitate collaboration.
Trello offers a high level of configurability, allowing teams to customize boards, cards and workflows to match their unique processes. The free plan is very accommodating, with no restrictions on the number of boards, lists or members. Trello's recipe box feature provides templates for common workflows that accelerate project setup. Overall, Trello's visual interface, great integrations, flexibility and free tier make it a compelling project management tool app for teams that value an intuitive yet customizable solution. The main drawback is a lack of certain advanced features like Gantt charts, resource management and reporting found in alternatives. But for many small and medium teams, Trello provides the perfect balance of simplicity and power.
Best for: Small to medium-sized teams and freelancers who want a simple and easy-to-use project management tool.
Platforms: web, iOS, and Android.
Trello Pricing
Free version available with limited features.
Paid plans start at $9.99 per user per month.
Trello Features
Collaboration: Trello allows team members to collaborate on projects and see each other's progress in real-time. Users can leave comments, add attachments, and mention other team members on cards to communicate more effectively.
Mobile app: Trello has a mobile app that allows users to manage their tasks and projects on-the-go. This can be particularly useful for remote teams or those who need to work outside of the office.
Integrations: Trello integrates with a variety of other tools and services, such as Google Drive, Dropbox, and Slack. This allows users to connect their Trello boards to other apps and automate certain tasks.
Power-Ups: Trello offers a variety of Power-Ups, which are add-ons that provide additional functionality to the platform. Some popular Power-Ups include calendar view, voting, and custom fields.
Security: Trello takes security seriously and offers features such as two-factor authentication, SSL encryption, and third-party security audits to ensure that user data is protected.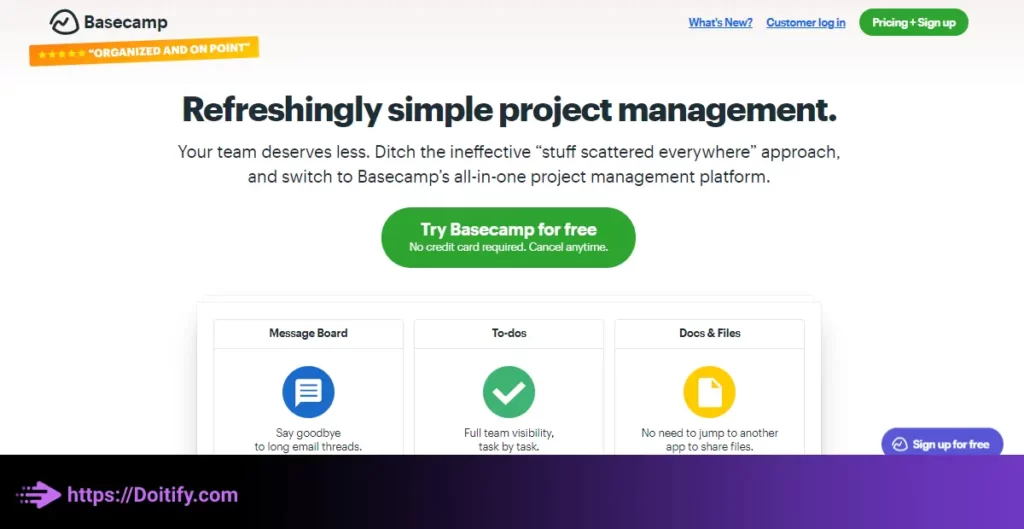 Basecamp provides a streamlined and focused solution that excels at the basics of project management. The interface strips away non-essential features to prioritize the core functions of tracking tasks, communicating with teammates, and sharing relevant files. Basecamp's simplicity and clarity of purpose make it ideal for teams that value transparency and open communication above complexity.
Basecamp's strong search functionality and ability to store large amounts of documents and files in one central hub make it a good fit for documenting larger projects with an extensive paper trail. The integration with tools like Google Drive means teams can pull relevant resources into Basecamp without duplicating or moving content. While Basecamp offers less configurability compared to competitors, its streamlined approach reduces friction and distractions that can derail productivity. For many teams, especially those just starting out, Basecamp provides an accessible and uncomplicated solution that does the basic job of project management well. The main downsides are the limited customization options and potentially fewer features than competitors – though for simple to medium complexity projects, Basecamp's focused interface is all most teams need.
Best for: small to medium-sized businesses and teams that need a simple and straightforward project management tool.
Platforms: Desktop, MacOS, Android, iOS
Basecamp Pricing
Basic: 15 USD per month
Pro Unlimited: 299 USD per month
Basecamp Features
Simplicity and Ease of Use: Despite its advanced features, Basecamp is userfriendly and requires no specialized training.
Security: Basecamp is designed to keep your information secure, using SSL and encryption technology to protect your data.
Collaboration Capabilities: Basecamp makes it easy for team members to collaborate and coordinate using tools such as calendars, reminders, and shared files, helping teams stay in sync.
Multimedia Capabilities: Basecamp allows teams to share multimedia files such as images, videos, and text documents.
Project Tracking: With Basecamp, you can carefully track project progress and get detailed information about the project's status.
Easy Access: Team members can access Basecamp from anywhere and with any device, without the need to install or configure software.
Reporting Capabilities: Basecamp enables easy preparation of project reports and graphical and numerical display of project progress.
Task Automation: Basecamp provides the ability to create lists of repetitive tasks and perform them automatically, reducing project management time and costs.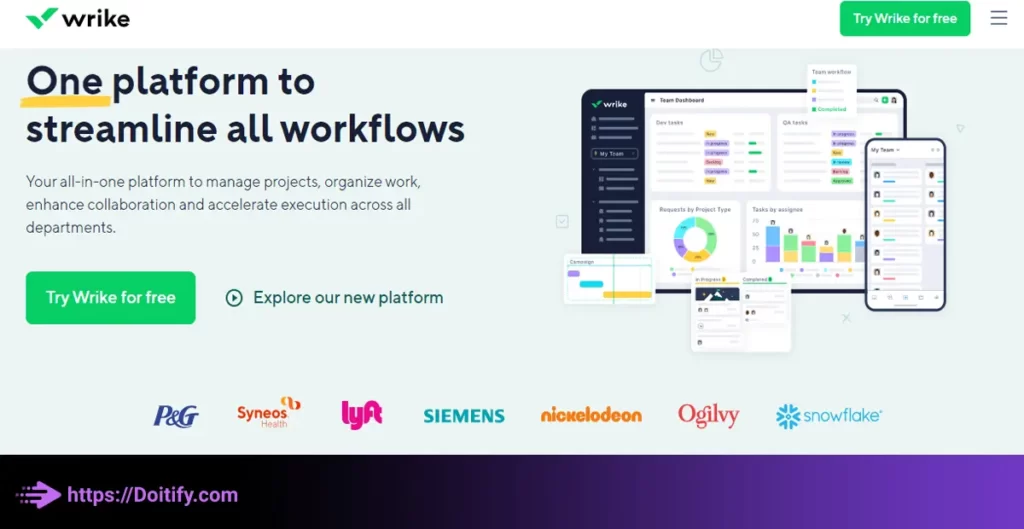 Wrike excels at managing complex projects that require robust planning, scheduling and resource management. The app offers useful features like Gantt charts, resource allocation, and in-depth reporting that give teams the visibility and control needed to navigate multi-stage workflows. Wrike's Gantt charts provide a visual project schedule that clearly shows task dependencies, critical paths and potential bottlenecks. The resource management capabilities allow teams to assign tasks not just by person but also by skills and availability. This level of planning and scheduling power makes Wrike a strong choice for companies delivering complex products or services with many interrelated work-streams.
Wrike's extensive integrations that facilitate teamwork are another strong point. It connects with over 100+ apps including Google Workspace, Slack, Dropbox and Microsoft Office. This broad ecosystem of integrations means teams can pull data from their preferred productivity tools into Wrike to automate workflows and reduce manual data entry. Combined with time-tracking features, Wrike provides companies with the visibility and analytics needed to optimize resource utilization, task durations and project budgets. In summary, Wrike's strengths in planning, scheduling, resource management and analytics make it a top choice for organizations managing complex portfolios of projects that require meticulous control and oversight.
Best for: Medium-sized to large teams who want a customizable project management tool with time tracking and task management features.
Platforms: web, macOS, Windows, iOS, and Android.
Wrike Pricing
Free version available with limited features.
Paid plans start at $9.80 per user per month.
Wrike Features
Customizable projects and tasks: You can create projects and tasks and customize workflows to fit your team's needs.
Time tracking: You can track the time spent on each task and project.
Task management: You can assign tasks to team members and set due dates and priorities.
Reports: You can generate detailed reports on your time usage and project progress.
Integrations: Wrike offers integrations with a wide range of other tools, including Salesforce, Slack, and Microsoft Teams.
Time tracking: You can track the time spent on each task and project.
Due dates: You can set due dates for each task and receive notifications when the deadline is approaching.
Priority management: You can set priorities for tasks to ensure that the most important tasks are completed first.
We have been written about Project Management Tool For Mac in another article.
Our Recommendation
Doitify is a powerful project management tool that can help you manage your projects more effectively. It is easy to use and has a variety of features that can help you improve your team's productivity.
Here are some of the benefits of using Doitify:
It is easy to use: Doitify is easy to set up and use. You can create projects, add tasks, and assign them to team members in just a few clicks.
It has a variety of features: Doitify has a variety of features that can help you manage your projects more effectively. These features include Kanban boards, Gantt charts, task lists, communication tools, and reporting tools.
It is affordable: Doitify is an affordable project management tool. It offers a free plan for teams of up to 10 people, and paid plans for teams of up to 100 people.
If you are looking for a project management tool that is easy to use, has a variety of features, and is affordable, then Doitify is a great option.
We have been written about Project Management Tool With Calendar in another article.
Conclusion
In conclusion, mobile project management tool apps can be a powerful way to organize your work, facilitate team collaboration, and boost productivity. These #ProjectManagementToolApps aim to provide you with the right balance of structure, transparency and spontaneity to manage complex projects from anywhere, at any time. By choosing an app that excels at the features most important for your work – whether visualization, reporting, flexibility or something else – you give your team the tools needed to navigate challenges, course correct in real-time, and deliver results on schedule. Every business has unique project needs; the right #MobileProjectApp for you is one that supports your processes and ways of working while streamlining communication and coordination. So take some time to evaluate your options, try out different free trials, and identify the solution that brings your projects to life by empowering your team to work seamlessly – whether from the office or on the go.
FAQs
What is the most important feature of a project management tool app?
The most important feature varies based on your specific needs. For some teams, easily visualizing tasks and workflows through kanban boards and Gantt charts is key. For others, robust reporting and metrics are crucial for monitoring progress and making data-driven decisions. In general, look for a mobile project app that provides the level of structure, insight and oversight required for your particular projects.
What are the advantages of using a mobile project app over desktop software?
Mobile project apps provide several key advantages: constant access from any location, simpler interfaces that are faster to use, and the ability to update tasks in real-time on the go. This always-on accessibility, ease of use and convenience can significantly improve team coordination, productivity and outcomes.
How much does a good project management tool app cost?
Pricing varies widely across different mobile project apps. Many offer a free option for individual or small team use. Paid tiers generally range from around $5-$15 per user per month. Look for an app that provides sufficient functionality within their free tier for your basic needs, minimizing the cost impact.
How do I choose the best project management tool app for my team?
Consider your team's specific project needs and priorities. Look for mobile project apps that excel in areas like visualizing workflows, reporting and insights, collaboration, real-time task updates, and resource management – based on what's important for your work. Then compare options based on features, ease of use, and pricing to determine the best fit for powering your projects.