Visual project management tools utilize visuals like diagrams, charts and boards to simplify managing complex projects. They help organize work into easily digestible pieces so project managers can see what needs doing next.
Some main benefits visual tools offer are:
At-a-glance progress – Using visual aids like Gantt charts and kanban boards, you can quickly see how far along each task and phase is. This helps you recognize and correct delays early.
Simpler task assignment – Task lists make it effortless to delegate work to team members and keep track of assignments and progress updates.
Better communication – Visual tools act as a central hub all stakeholders can view to remain on the same page. updates.
Enhanced transparency – Having all project details and changes visible in real time improves transparency and trust with clients and upper management.
All in all, visual project management tools try to make following a project's progress and status simple by translating schedules, tasks and assignments into easy-to-understand visuals so you can always know what needs your attention next.
Project management visualization tools have become increasingly popular due to the growing demand for improved efficiency, transparency and teamwork in today's business world. Some reasons for their rising prominence include:
Work is becoming more complex – Projects now involve larger teams, multiple vendors and greater technicality. Visual tools help break down this complexity into bite-sized pieces teams can understand and act on.
Teams are distributed – With more remote and global teams, there's a need for shared platforms all stakeholders can access from anywhere to stay up-to-date and on the same page.
Workloads are increasing – As demands grow, teams require tools that maximize their productivity and minimize wasted time and effort. Visual tools automate routine tasks and highlight priorities to keep everyone focused on the most important work.
Real-time collaboration is key – With projects constantly evolving, all stakeholders need up-to-the-minute information and the ability to instantly communicate changes. Visual tools provide a central hub for live collaboration.
Reporting and oversight needs are rising – Upper management and clients demand greater transparency into projects. Visual project management satisfies this need through dynamic visual summaries and analytics.
We have been written about Project Management Tool For Mac in another article.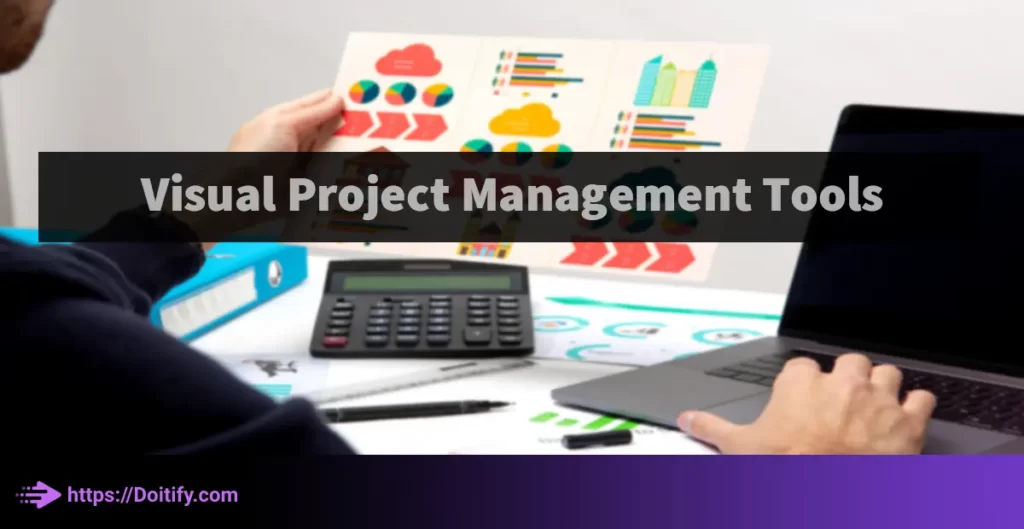 Table of Contents
What Is A Visual Project Management Tool?
Defining Key Features
These visual components aim to distill the complexity of projects into simple, easy-to-read information that improves awareness of tasks, delays and priorities, helping managers make efficient decisions and keep projects moving forward smoothly:
Gantt charts – These chart the timeline of a project visually, plotting tasks on a horizontal timescale to illustrate their duration, dependencies and deadlines. Gantt charts make key milestones and gaps in schedules instantly noticeable.
Kanban boards – Based on the Kanban system, these visualize work using cards representing tasks or issues. Cards are moved between columns like "To do", "In progress" and "Done" as work is started, ongoing and completed. This visually depicts the flow of work and easily reveals bottlenecks.
Task lists – These itemize individual tasks and action items, often linked to team members for assignment and tracking of progress and completion. Task lists form the basis of work assignment and monitoring in most visual project tools.
Dashboards – Centralized "home screens" provide an at-a-glance summary of key project information through visual elements like charts, graphs and tables. They show the overall pulse of a project through metrics like budget status, milestones and burn down charts.
Benefits Of Using Visual Tools Over Traditional Methods
Visual project management tools match the nonlinear, interconnected nature of project work better than traditional linear formats, helping teams adapt and solve problems in real time for optimum results.
Benefits of using a visual tool is:
Simplicity – Visual tools translate schedules, tasks lists and updates into easy-to-understand charts, boards and graphs. This simplifies task management and progress tracking for team members of all levels.
Increased transparency – By giving all stakeholders an immediate visual overview of a project's status, progress and issues, visual tools improve transparency compared to methods where people must look through often disorganized text updates.
Higher productivity – Being able to see tasks, priorities and workflows at-a-glance leads to more focused work and less time wasted searching for information. Team members spend less time in meetings and on email updates.
Superior communication – Visual tools act as a central hub where teams see and discuss updates through a shared visual format, improving overall communication compared to scattered emails and documents.
Better decision making – Visual summaries provide managers with a dynamic, data-rich view of projects, empowering them to make faster, lower-risk decisions based on real-time insights rather than retrospective status reports.
Greater oversight and reporting – The dynamic dashboards and reports available in visual tools give executives, clients and other stakeholders a straightforward way to track progress and issues, better satisfying oversight and accountability needs.
We have been written about Marketing Project Management Software in another article.
Key Considerations When Choosing a Visual Project Management Tool
Ease Of Use And Customization
Two important considerations when choosing a visual project management tool are:
Since adoption depends on full team buy-in, the ease with which team members at every level can understand and use the tool is critical.
Look for solutions with:
Simple, intuitive interfaces
Straightforward features
Short learning curves
Because every team and project is unique, the ability to tailor the tool's layout, features and workflows to fit your specific needs is highly valuable. Check for:
Flexible Kanban views and swimlanes
Ability to hide unused features
Personalizable dashboards
Configurable fields and card properties
Ability to create custom workflows
In general, tools that offer a good balance of simplicity out-of-the-box but ample customization for power users tend to work best. Teams value solutions that are:
Easy enough for everyone – Even casual users can quickly grasp the basics and essential features.
Powerful enough for experts – Advanced users and project managers can modify and extend the tool to perfectly suit their specific requirements.
Striking this balance between accessibility and adaptability will maximize your entire team's productivity and satisfaction with the visual project management solution you choose.
Real-time Collaboration
For distributed teams, real-time collaboration features are essential in a project management visualization tool. Look for solutions that offer:
In-tool chat functions – So team members can quickly discuss cards, tasks and updates within the context of boards and charts.
Comment threads – On cards, tasks or dashboards for team discussions around specific work items.
Activity feeds – Summarizing all recent changes, comments and uploads so everyone stays in the loop.
Mentions and notifications – So team members are notified when relevant to their work.
In-app assignment and delegation – Allowing team leads to easily assign work to others and transfer responsibilities when needed.
Simultaneous editing – Permitting multiple users to modify the same kanban board, list or chart simultaneously.
Revision histories – So teams can view the progression of projects over time and roll back if needed.
Real-time dashboard updates – With automatic refreshing of data and KPIs so everyone sees the current full picture.
The ability to iterate and solve problems together in the tool as they arise – not just through seldom asynchronous updates – is crucial for remote teams relying on visual project management platforms.
Look for solutions that replicate the kind of fluid collaboration and continuous visibility typical of co-located teams through strong real-time features. This level of reactivity will unite your distributed team.
Compatibility And Integration
Other factors that impact a visual tool's suitability for your team are:
Browser and device compatibility – Can your team access the solution from the devices and browsers they use most frequently? Native mobile apps are a plus.
Integrations with other apps – The number, quality and relevance of integrations with tools your team already uses, like Slack, G Suite, MS Office 365, GitHub, etc.
Offline use – Is the solution usable even when team members lose internet connectivity? This ensures 100% uptime.
Data export options – Can data be pulled out of the tool in common formats for record-keeping, transitions to another solution or custom reports?
Security and privacy – What certifications does the provider have? What user permission options exist?
Reliability and uptime – How dependable is the tool's infrastructure, and what uptime percentage does it guarantee?
Customer support – What support options and response times are available to help your team get the most out of the solution?
Good compatibility, integrations and other considerations that make a visual project management match seamlessly with your teams' existing tech stack and workflows will lead to a productive implementation with minimal disruptions or duplication of efforts.
We have been written about Project Management Software Benefits in another article.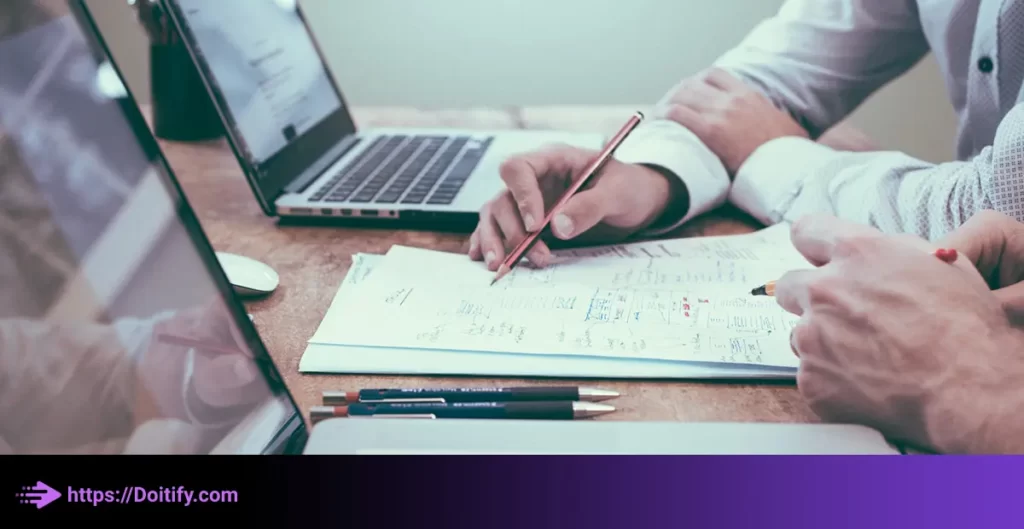 Tips For Successful Implementation Of Visual Project Management
Following below practices will ensure your visual project management tool is adopted widely, customized appropriately, integrated smoothly and used to its fullest potential – translating to maximum productivity gains and project transparency for your teams.
To realize the full benefits of visual project management tools, follow these success tips:
Get buy-in from all teams – Involve everyone to ensure adoption and consistent use of the tool from the start.
Train teams thoroughly – Fully teach users how to utilize the essential features for their roles and workflow.
Assign toolowners – Designate individuals responsible for admin, customization and promotional activities.
Setup templates and workflows – Preconfigure the interface and forms for teams to accelerate ease of use.
Enforce use of the tool – Make participation a requirement for all relevant workflows and communications.
Highlight benefits over time – Publicize progress, wins and efficiency gains achieved through the solution.
Customize based on feedback – Continually modify and improve the config to better suit team needs over time.
Integrate into existing practices – Match the tool to how your teams already work rather than redesigning workflow.
Provide technical support – Help users with issues promptly to maintain morale and participation.
Remind teams to utilize advanced features – Encourage power users to employ the full range of options for maximum impact.
We have been written about Project Management Software in another article.
Top Visual Project Management Tools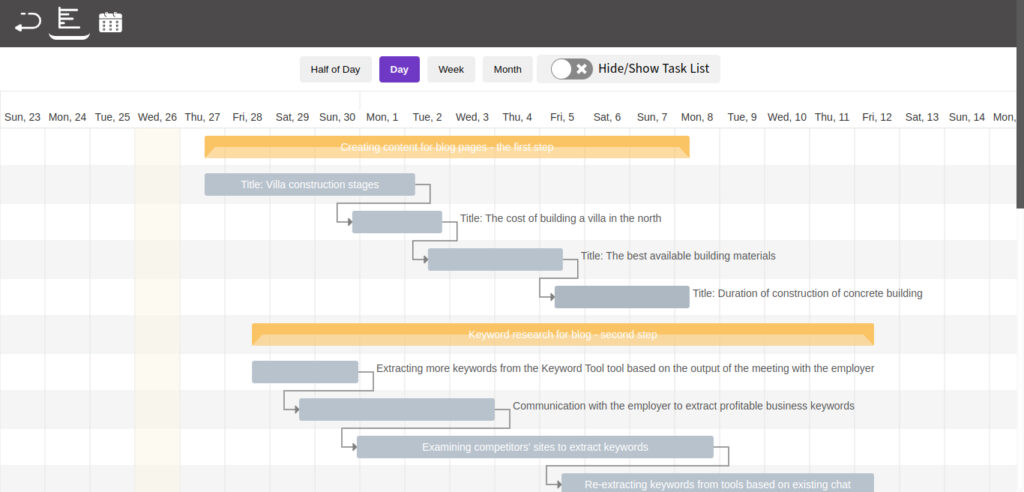 Doitify is an online task and visual project management tool that allows its users to plan, schedule and track their tasks. This platform provides features such as creating task lists, setting deadlines, personalizing settings, etc. It is a complete and comprehensive universal software that manages many tasks.
If you're looking for the best project management software that can help you improve your team's productivity and efficiency, then Doitify is a great option. It's affordable, easy to use, and highly customizable.
Best For: Doitify is best for small to Large-sized businesses and remote teams. It is a cloud-based software that can be accessed from anywhere with an internet connection.
Platforms: as Web app for all platforms.
Doitify Pricing
Free plan: The free plan includes all features, but is limited to 5 members and 5 MB of space.
Premium plan: The premium plan costs $0.50 per month per member and includes unlimited space.
Doitify Advantages
Global Quality: The ability to compete with the best foreign project management software.
Free Plan: All features of the software are free, with the option to pay for additional storage and users.
Remote Team Management: The ability to communicate and monitor the performance of remote employees.
Different Management Systems: Support for Agile, Scrum, and other management systems.
Online Time Tracking: The ability to track and save the online time of employees.
Screen Sharing: The ability for admins to view the screens of working employees.
Daily Work Reports: Daily reports of employee work for better team and project control.
User Performance Tracking: The ability to track user performance in specific time periods.
Advanced Subtasks: The ability to create advanced subtasks with start and end times.
Quality Control: Consideration of quality control managers for subtasks.
Dedicated Chat: Chat capabilities for each subtask.
User Roles: The ability to assign roles and rules for users.
Checklists: The ability to create checklists for each task and subtask.
Subtask Status: The ability to set statuses for each subtask.
Import/Export: The ability to import and export subtasks.
Gantt Chart and Calendar: The inclusion of a Gantt chart and calendar in the free version.
Language Support: Support for right-to-left languages such as Chinese.
Regular Updates: Regular updates to add new features and improve functionality.
Pricing: Fair prices and the ability to create a portal for dollar currencies.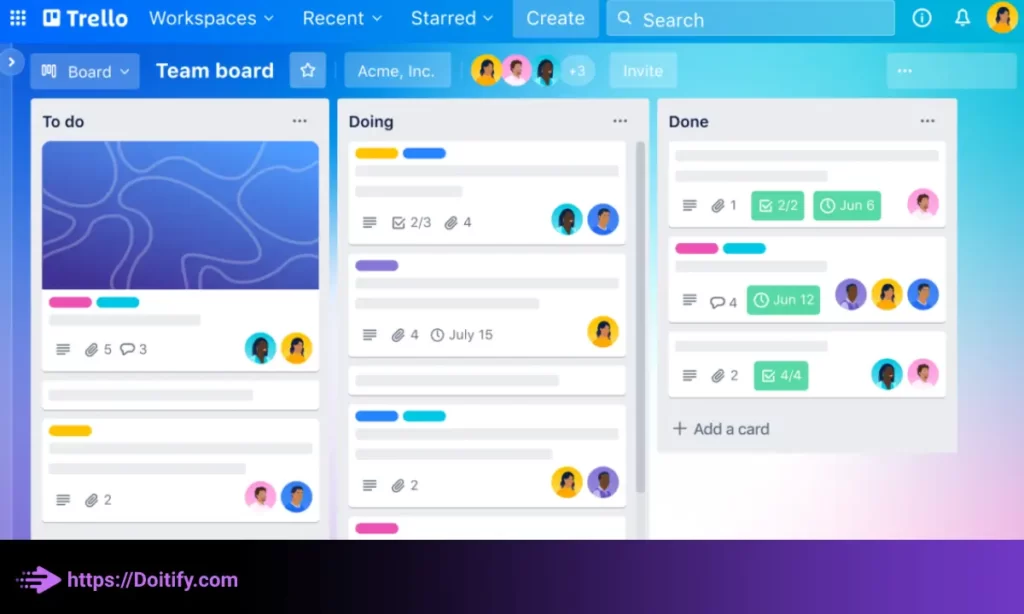 Trello is a popular project management visualization tools that provides a visual way to organize tasks and projects. It allows users to create boards for different projects, lists for different stages of a project, and cards for individual tasks.
It's also worth noting that while Trello is a great tool for managing tasks and projects, it may not be the best choice for managing large and complex projects that require more advanced features such as a Gantt chart or advanced reporting. In those cases, users may need to consider other project management tools that are better suited to their needs.
Overall, Trello can be a useful tool for individuals and teams who need a simple and visual way to manage their tasks and projects.
Best for: Small to medium-sized teams and freelancers who want a simple and easy-to-use project management tool.
Platforms: web, iOS, and Android.
Trello Pricing
free & paid plans from $9.99/user/month
Trello Advantages
Collaboration: Trello allows team members to collaborate on projects and see each other's progress in real-time. Users can leave comments, add attachments, and mention other team members on cards to communicate more effectively.
Mobile app: Trello has a mobile app that allows users to manage their tasks and projects on-the-go. This can be particularly useful for remote teams or those who need to work outside of the office.
Integrations: Trello integrates with a variety of other tools and services, such as Google Drive, Dropbox, and Slack. This allows users to connect their Trello boards to other apps and automate certain tasks.
Power-Ups: Trello offers a variety of Power-Ups, which are add-ons that provide additional functionality to the platform. Some popular Power-Ups include calendar view, voting, and custom fields.
Security: Trello takes security seriously and offers features such as two-factor authentication, SSL encryption, and third-party security audits to ensure that user data is protected.
Trello Disadvantages
File attachments: The free version of Trello only allows users to attach files up to 10 MB in size. In the paid version, users can attach larger files.
Custom backgrounds: The free version of Trello only allows users to choose from a limited number of backgrounds for their boards. In the paid version, users can upload their own custom backgrounds.
Butler automation: The free version of Trello does not include Butler, which is a powerful automation tool that can help users automate repetitive tasks. Butler is only available in the paid version.
Trello Pricing
Free version available with limited features.
Paid plans start at $9.99 per user per month.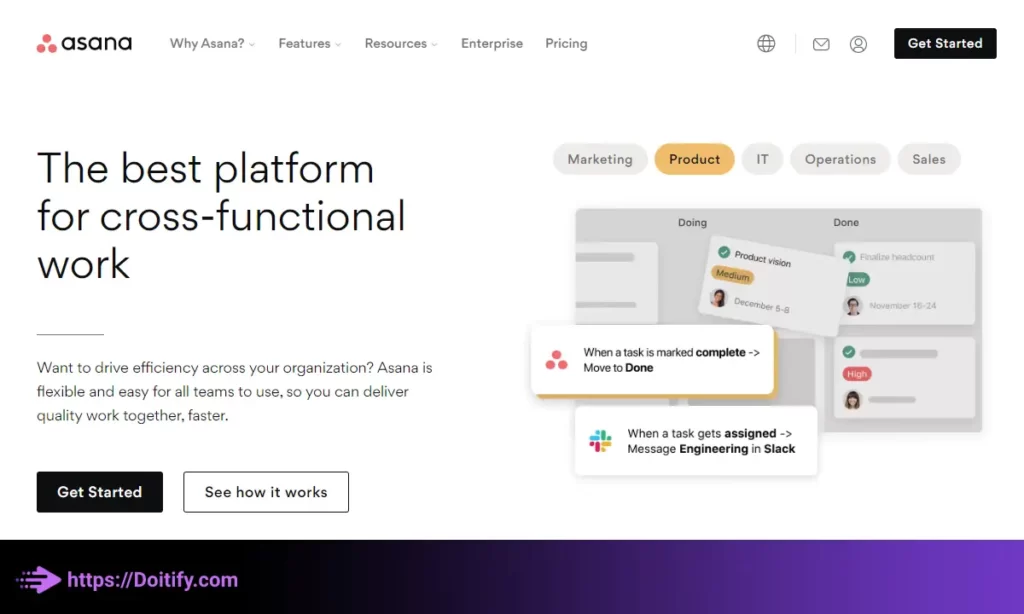 Asana is one of the best project managements software's that provides users with a comprehensive set of features to manage their projects efficiently. This tool also provides users with project timelines, calendars, and dashboards to help them stay on top of their tasks and ensure that projects are completed on time. Its user-friendly interface and robust collaboration features make Asana a popular choice for teams of all sizes.
Best for: Medium to large teams who need a robust project management tool.
Platforms: web, iOS, and Android.
Asana Pricing
Free version available with limited features.
Paid plans start at $10.99 per user per month.
Asana Advantages
Project templates: Asana offers a variety of project templates that users can use to get started quickly. Templates are available for a variety of project types, such as product launches, marketing campaigns, and team onboarding.
Custom fields: Asana allows users to create custom fields for tasks and projects. This can be useful for tracking specific information, such as project budgets, client information, or project status.
Task dependencies: Asana allows users to create task dependencies, which means that one task cannot be completed until another task is finished. This can help ensure that tasks are completed in the correct order.
Forms: Asana offers a feature called Forms, which allows users to create custom forms to collect information from team members or stakeholders. Forms can be used for a variety of purposes, such as collecting feedback or submitting project requests.
Asana Disadvantages
Complexity of some features: Asana offers many features, and some users may find certain features to be complex or difficult to use. However, Asana does offer a variety of resources and support to help users learn how to use the platform effectively.
Limitations of the free version: As with many software platforms, the free version of Asana does have some limitations compared to the paid version. For example, the free version only allows users to create a limited number of projects and tasks. However, the free version can still be a good option for individuals or small teams who don't need all the advanced features of the paid version.
Limited support for non-English languages: While Asana does support multiple languages, some features may only be available in English. This can be a disadvantage for users who are not familiar with the English language.
Monthly payment: Asana does require a monthly subscription to access all of its features. However, Asana does offer a variety of pricing plans to fit different budgets and needs.
Necessary settings: As with any software platform, there is some configuration required to use Asana effectively. However, Asana does offer a variety of resources and support to help users get started and set up the platform to fit their needs.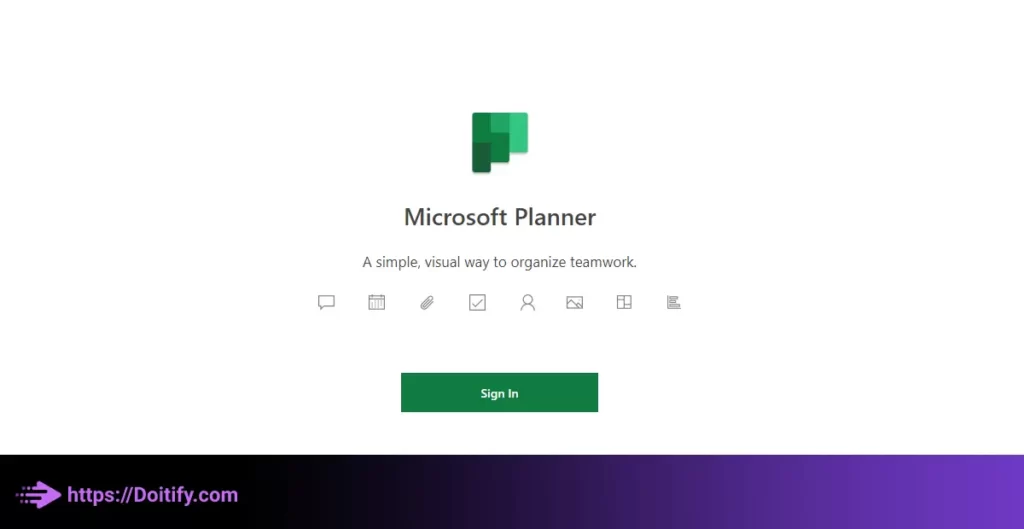 Microsoft Planner works best for smaller teams that already use Office 365 for email, documents and chat and need a straightforward visual task tracker. However, it lacks advanced features for larger or more complex projects.
Planner aims to provide just the basics in a simple Microsoft-integrated package. It's best seen as a complement to, not replacement for, fuller project management solutions.
Best for: Planner is a free visual project management tool within the Microsoft 365 ecosystem. It's meant for smaller teams and non-critical projects.
Platforms: Web app, mobile apps for iOS and Android
Microsoft Planner Pricing
Free, included with Microsoft 365 subscriptions
Microsoft Planner Features
Kanban-style boards, task lists, assignees, due dates, built-in chat, integration with Office 365 apps
Microsoft Planner Advantages
Simple and intuitive interface
Free for all Microsoft accounts
Built-in Microsoft Teams chat
Integrates with Office 365 apps
Microsoft Planner Disadvantages
Limited functionality
Few customization options
No Gantt charts or reporting
Basic notifications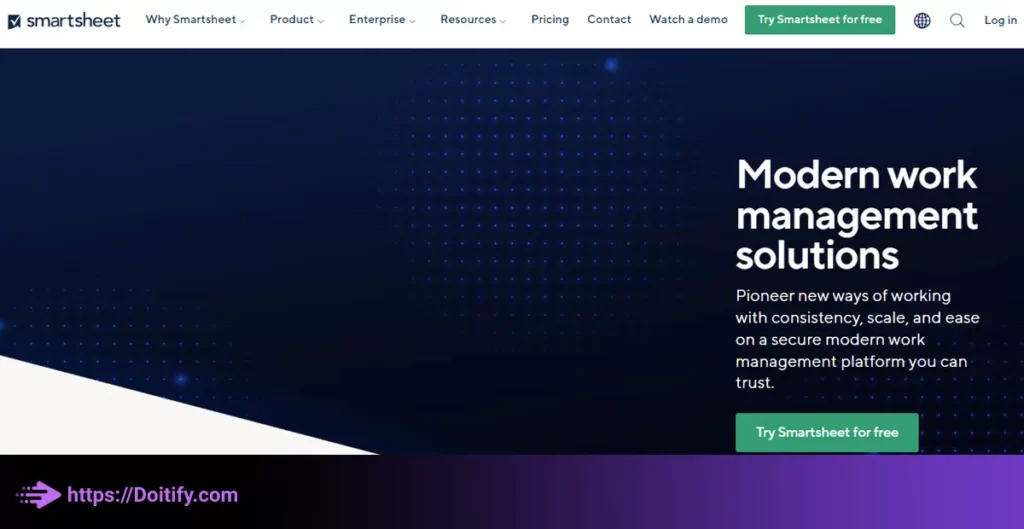 Smartsheet is a comprehensive visual work management platform for teams of all sizes. It offers robust resource management, reporting and analytics features.
Smartsheet seeks to offer "one collaborative platform for all your work" through its robust set of features for complex project planning and execution. However, its depth comes at the cost of a higher learning curve.
Smartsheet aims to serve as a full work operating system for teams and organizations, not just a visual project tool. It's best for more mature teams with the bandwidth to learn its advanced features.
Best for: Collaborative work management for teams.
Platforms: Web app and mobile app
Smartsheet Pricing
Free plan for up to 3 users, paid plans start at $12/user/month.
Smartsheet Features
Gantt charts
Kanban boards
Task lists
Team dashboards
Resource management
Reporting dashboard
Integrations
Smartsheet Advantages
Powerful resource management and reporting
High customization options
Advanced automation through rules and workflows
Mobile app for managing projects on the go
Smartsheet Disdvantages
Steeper learning curve
Premium pricing can be expensive
Some complexity may overwhelm smaller teams
We have been written about Project Management Tool With Gantt Chart in another article.
Conclusion
While text-based alternatives offer rigor, granular control and advanced features, project management visualization tools match the nonlinear nature of creative, collaborative work better through their live, visual nature.
Transitioning to a visual project management approach can revolutionize how your teams plan, discuss, prioritize and execute work – leading to greater empowerment, engagement and results.
But success hinges on thorough training, buy-in, customization and integration into existing workflows. Following best practices unlocks the full potential of this simple yet powerful management paradigm.
Consider how visual tools could help speed your team's progress by making project details and roadblocks easily visible at a glance.
The benefits of visual project management are too significant to ignore. Taking these decisive steps to research, choose, rollout and optimize the right solution for your teams could forever change how you collaborate, prioritize and execute work for maximum results.
Don't let these simple yet transformative tools pass your teams by. Reach out today to get started on your journey to greater productivity, transparency and agility through visualizing your work.
To summarize, the main benefits of visual project management tools are:
Simplicity – They translate complex project details into easy-to-understand visual formats.
Transparency – Visual overviews provide real-time transparency into projects for all stakeholders.
Productivity – Teams gain clarity of priorities and workflows that boosts efficiency.
Collaboration – Visual tools become central hubs for real-time team discussions and updates.
Decision making – Managers get dynamic insights to make data-driven decisions quickly.
Oversight – Organizations receive live reporting dashboards for greater visibility into projects.
FAQs
Who are visual project management tools best suited for?
Visual tools work best for teams that value simplicity, clarity and transparency above all else. They're suited for dynamic projects that require agility and flexibility, and teams that prefer a visual way of working. Non-technical teams, creative professionals and distributed teams tend to benefit the most.
What are the main advantages of visual over text-based tools?
The biggest advantages are simplicity, transparency and productivity gains. Visual tools distill complexity into formats anyone can understand at a glance, providing real-time visibility that reduces bottlenecks and improves communication and decision making.
What types of reports and analytics do visual tools provide?
Most tools offer basic reporting dashboards that show high-level summaries of progress, task status, resource allocation and timelines. More advanced options provide in-depth analytics on metrics like project burn down rates, budget vs actual costs and more. But reporting tends to be less robust than in traditional tools.
How much customization do visual tools typically offer?
The level of customization varies significantly by solution. Some only provide basic theming options while others allow extensive modification of board layouts, card properties, workflows and templates. Generally, more expensive enterprise tools offer greater customization capabilities.
What alternatives exist for teams that need more structure?
For teams that value rigorous structure andgranular control over projects, traditional text-based platforms, hybrid text-visual tools and integrated solutions pairing a collaboration tool with a basic visual tracker may be better options. They provide more features, customization and rigidity at the cost of simplicity.