Managing sales pipelines alongside project delivery is challenging without connected systems. Integrated CRM and project management solutions break down silos and provide unmatched efficiency.
Organizations using disjointed tools face limited visibility into cross-departmental workflows. This results in misaligned efforts, redundant data entry, and fragmented insights. Integrated CRM and project management eliminates these pitfalls.
Smooth handoffs between sales and delivery not only improve internal processes but directly enhance customer satisfaction. Real-time communication, accurate forecasting, and contextualized client data unify efforts across the customer lifecycle.
This article explores best practices for capitalizing on CRM and project management integration. Discover how leading solutions turn sales and operational data into actionable intelligence. Learn how to assess integration options, drive adoption, and optimize workflows.
Read on to empower more strategic decision-making and maximize the value of your tech stack. With robust CRM and project management integration, organizations gain unmatched efficiency and visibility to excel in the digital era.
Table of Contents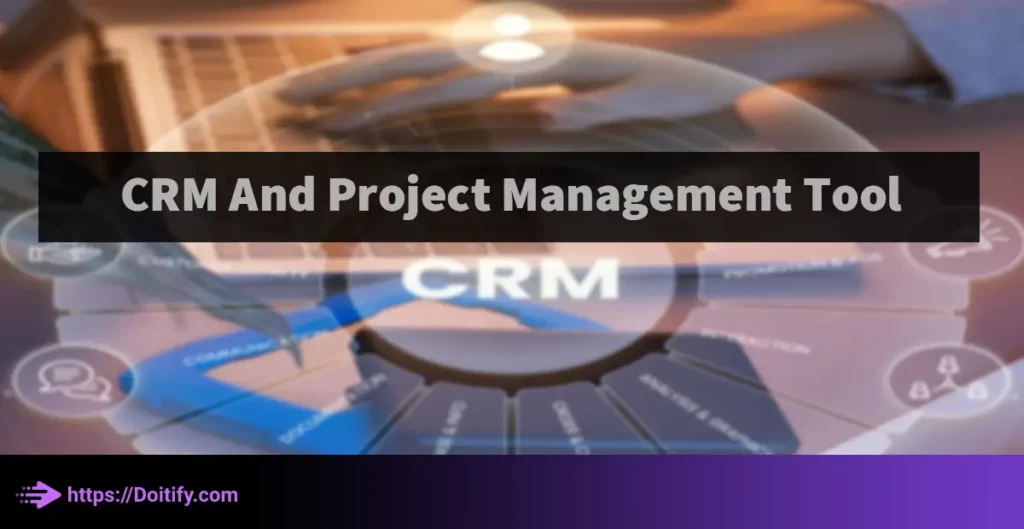 What Is A CRM?
A CRM (customer relationship management) system is software that helps businesses manage their relationships and interactions with customers and potential customers. CRMs provide a centralized platform to organize contact information, track leads, manage accounts, and analyze sales pipeline data. By consolidating customer information in one place, CRMs give sales and marketing teams powerful insights to improve customer targeting, retention, and satisfaction.
What Is Project Management?
Project management software assists with planning, organizing, and managing resources to complete projects on time and within budget. These tools provide features like task assignment, Gantt charts, time tracking, resource allocation, collaboration tools, and more. Project management systems give managers visibility into the status of projects and help coordinate team members' efforts.
Benefits Of Using CRM And Project Management Together
Integrating a CRM with project management capabilities provides numerous benefits, including:
Enhanced visibility into project status for client accounts
Improved communication and collaboration between sales and delivery teams
Tighter alignment between sales pipeline and resource planning
More accurate quotes and estimates based on historical data
Automated client notifications and reminders about project milestones
Ability to track time and expenses by client or project
We have been written about Project Management Software Benefits in another article.
Key Features Of CRM And Project Management Tools
Contact Management
Robust contact management is a core component of any CRM. This allows businesses to store and track detailed profiles for both leads and existing contacts. Information like names, companies, titles, contact info, associated accounts, and correspondence history can be organized for easy searching and segmentation.
Integrated project management tools take this a step further by connecting project contacts to specific deliverables, milestones, and billing records. This provides fuller context around each relationship.
Lead And Opportunity Tracking
Once leads are captured in the CRM, businesses need to actively manage and track lead progression through the sales funnel. CRM solutions facilitate this through opportunity records, sales stages, automated workflows, and activity tracking.
Project management integration builds on this by tying opportunities directly to project deliverables. This allows for more accurate revenue forecasting based on the likelihood of securing and successfully delivering proposed projects.
Project Planning And Scheduling
Project management tools provide a range of functionality around planning and scheduling projects. This includes creating tasks, building work breakdown structures, assigning resources, setting dependencies, and building Gantt charts.
When integrated with CRM, project schedules can be directly mapped to specific accounts, opportunities, and client deliverables for enhanced visibility. Timelines can also be synced to sales milestones and billing/revenue projections.
We have been written about Project Management Tool With Gantt Chart in another article.
Best Practices For Implementing CRM And Project Management Solutions
Assessing Organizational Needs
Before selecting any software, it's important to thoroughly evaluate your organization's specific requirements. Conduct stakeholder interviews, analyze current processes and pain points, and assess readiness for adoption. This will help define must-have features, integration needs, and implementation priorities.
Comparing Software Options
With needs identified, develop a shortlist of tools that meet your criteria. Compare capabilities, interfaces, deployment options, onboarding/support, and costs. Weigh pros and cons to determine the best fit.
Key stakeholders should participate in demos before final software selection. This builds buy-in during the vetting process.
Planning The Implementation Process
Create a detailed project plan for rolling out your chosen solutions. Outline tasks, timelines, resources, and success metrics. Appoint an implementation team and project manager to drive the effort.
Phased rollouts are recommended to smooth the transition. Set realistic expectations around adoption curves and learning periods.
Training Employees On Usage
User adoption ultimately determines the success of new tools. Provide tailored training resources and support to equip employees. Offer quick reference guides, online courses, tip sheets, and on-demand assistance.
Early adopters and champions can help demonstrate value and spur organic usage growth. Incentivize participation to further drive adoption.
We have been written about Project Management System in another article.
Benefits Of CRM And Project Management Integration
Improved Visibility And Efficiency
Connecting CRM and project management provides complete visibility across sales prospects, accounts, and project delivery. Sales, marketing, and delivery teams get a unified view of workload, pipelines, and performance. This enables greater efficiency through improved handoffs, informed resourcing decisions, and eliminating redundant data entry.
Better Tracking And Forecasting
By linking projects to specific accounts and opportunities, businesses can more reliably track billable work and provide accurate forecasts. Projections based on secured contracts versus speculative opportunities are clearly delineated. Resource capacity is aligned to revenue projections for enhanced forecasting.
Enhanced Collaboration
Shared CRM and project management access allows for seamless collaboration across departments. Client account status is visible to all teams. Deliverable timelines, dependencies, and updates are communicated in real-time. Issues can be escalated and managed centrally.
Single Source Of Truth
Rather than relying on disparate systems, integrated CRM and project management creates a single source of truth. Everyone works from the same data set, eliminating version control issues and confusion. This improves reporting accuracy and provides trusted insights for data-driven decisions.
Best Project Management Software With CRM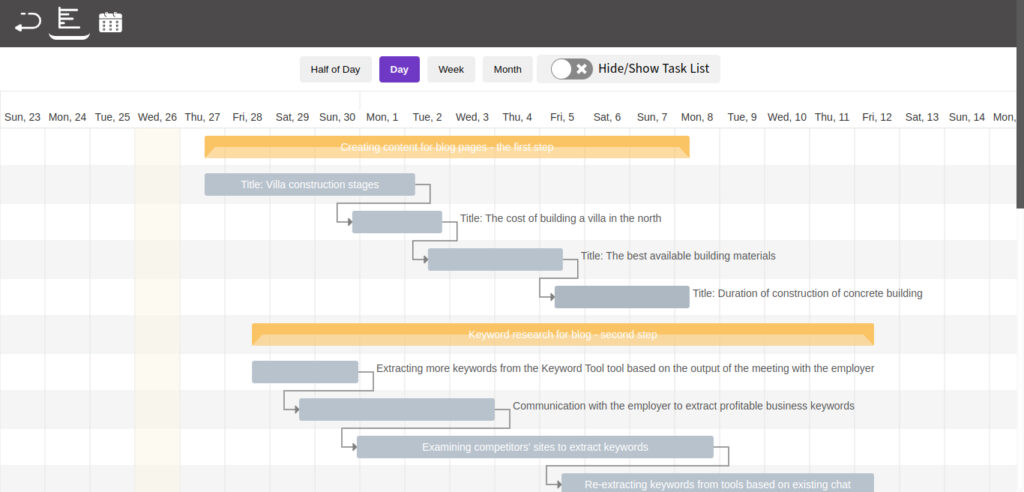 Doitify is an integrated CRM and project management platform designed for efficiency and productivity. It provides specialized features for task management like role assignments, status tracking, and progress reports to ensure collaboration and accountability across teams. Doitify also enables seamless communication through real-time chat, screen monitoring, and performance analytics. This gives managers transparency into workloads and processes. The software simplifies cross-functional coordination with shared calendars, Gantt charts, and milestone tracking across sales and delivery. Doitify's user-friendly interface, robust API integrations, and configurable fields/views make it scalable for businesses. Pricing is structured fairly for wider adoption. Overall, Doitify is a great lightweight option for managing the entire client lifecycle from lead to delivery in one place.
Best For: Doitify is best for small to Large-sized businesses and remote teams. It is a cloud-based software that can be accessed from anywhere with an internet connection.
Platforms: as Web app for all platforms.
Doitify Pricing
Free plan: The free plan includes all features, but is limited to 5 members and 5 MB of space.
Premium plan: The premium plan costs $0.50 per month per member and includes unlimited space.
Doitify Features
Global Quality: The ability to compete with the best foreign project management software.
Free Plan: All features of the software are free, with the option to pay for additional storage and users.
Remote Team Management: The ability to communicate and monitor the performance of remote employees.
Different Management Systems: Support for Agile, Scrum, and other management systems.
Online Time Tracking: The ability to track and save the online time of employees.
Screen Sharing: The ability for admins to view the screens of working employees.
Daily Work Reports: Daily reports of employee work for better team and project control.
User Performance Tracking: The ability to track user performance in specific time periods.
Advanced Subtasks: The ability to create advanced subtasks with start and end times.
Quality Control: Consideration of quality control managers for subtasks.
Dedicated Chat: Chat capabilities for each subtask.
User Roles: The ability to assign roles and rules for users.
Checklists: The ability to create checklists for each task and subtask.
Subtask Status: The ability to set statuses for each subtask.
Import/Export: The ability to import and export subtasks.
Gantt Chart and Calendar: The inclusion of a Gantt chart and calendar in the free version.
Language Support: Support for right-to-left languages such as Chinese.
Regular Updates: Regular updates to add new features and improve functionality.
Pricing: Fair prices and the ability to create a portal for dollar currencies.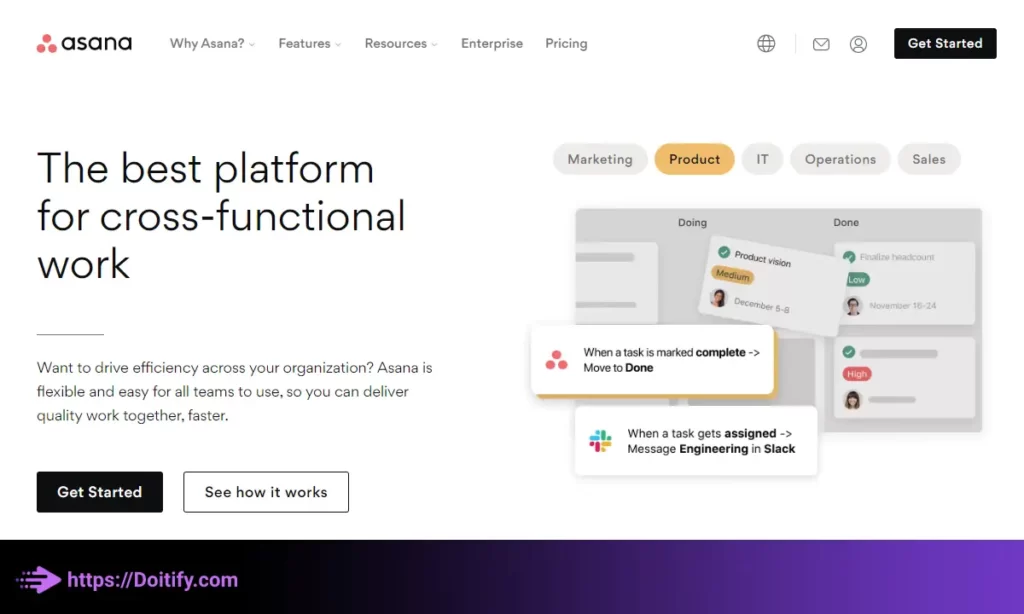 Asana is a leading work management platform with powerful project planning and collaboration features. Users can create projects, break down goals into actionable tasks, set dependencies, and assign work to team members. Robust communication and file sharing capabilities facilitate coordination. Asana integrates with 100+ apps via Zapier including leading CRM, calendar, and storage solutions. This flexibility makes Asana a great option for leveraging existing tech stacks. Asana offers valuable analytics into team productivity and project status. Its intuitive interface provides an easy learning curve for most users.
Best for: Medium to large teams who need a robust project management tool.
Platforms: web, iOS, and Android.
Asana Pricing
Free version available with limited features.
Paid plans start at $10.99 per user per month.
Asana Features
Project templates: Asana offers a variety of project templates that users can use to get started quickly. Templates are available for a variety of project types, such as product launches, marketing campaigns, and team onboarding.
Custom fields: Asana allows users to create custom fields for tasks and projects. This can be useful for tracking specific information, such as project budgets, client information, or project status.
Task dependencies: Asana allows users to create task dependencies, which means that one task cannot be completed until another task is finished. This can help ensure that tasks are completed in the correct order.
Forms: Asana offers a feature called Forms, which allows users to create custom forms to collect information from team members or stakeholders. Forms can be used for a variety of purposes, such as collecting feedback or submitting project requests.
We have been written about Project Management Tools Like Asana in another article.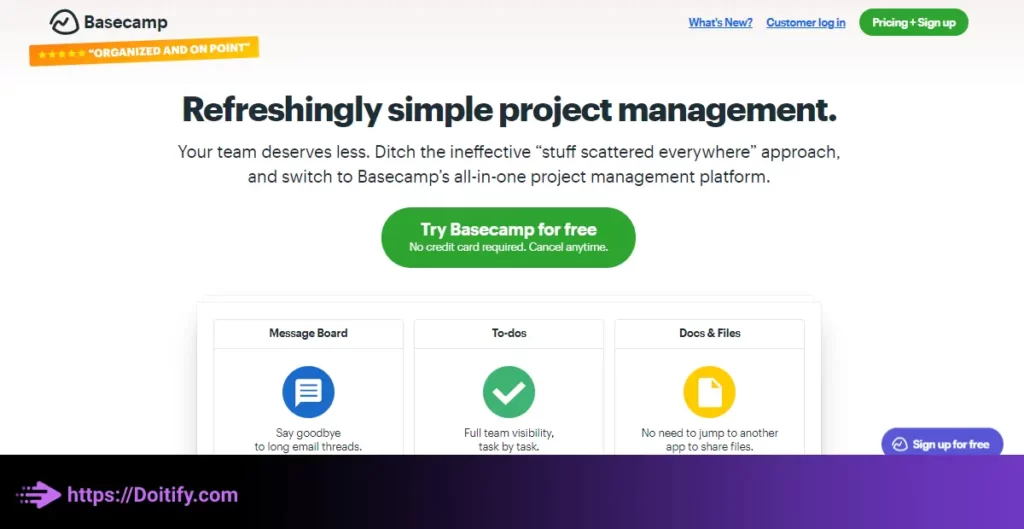 Basecamp is a veterans project collaboration tool trusted by millions worldwide. It pioneered an integrated approach before CRM and project software convergence. Basecamp allows you to manage client projects from intake through delivery in one place. Key features include task management, file sharing, messaging, schedules, and automatic check-ins. Basecamp offers unlimited free clients to seamlessly collaborate. Its simple pricing based on the number of active projects makes cost planning straightforward. A sleek, uncluttered interface optimizes usability. Basecamp is an ideal lightweight solution for smaller teams and firms.
Best for: small to medium-sized businesses and teams that need a simple and straightforward project management tool.
Platforms: Desktop, MacOS, Android, iOS
Basecamp Pricing
Basic: 15 USD per month
Pro Unlimited: 299 USD per month
Basecamp Features
Simplicity and Ease of Use: Despite its advanced features, Basecamp is userfriendly and requires no specialized training.
Security: Basecamp is designed to keep your information secure, using SSL and encryption technology to protect your data.
Collaboration Capabilities: Basecamp makes it easy for team members to collaborate and coordinate using tools such as calendars, reminders, and shared files, helping teams stay in sync.
Multimedia Capabilities: Basecamp allows teams to share multimedia files such as images, videos, and text documents.
Project Tracking: With Basecamp, you can carefully track project progress and get detailed information about the project's status.
Easy Access: Team members can access Basecamp from anywhere and with any device, without the need to install or configure software.
Reporting Capabilities: Basecamp enables easy preparation of project reports and graphical and numerical display of project progress.
Task Automation: Basecamp provides the ability to create lists of repetitive tasks and perform them automatically, reducing project management time and costs.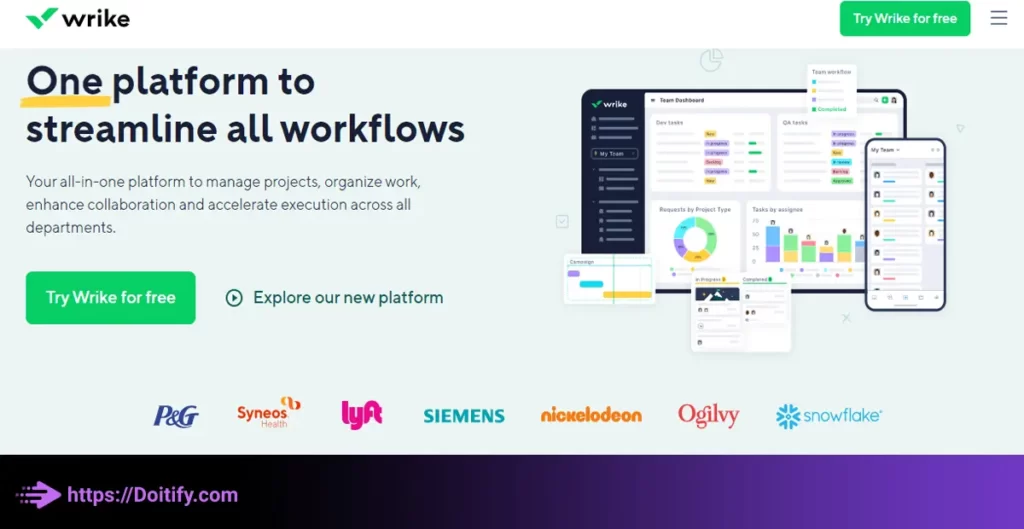 Wrike excels at enterprise-scale project management thanks to robust scheduling, resource allocation, and analytics capabilities. At the same time, it offers fundamental CRM elements like contact management, lead tracking, and account segmentation. Workfront integration allows execution directly from strategic plans outlined in the CRM. Wrike's Gantt charts provide detailed visualizations of project timelines and dependencies. Real-time performance dashboards give managers transparency into team productivity, capacity, and bottlenecks. Wrike suits larger organizations needing deep project management paired with CRM visibility.
Best for: Medium-sized to large teams who want a customizable project management tool with time tracking and task management features.
Platforms: web, macOS, Windows, iOS, and Android.
Wrike Pricing
Free version available with limited features.
Paid plans start at $9.80 per user per month.
Wrike Features
Customizable projects and tasks: You can create projects and tasks and customize workflows to fit your team's needs.
Time tracking: You can track the time spent on each task and project.
Task management: You can assign tasks to team members and set due dates and priorities.
Reports: You can generate detailed reports on your time usage and project progress.
Integrations: Wrike offers integrations with a wide range of other tools, including Salesforce, Slack, and Microsoft Teams.
Time tracking: You can track the time spent on each task and project.
Due dates: You can set due dates for each task and receive notifications when the deadline is approaching.
Priority management: You can set priorities for tasks to ensure that the most important tasks are completed first.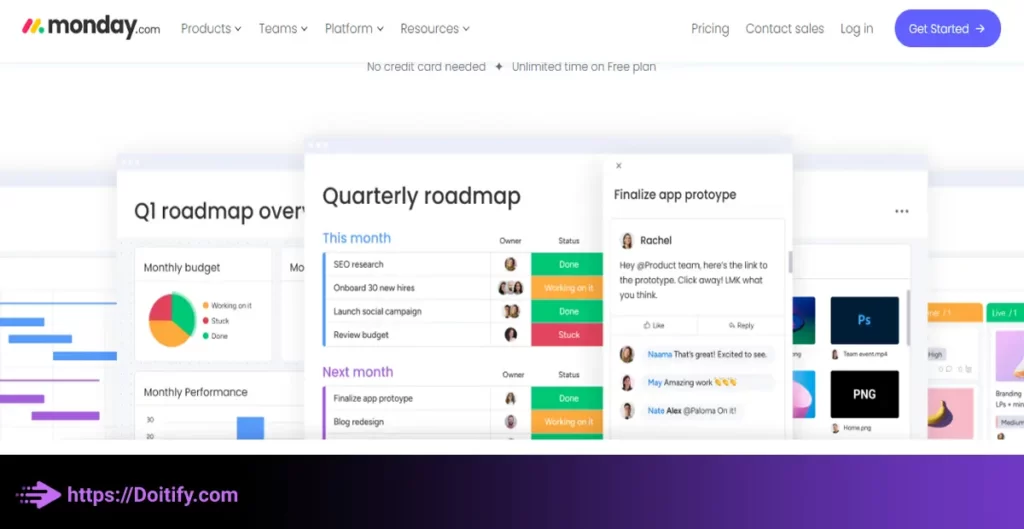 Monday.com is a highly visual project management platform combining task boards, Gantt views, and reporting. Its CRM supports lead and account management, email integration, and sales pipeline tracking. Monday.com really shines in customizable fields, views, automations, and notifications that fit each team's workflows. The software is praised for usability with an intuitive drag-and-drop UI. Being able to manage projects and CRM in a single lightweight tool makes Monday.com a great choice for small businesses. Integrations are available but more limited compared to other leading options.
Best for: Small to large teams who want a customizable project management tool with time tracking features.
Platforms: web, iOS, and Android.
Monday.com Pricing
Free trial available for 14 days.
Paid plans start at $8 per user per month.
Monday.com Features
Customizable projects and tasks: You can create projects and tasks and assign them to team members.
Time tracking: You can track the time spent on each task and see how much time is left before the deadline.
Progress tracking: You can track the progress of each task and see how it fits into the overall project.
Customizable workflows: You can create custom workflows that fit your specific needs.
Integrations: Monday.com offers integrations with popular tools like Google Drive, Dropbox, and Slack.
Time tracking: You can track the time spent on each task and see how much time is left before the deadline.
Due dates: You can set due dates for each task and receive notifications when the deadline is approaching.
Customizable reminders: You can set up custom reminders to keep you on track and ensure that you meet your deadlines.
Time estimates: You can set time estimates for each task to help you stay on schedule.
We have been written about Project Management Tools Like Monday.com in another article.
Conclusion And Summary
Integrating CRM and project management tools can provide tremendous value for organizations by breaking down silos, enhancing efficiency, and improving visibility. Companies can gain a competitive advantage by implementing connected solutions that give unified views of sales prospects, account status, and project delivery.
Some key benefits of an integrated approach include:
Streamlined workflows and processes
Real-time communication and collaboration
Accurate forecasts based on project timelines
Complete visibility across departments
Optimized resource management
Data-driven decision making
However, to realize these benefits, careful planning and change management is required for successful adoption. Organizations should follow best practices around assessing needs, comparing options, developing rollout plans, training employees, and driving ongoing usage.
With the right integration in place, companies can transform CRM and project data into actionable insights. This ultimately leads to greater customer satisfaction, employee productivity, and optimal financial performance.
FAQs
What are the benefits of integrating CRM and project management?
Key benefits include increased efficiency, better collaboration between teams, enhanced forecasting and reporting, a single source of truth, and improved visibility across sales and delivery.
How does CRM and project management integration work?
Integration happens at the software level to connect the systems. This allows data to flow between the platforms and provides users with access to both tools from a single interface.
What types of data can be shared between CRM and project management tools?
Common shared data elements include contacts, accounts, opportunities, projects, tasks, documents, conversations, time/expenses, and reports/dashboards.
How can work be associated with accounts and opportunities?
Projects and tasks can be linked directly to specific accounts or opportunities in the CRM, providing contextual visibility into the work.
How does integration improve forecasting?
By associating opportunities with projects and timelines, businesses can better predict revenue based on projected completion dates for secured contracts.
Does integration require extensive IT effort?
Quality integrations minimize IT effort by providing pre-built connectors. Some setup and configuration is required, but it is typically not a heavy IT lift.
How can adoption be driven successfully?
Adoption requires executive buy-in, change management planning, comprehensive training, and power users to demonstrate value. Ongoing support and enhancement incentivizes sustained usage.