In this article, we will explore the benefits of using healthcare project management software and review the top solutions available for healthcare organizations. As the demands on the healthcare industry continue to grow, being able to manage projects efficiently has become more crucial than ever. Healthcare project management software aims to streamline processes, improve visibility and collaboration, reduce costs and errors, and ultimately enable better patient outcomes.
Let's get started by understanding precisely what healthcare project management software is and the value it provides.
In simple terms, healthcare project management software is a digital tool that enables healthcare organizations such as hospitals, clinics, medical device companies, and pharmaceutical firms to plan, organize, and manage their projects from start to finish.
The main purpose of using healthcare project management software is to improve efficiency, transparency, and collaboration in healthcare project delivery. It helps:
Streamline communication between project teams and stakeholders
Provide real-time visibility into project status, tasks, budgets and timelines
Assign and track responsibilities to medical staff, nurses and other team members
Manage resources like equipment, medication and operating rooms
Monitor project milestones and deadlines
Compile reports and dashboards to track progress and identify issues early on.
In a nutshell, healthcare project management software serves as a central hub for planning, organizing and executing projects in the healthcare field more effectively.
Table of Contents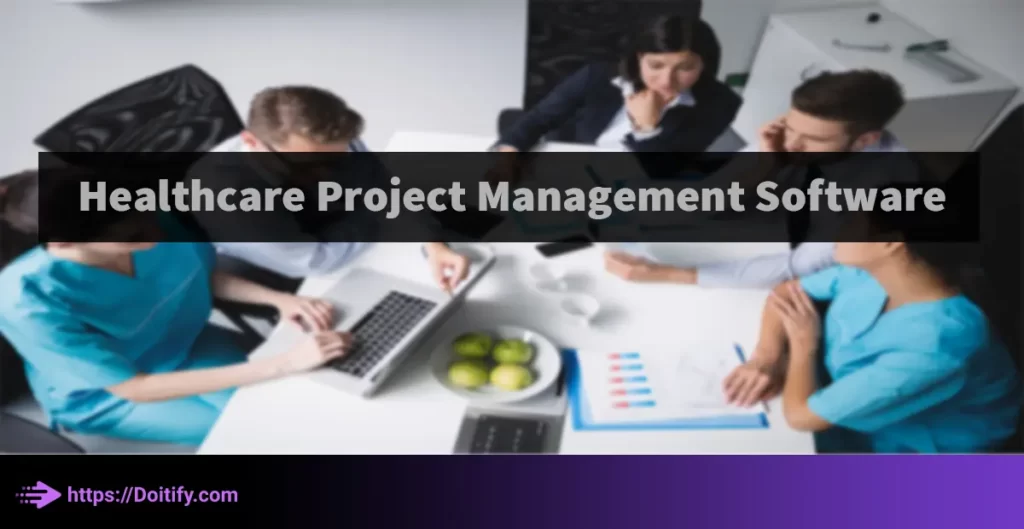 Key Features Of Healthcare Project Management Software
The core features of effective healthcare project management software typically include:
Task Management
Comprehensive task management is key for healthcare projects with tight deadlines and many dependencies.
Good healthcare project management software will allow you to:
Create an unlimited number of tasks and subtasks
Assign tasks to team members based on their skills and availability
Set priorities, due dates and reminders for each task
Track task progress from start to finish in real time
Link tasks together to show dependencies
Manage changes and reassign tasks seamlessly
Being able to visualize all tasks, their status and relationships helps healthcare teams stay organized and keep projects moving forward according to plan.
Time Tracking
Automatic time tracking makes it easy for medical staff to log work hours against tasks and projects for billing, budgeting and resource allocation purposes. Time tracking features let you:
Set up timers for tasks
Log time spent manually
Track time by project, department and billing code
Produce timesheets and reports for management or clients
This level of time visibility can help optimize resource utilization, bill clients accurately and minimize overhead costs.
We have been written about Time Tracking Project Management Tool in another article.
Resource Allocation
Healthcare projects require the coordination of many resources – from medical supplies to operating rooms to staff. Good software will enable you to:
Create a resource list of all materials, equipment and people
Assign resources like nurses, doctors or operating rooms to specific tasks
See resource availability in a calendar view
Request and approve resources
Track resource usage and costs in real time
This ensures all resources are allocated effectively to maximize benefits and avoid shortages or waste.
Reporting And Dashboards
Healthcare project management software should come with built-in dashboards and reporting features that give management real-time insight into project status. Look for software that provides:
Customizable dashboard views
Interactive Gantt charts
Budget vs. actual reports
Timesheet and expense reports
Automated progress and exception reports
Dashboards and reports help healthcare leaders make timely decisions, spot issues and ensure projects stay within budget and scope.
Collaboration Tools
Built-in collaboration tools like chat, comments and document sharing enable healthcare project teams to work together efficiently across locations and time zones. Collaborative features may include:
Team messaging and announcements
File sharing and document collaboration
Comment threads on tasks
Integration with other collaboration tools
This facilitates seamless coordination among team members, which is essential for complex healthcare projects involving multiple stakeholders.
We have been written about Free Project Management Tools in another article.
Benefits Of Using Healthcare Project Management Software
There are many compelling reasons for healthcare organizations to invest in project management software tailored to their needs. Here are some of the top benefits:
Improve Efficiency
Healthcare project management software can dramatically improve efficiency by streamlining processes, enhancing communication, and removing manual tasks.
When all team members have visibility into tasks, due dates, resources and milestones in one central hub, they can work more productively without redundant status meetings or email reminders. Automated features like task assignment, time tracking and notifications save valuable time previously spent on administrative burden.
This lets your clinical staff focus their energy on patient care instead of project management minutiae. Overall, healthcare project management software can potentially improve team efficiency by up to 30%.
Financial Visibility
Many healthcare projects have budgets in the millions, so maintaining financial visibility is critical. By tracking task hours, resource usage and expenses right within the software, you gain real-time insight into actual costs versus budget.
Automated reports and dashboards populated with cost data give management a high-level view of any budget overruns and the ability to course-correct before projects go off the rails. This level of financial oversight can help optimize resource allocation, minimize waste and keep projects within budget.
Better Patient Outcomes
When healthcare projects are managed efficiently and stay on track, it ultimately enables better patient outcomes. Software that streamlines communication, removes bottlenecks and provides transparency into milestones ensures new treatments, equipment or facilities are introduced faster and more effectively.
Fewer delays in healthcare project delivery means patients benefit from the latest innovations, technologies and services sooner. Committed clinical staff have the support they need to deliver the highest quality care and best experience for patients.
Overall, healthcare project management software aims to improve the entire healthcare value chain and enable positive patient impact at scale.
Meet Compliance Requirements
Many healthcare organizations, especially those dealing with patient data, must adhere to rigorous compliance and regulatory requirements. Healthcare project management software offers tools that make compliance easier.
Features like documenting changes, assigning tasks to specific users, tracking project details and producing audit reports help healthcare firms meet requirements from HIPAA, ISO and other industry standards. Integrated security controls ensure every action is logged and data is stored securely.
We have been written about Project Management Software Benefits in another article.
Top Healthcare Project Management Software
There are many great options for healthcare project management software on the market today.
Here are some of the best: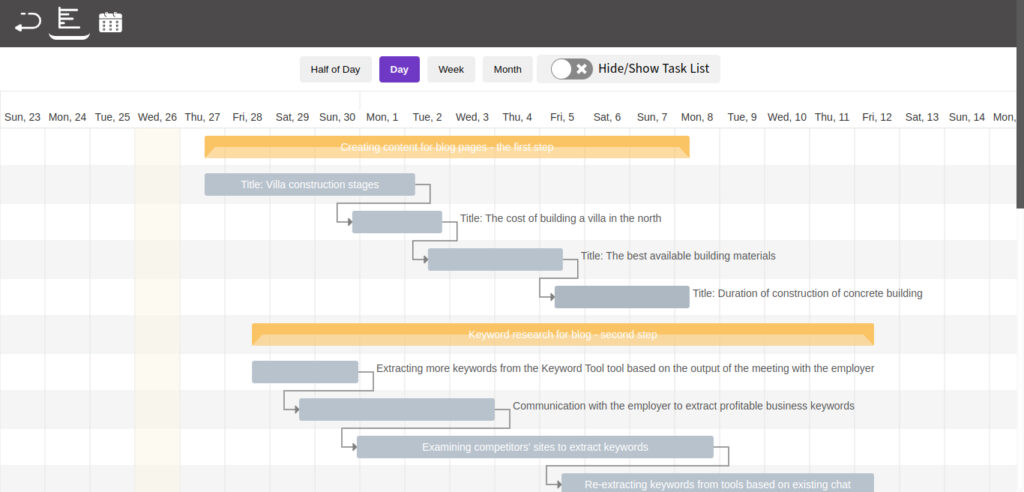 Doitify is a project management software specialized for the healthcare industry. It offers an intuitive interface and targeted features that make it well-suited for managing projects in this complex environment.
Doitify provides several benefits for healthcare project management. It gives stakeholders a central view of all project information in one place. This makes it easy for teams to stay updated on the status of projects and work collaboratively.
The software features automated workflows that can take over repetitive tasks like task assignment, due date reminders and reporting. This frees up time for clinical staff to focus on higher priority work. Doitify's reporting capabilities also help track project progress, identify areas for improvement and measure the return on investment of initiatives.
As a secure platform designed for healthcare, Doitify meets industry compliance needs. It is HIPAA compliant and offers security controls like role-based access and data encryption. This gives organizations confidence that patient information and projects are properly safeguarded.
Best For: Doitify is best for small to Large-sized businesses and remote teams. It is a cloud-based software that can be accessed from anywhere with an internet connection.
Platforms: as Web app for all platforms.
Doitify Pricing
Free plan: The free plan includes all features, but is limited to 5 members and 5 MB of space.
Premium plan: The premium plan costs $0.50 per month per member and includes unlimited space.
Doitify Features
Global Quality: The ability to compete with the best foreign project management software.
Free Plan: All features of the software are free, with the option to pay for additional storage and users.
Remote Team Management: The ability to communicate and monitor the performance of remote employees.
Different Management Systems: Support for Agile, Scrum, and other management systems.
Online Time Tracking: The ability to track and save the online time of employees.
Screen Sharing: The ability for admins to view the screens of working employees.
Daily Work Reports: Daily reports of employee work for better team and project control.
User Performance Tracking: The ability to track user performance in specific time periods.
Advanced Subtasks: The ability to create advanced subtasks with start and end times.
Quality Control: Consideration of quality control managers for subtasks.
Dedicated Chat: Chat capabilities for each subtask.
User Roles: The ability to assign roles and rules for users.
We have been written about Project Management Tool With Gantt Chart in another article.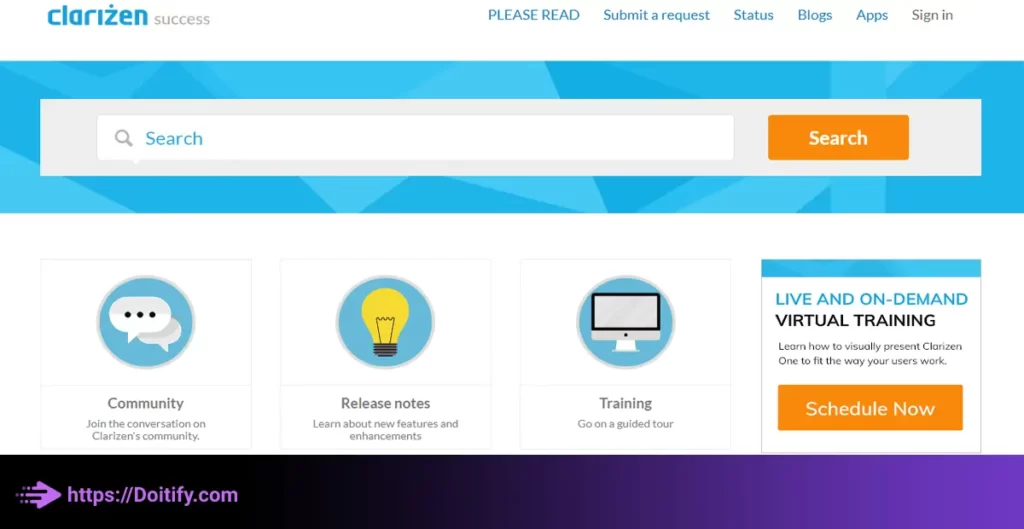 Clarizen is a robust healthcare project management solution ideal for large organizations. It offers a comprehensive set of features tailored to the unique needs of healthcare companies.
Clarizen is well-suited for large organizations because it provides comprehensive features to manage complex projects involving multiple teams and resources. The software's flexible dashboards and reports give managers deep visibility into project status, timelines and budgets. Its built-in security and compliance controls are designed to meet the needs of healthcare and pharmaceutical firms that must adhere to strict regulatory requirements.
Clarizen also facilitates communication and collaboration between clinicians through excellent file sharing and messaging tools. These features become increasingly important as healthcare projects grow in scope and complexity. The software integrates with over 200 apps, extending its capabilities and enabling automated workflows.
Clarizen's focus on reliability, scalability and compliance make it well-suited for large healthcare organizations managing mission-critical initiatives. Its robust feature set, which includes Gantt charts, resource management, task management, timesheets, reporting and analytics, prioritizes the unique workflows and needs of hospitals, health systems and medical companies.
Best for: Hospitals, medical device companies, and biotech firms
Platforms: Web-based, mobile apps for iOS and Android
Clarizen Pricing
Various subscription plans starting from $5/user per month
Clarizen Features
Gantt charts
Resource management
Task management
Timesheets
Messaging and discussion forums
Document repository
Issue tracking
Customizable workflows
Reporting and analytics
Integrations
Mobile app
We have been written about Agile Project Management Tool in another article.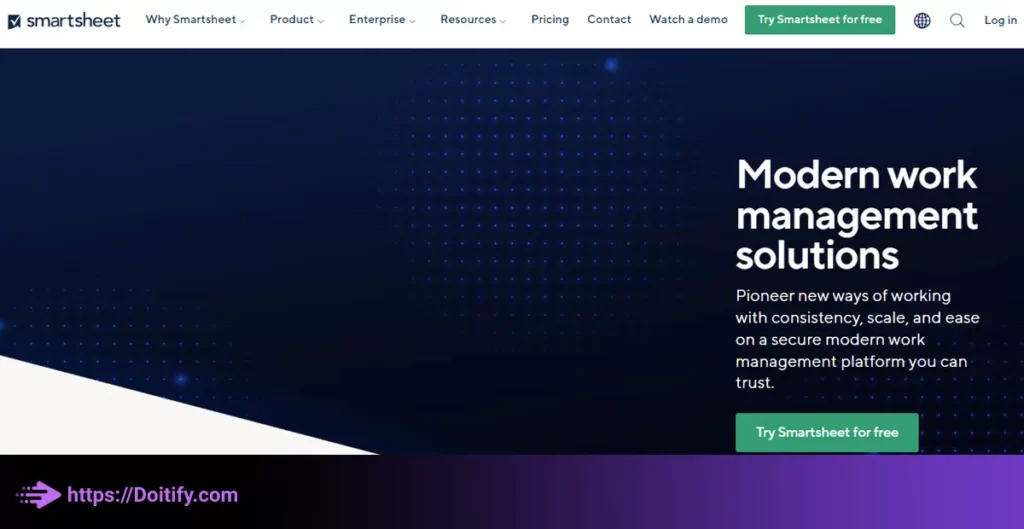 Smartsheet is a good choice for healthcare project management software, especially for mid-sized organizations.
Smartsheet offers an intuitive and flexible platform that can scale to meet the needs of growing healthcare projects. The software's task boards and Gantt charts make it easy for clinical teams to visualize tasks, assign responsibilities, and track project timelines. Automated notifications and reminders help keep healthcare projects on schedule by reminding team members of upcoming tasks and deadlines.
Smartsheet also allows users to track billable hours, an important feature for healthcare providers needing to bill accurately for their services. The software's reporting and dashboard capabilities provide real-time insight into project progress so managers can identify and address issues promptly.
Smartsheet integrates with a wide range of applications that healthcare organizations already use, from collaboration tools to EHR systems. This improves workflow efficiency by minimizing data entry and rework. The platform's flexibility also means it can be used across different departments and situations within a healthcare organization, from managing clinical trials to implementing new facilities.
Best for: Collaborative work management for teams.
Platforms: Web app and mobile app
Smartsheet Pricing
Free plan for up to 3 users, paid plans start at $12/user/month.
Smartsheet Features
Traditional project planning using Gantt charts
Task management and scheduling
Resource allocation and timesheets
Comprehensive reporting and analytics
Granular permissions for security
We have been written about Personal Project Management Tool in another article.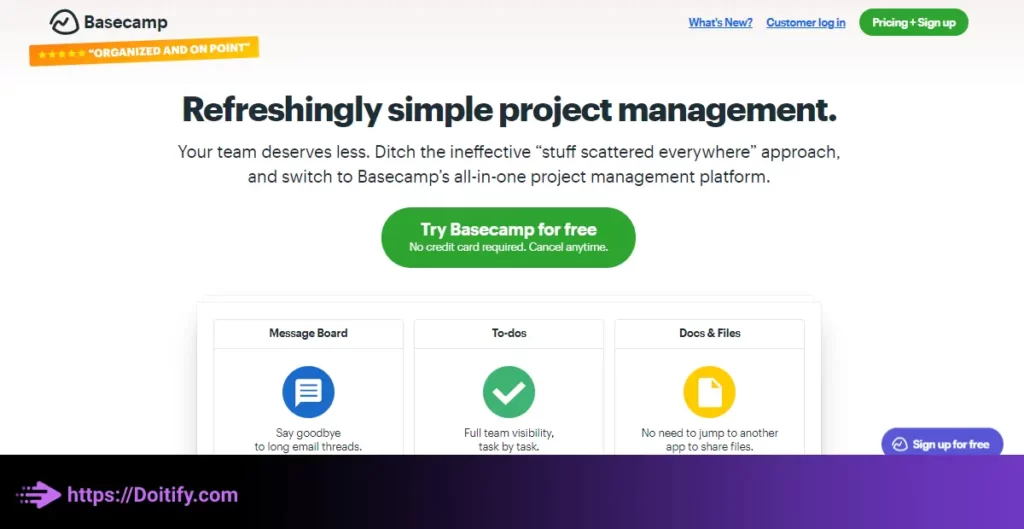 Basecamp provides a straightforward yet effective solution for managing smaller healthcare projects and teams.
Basecamp's simplified and streamlined approach makes it easier for clinical staff to adopt and use on a regular basis. The software primarily offers task lists, file sharing, and built-in chat – the basic tools healthcare teams need to coordinate work and exchange information quickly. Basecamp's clean and simple dashboards provide a high-level view of task status and project progress.
Basecamp's low barrier to entry and ease of use would appeal to healthcare groups managing less complex initiatives like launching a new health program or coordinating a clinic renovation. Clinical staff tend to prefer project management tools that are intuitive and hassle-free so they can focus more time on patient care.
Basecamp's integrations with platforms like Google, Slack and Asana allow healthcare teams using those solutions to pull them into Basecamp for a unified view of work. This helps smaller teams without dedicated IT support gain some synergies across platforms.
Best for: small to medium-sized businesses and teams that need a simple and straightforward project management tool.
Platforms: Desktop, MacOS, Android, iOS
Basecamp Pricing
Basic: 15 USD per month
Pro Unlimited: 299 USD per month
Basecamp Features
Simplicity and Ease of Use
Security:
Collaboration Capabilities
Multimedia Capabilities
Project Tracking
Easy Access
Reporting Capabilities
Task Automation
We have been written about Project Management Tool With Calendar in another article.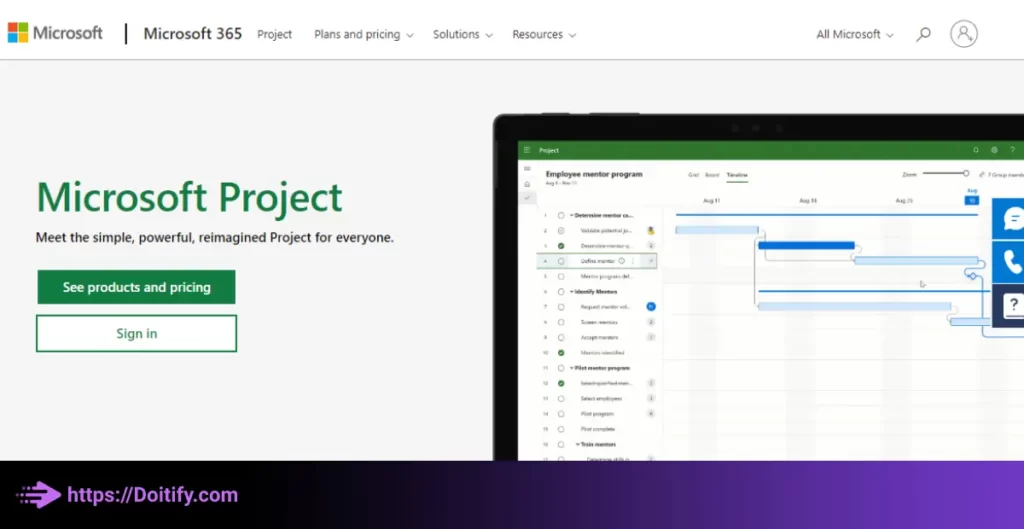 Microsoft Project offers a powerful yet familiar solution for managing complex healthcare projects and initiatives.
As part of the Microsoft Office suite that healthcare organizations already use widely, Project provides deep familiarity and ease of use for clinical staff. The software's intuitive interface and sophisticated yet comprehensive features make it a good fit for managing initiatives across the healthcare spectrum from hospitals to pharmaceutical companies.
Microsoft Project provides specialized templates tailored to different healthcare project types like medical equipment installation, facility expansion and clinical research. These templates capture best practices and help users get started quickly.
Project's robust functionality like resource allocation, customizable Gantt charts, and reporting capabilities enable healthcare organizations to plan, coordinate and track large projects involving many resources and stakeholders. The software integrates smoothly with other Office 365 apps and Excel for advanced reporting, further extending its value.
Best for: Medium to large organizations that have complex project management needs.
Platforms: Web, Desktop, as Teams and Planner App for Mobile
Microsoft Project Pricing
Standard: For small teams, it costs $7/user per month and offers basic features.
Professional: For medium-sized teams, it costs $10/user per month and offers enhanced reporting, custom fields and views.
Premium: For large enterprises, it offers the most features and capabilities along with 24/7 support. Pricing is customized based on business needs.
Microsoft Project Features
Project Planning
Resource Management
Progress Monitoring
Project Analysis
Deadlines
Collaboration and Sharing
Reporting
Personalization
We have been written about Visual Project Management Tools in another article.
Our Recommendation
Doitify is uniquely designed for the healthcare industry, offering an intuitive interface and targeted features that meet the specialized needs of clinical teams and organizations. Core benefits like centralized project visibility, collaboration tools, automated workflows and reporting capabilities help optimize efficiency, transparency and oversight – critical success factors for any healthcare initiative.
The software's ability to automate repetitive tasks and simplify project management through integrated features has the potential to save clinical staff substantial time, allowing them to refocus energies on direct patient care. Customizable reports and dashboards provide stakeholders deep insight into project progress, helping ensure timelines and goals are met.
Based on these advantages, Doitify emerges as the best choice for healthcare project management. The software's specialized design, targeted feature set and high security standards make it an ideal solution that can streamline processes, improve coordination and unlock insights to elevate any clinical project within a healthcare organization. Doitify's user-friendly interface also supports rapid adoption and use by clinical teams.
We have been written about Project Management Tools For Small Teams in another article.
Conclusion
In summary, healthcare project management software has become an essential tool for healthcare organizations of all sizes. The complexities, costs and compliance requirements of today's clinical initiatives demand a higher degree of efficiency, transparency and oversight that can only be achieved through specialized digital solutions.
The right healthcare project management software streamlines workflows, improves communication, standardizes processes and provides real-time insights that empower medical professionals to deliver better patient outcomes. Automated task management, resource allocation, time tracking and reporting take over non-clinical tasks so clinicians can focus on their primary duties of diagnosing, treating and caring for patients.
FAQs
How does healthcare project management software help medical professionals?
Healthcare project management software helps medical professionals in several ways:
It streamlines workflows and improves efficiency by automating repetitive tasks and providing visibility into projects. This saves clinicians time.
It enhances communication and collaboration between team members working on a project.
It provides reporting and analytics that give insights into project progress, risks and outcomes. This helps medical professionals make improvements and ensure success.
It enables medical professionals to focus more on patient care and core clinical responsibilities by taking over non-clinical tasks like scheduling and assignment.
It can improve adherence to compliance requirements through access controls, audit trails and secure data storage.
What are the advantages of healthcare project management software?
The main advantages of healthcare project management software include:
Improved efficiency by reducing administrative tasks
Enhanced collaboration between team members
Better financial visibility into project costs and budgets
Optimization of resources like staff, medications and equipment
Automated reporting and dashboards for real-time oversight
Ability to meet compliance requirements through built-in security and controls.
Who uses healthcare project management software?
Healthcare project management software is used by:
Hospitals
Healthcare systems
Clinics and physician practices
Medical device companies
Biotech and pharmaceutical firms
Health insurance providers
Essentially, any organization undertaking clinical initiatives or healthcare projects can benefit from this type of software.